Dog boots perform an important function. They protect your dog's paws from the snow, rain, dirt, salt, or chemicals that they may encounter on driveways or sidewalks. Dog footwear also keeps your flooring intact by preventing it from getting scratched up as your dog walks around the house. Dog boots have many benefits, and every dog owner must consider getting them for their beloved pet, especially if it's one of the more energetic dogs – like the golden retriever.
In a Hurry? Here are Our Top Choices
It is not hard to get dog boots as it's a mainstream pet item. However, choosing the right pair for your golden retriever can be a struggle. To make things easier for you, we've prepared a list featuring the best boots for golden retrievers. If you have this friendly dog breed as your pet, you can consider getting a nice pair of boots for your precious pup from the options listed below.
1. Pet Life Duggz Boots
Pet Life Duggz Boots are cute, warm footwear, designed specifically for dogs that love walking and running around. Not only are these dog boots for golden retrievers comfortable, but they're also stylish at the same time. The breathability level is remarkable, which means that your precious pup won't feel uncomfortable or stuffy in these boots. Plus, these boots come with a zippered rear with Velcro straps that make the walk easier and trouble-free.
You can find these fashionable boots in three sizes – x-small, small, and medium, and in colors like pink and white. If your golden retriever puppy is in need of footwear that'll keep its little feet warm and safe, then look no further these adorable boots!
Pros
Warm and comfortable pads
Stylish and sustainable
Available in three sizes and cute colors
Waterproof
Cons
Not suitable for large dogs
2. QUMY Dog Boots
If you're looking for secure booties for your larger golden retriever, the QUMY Dog Boots are your best bet. They are made from a tough, water-resistant material, which makes them anti-slip and waterproof. The sturdy soles make them the best boots for poor weather conditions. If you have to take your dog for a walk and it's raining outside, no sweat. Pop these boots on your pup, and it'll be good to go!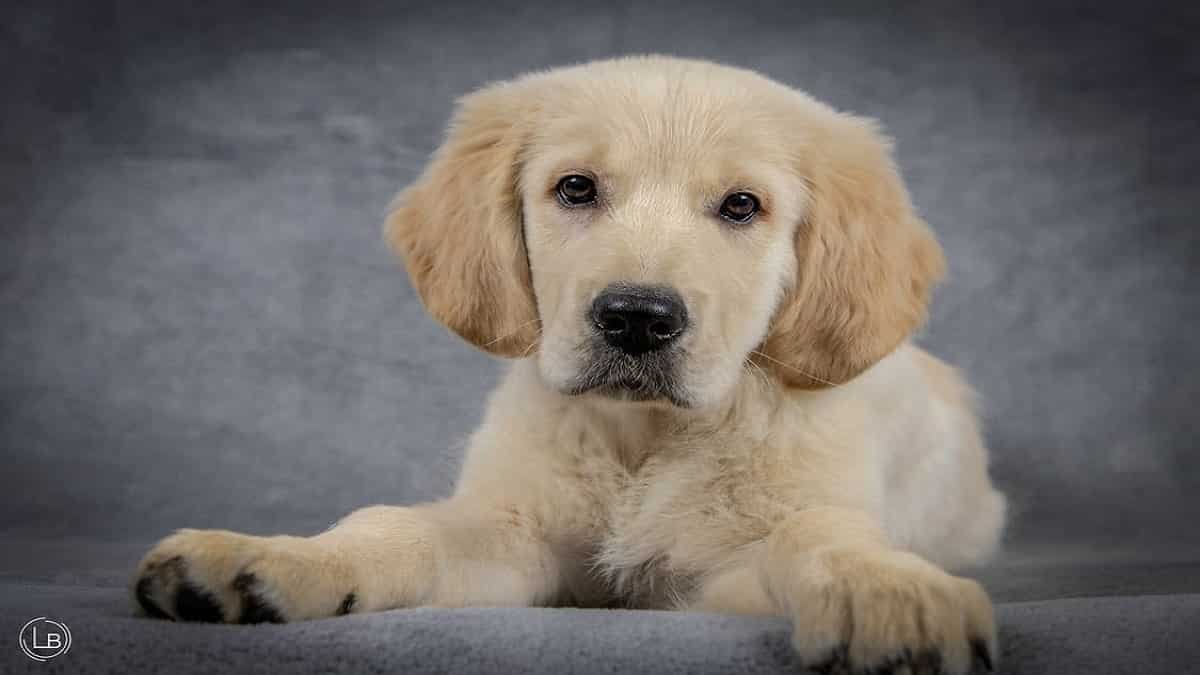 The QUMY Dog Boots also feature two long and adjustable reflective Velcro straps. This prevents the boots from falling off your dog's feet, which can cause it to trip and fall. These sturdy strips also offer a secure closure that keeps your dog safe during its walks.
Pros
Made from high-quality fabric
Fashionable and comfortable
Secure and adjustable
Anti-slip sole
Water-resistant
Cons
May not be ideal for small-sized dogs
3. RUFFWEAR – Grip Trex
Grip Trex by RUFFWEAR is high-performance footwear, specially designed for adventurous goldies. These hiking boots seamlessly blend comfort and function. They have resilient outsoles that protect your dog's paws from extreme environments and are also supremely comfortable, thanks to their breathable mesh.
What's more is that they are easy to slip on, which means that you won't have to spend minutes trying to put these boots on your dog's feet. The adjustable straps further add to the security of the boots. With this amazing footwear, your dog can easily go hiking without you having to worry about it getting hurt while the two of you are out on a hike.
Pros
Rugged and resilient outsoles
Simple, secure, and breathable
Available in blue, black, and red
High-performance
Cons
Not suitable for everyday wear
4. Winsoon Dog Australia Boots
Winsoon Dog Australia Boots are the most affordable boots for golden retrievers on this list. They come in four different colors (black, dark brown, light brown, and pink) and five different sizes. You can get them in the color and size that suit your pet the most.
Winsoon boots are made with soft leather that keeps your pet warm and cozy during cold winter days. Owing to their Velcro straps, the boots stay on as long as you don't take them off.  The breathable mesh on the upper part of the boot keeps the dirt and debris away and ensure that your dog feels comfortable when it's wearing these boots.
Pros
Manufactured with soft leather
Feature rubber sole
Easy to slip on and off
Soft and comfortable
Cons
Not suitable for summer wear
5. Ultra Paws Durable Dog Boots
Ultra Paws Durable Dog Boots are designed for senior dogs with hip conditions. These boots help them walk easily on all types of surfaces, especially slippery floors and other surfaces that can cause them trouble when they walk.
They feature a skid-resistant sole that offers comfort in all kinds of weather conditions, including wet, dry, hot, and cold. In addition, it's a breeze to put these booties on, thanks to their ultra-secure Velcro straps!
Pros
Good for senior dogs
Skid-resistant sole
Best for all weather conditions
Offer secure closure
Cons
Features to Consider When Buying Boots for Golden Retrievers
1. Type of Boots
Depending on the type of season, the best boots for golden retrievers have different characteristics. When looking for boots for the winters, you'll need something that is made from thick and warm fabric. This will keep your dog cozy and well-protected in the harsh, colder months.
However, the same boots won't work in hot summer days. In fact, they can become a source of discomfort for your dog. For the summer months, look for boots that are made from light, breathable fabric. Make sure that the material is not cheap, or else it won't last very long.
2. Good Fit
Another important thing to consider when buying boots for your goldie is the fitting of said boots. Different dogs come in different sizes, so it shouldn't come as a surprise that their paws vary too.
Good boots are the ones that fit perfectly well. To ensure that you choose the right size, you should measure your dog's paws before you head out boot shopping!
3. Closing System
The best dog boots are the ones that come with zippers and adjustable straps. Boots with these features are convenient and easy to put on and take off. They provide the perfect fit, so you won't have to worry about the boots coming off your dog's feet. The best part is that your dog will enjoy physical activities for long hours in any environmental condition.
4. Fabric
There are several kinds of fabrics to opt for when looking for the best boots for golden retrievers. Rubber booties are great for summer days as they provide maximum comfort and protection. Plus, it allows the skin to breathe. Leather booties can be worn in any season. But, that being said, are better for winters, as they're better suited to keeping your dog's feet warm.
Our Final Thoughts
When taking your pet out for a walk, boots can come in handy. They can protect your dog's paws from getting dirty, burnt, or blistered. During cold weather conditions, a warm pair of boots can keep your dog safe and cozy. The boots will ensure that their feet are protected from the cold. Therefore, we recommend investing in a nice pair of boots for your pet. It's better to introduce it to them from a very early age. Otherwise, your dog may resist or may hesitate to wear them.