Brushing your Golden Retriever is not only important for your pet's health but it also makes pet ownership a more enjoyable and bonding experience. However, this presents a new problem, as there are so many brushes to choose from. In this article, we'll discuss features, drawbacks, and benefits that vary with each brush. We'll also share which brush to use on which coat.
In a Hurry? Here are Out Top Choices
By the end of this article, you'll know which brush to choose and be able to make a more informed decision at the time of purchase. The article will help you with deciding the best brush for your Golden Retriever. Keep reading on to find out our top picks for the best brushes for Golden Retrievers.
Why Should You Brush Your Golden Retriever?
Most Golden Retrievers shed hair like crazy. In addition, their coats get dirty and tangled up easily.
By brushing your Golden Retriever, you provide stimulation that releases natural oils on the surface of their skin, keeping their coat sleek and shiny. Brushing your dog on an everyday basis will help you identify any skin or coat issues that could be harmful to your Golden Retriever. By brushing regularly, you can also avoid your pet's coat getting tangled and knotted.
Golden Retrievers are very active dogs and love to play outdoors. Hence, it is very easy for them to get their coats dirty by mud, dirt or other debris that gets stuck in their fur.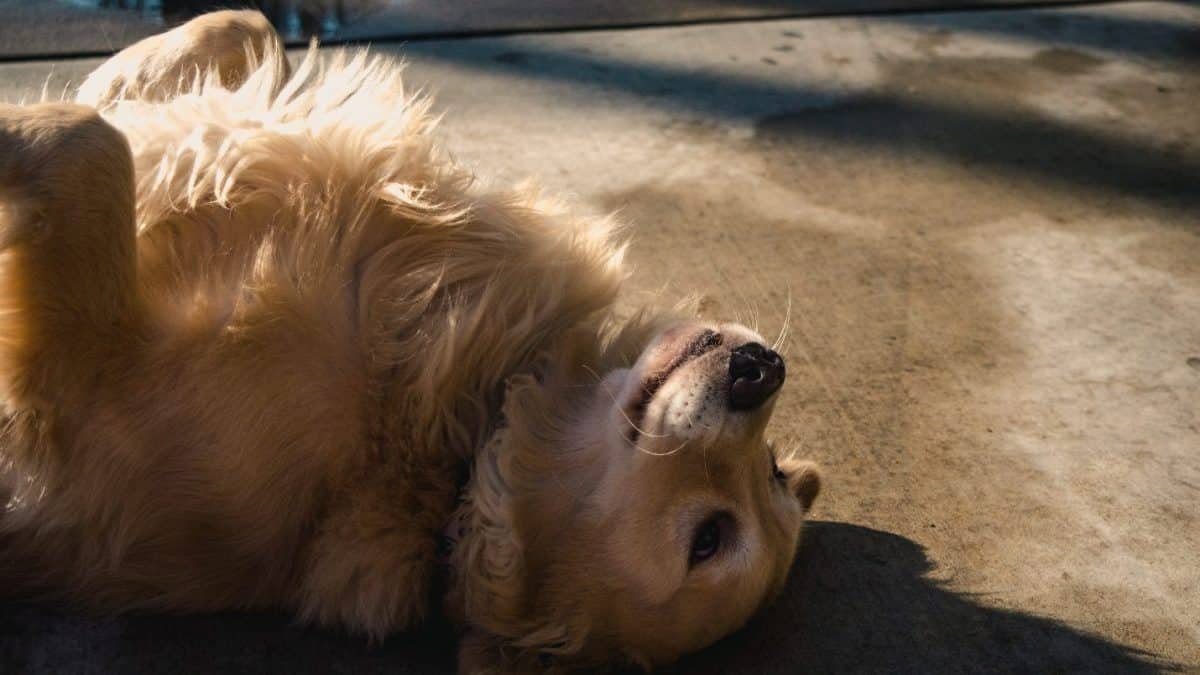 Apart from all the health and hygiene reasons mentioned above, brushing also provides quality bonding time for any pet parent.
How Often Should You Brush Your Golden Retriever's Coat
Ideally, experts recommend brushing your Golden Retriever at least once a day. However, we are not living in an ideal world and life always has other plans in store for us.
So, if you are in a situation where your schedule doesn't allow you to brush daily, then the least you can aim for is once every 3 days. This is to ensure that your Golden Retriever's fur does not get too knotted up or tangled up during play.
Things to Consider Before Buying a Dog Brush
Golden Retrievers are known for their affection, intelligence, loyalty, and above all their most distinguishing characteristic i. e. their majestic golden fur. Their lush fur coat requires regular maintenance and the brushes you ultimately decide to buy impact the quality and time of each grooming session. There are a few factors to consider before buying the brush.
Coat Length. Most Golden Retrievers have medium-to-long fur length and some will have shorter coats. First, make sure that your grooming tools adhere to the right length of the fur coat.
Skin Condition. Your Golden Retriever may have skin problems such as allergies, bumps, dry skin, and maybe even rashes. When buying the brush, keep any potential skin problem in mind so that the bristles don't irritate your pet.
Coat Condition. Coats that are vulnerable to matting or go through heavy shedding due to seasonal changes will require a different approach.
Durability. Any brush you choose should be durable enough to withstand the thick coat of a Golden Retriever. It should also be able to withstand multiple grooming sessions.
Flexible Bristles. You should brush with the most flexible bristles so that the pins bend during brushing and cause no irritation on your Golden Retriever's skin.
Not all brushes are created equal. There are hundreds of grooming tools to choose from which makes the selection process really confusing and daunting.
Different Dog Brushes Have Different Functions
There are many different kinds of brushes available for different types of coat. The fur of a Golden Retriever is made up of two parts: a thick undercoat and a shiny flowy guard coat. This implies the need for two different brushes for proper grooming of your retriever. There are 4 broad categories of brushes available in the market today.
Slicker Brushes. Slicker brushes come with thin bristles that can easily move through the guard coat and come with different ratings that correspond to thickness levels of each fur type. There are detailed guidelines that explain if the brush is suitable for very fine or extremely coarse coat. These brushes are useful for stimulating the release of natural oils and preventing mats.
Porcupine Brushes. These brushes have stiff bristles that may or may not have nubs for your pet's comfort. These are ideal for guard coats but they do not have the reach required for brushing the undercoat.
Undercoat Rake. Their appearance is similar to a rake with long rows of firm teeth (usually made of metal). These brushes are best for the undercoat as they work to untangle and clean the undercoat by removing loose hair. The brushes vary in teeth length for grooming Retrievers with different fur.
Best Brushes for Your Golden Retriever
Hertzko Self-Cleaning Slicker Brush
Pros
This self-cleaning brush provides a painless grooming session and removes fur quickly. The tiny bristles of a manual slicker brush result in bent pins, making grooming a time-consuming process. This brush ejects excess fur with the press of a button. Other self-cleaning brushes have this feature as well but this brush operates efficiently and has no jamming or sticking issues.
The pins of the brush are inside the cleaning mechanism when not in use. This feature not only keeps the bristles straight but also provides the added safety of not poking yourself when you reach for the brush from a bag or box.
The design and quality of the brush allow it to be used for long periods in a single session without tiring yourself. The handle has smooth curves allowing you to groom your Golden Retriever with ease and comfort. The handle also has a soft rubber grip that notches up the comfort level while allowing for precision movements.
This Hertzko brush provides an enjoyable brushing session for adult dogs that resist grooming as well as young Golden Retrievers who are not used to brushing.
Cons
The self-cleaning mechanism requires the bristles to be This might cause a problem with Golden Retrievers that have thick coats or long fur.
The price of the brush is higher when compared to other brushes of the same features. Though the initial price is steep, the quality and durability justify the price tag.
Conair PRODogs Pet-It Boar Bristle Brush
Pros
Boar bristles are very comfortable for the fur and gentle for the skin. This brush can handle even the most sensitive of skins and is great for Golden Retriever puppies as well.
The bristles on this brush are designed to stimulate the natural oils in the skin, providing even distribution. The bristles provide a gentle session for repetitive strokes to stimulate the movement of natural oils from the root till the fur's end.
The brush has an efficient design that allows it to be held between the fingers and offers precise hand movement.
The handheld brush design is similar to petting which makes it a great brush for shy Golden Retrievers or those who do not like brushing sessions. Several users discovered that their Golden Retrievers who did not like grooming sessions adapted to this brush quickly.
Cons
The brush design is devoid of a handle and pet owners have to hold it between their hands. This may be desirable by some but not by others.
Users with big hands discovered that the brush was not ideal for them as it was too small and was not comfortable enough to hold. Kids and adults with small-to-medium hands find it more optimal.
This brush is only meant for the guard coat and not the thick coat underneath. A second brush would be required for brushing and managing the lower layers of fur.
GoPets Professional Double-Sided Pin & Bristle
Pros
This is a good option for pet owners who want to have less brushing tools.
This brush has a pin and a bristle side.
The metal pins (rounded and nubbed) attached at the end of a brush make grooming easier and comfortable for your Golden Retriever
The bristles have a cushioned base which means they go through the dog's body smoothly without getting stuck.
The bristle side has firm and thick nylon pins that allow for the removal of dirt and debris in an efficient way.
The brush has a silicone-covered handle that takes the shape of the holder. This makes brushing in any way convenient to brush as the handle will always fit the grip perfectly.
The brush is also great for puppies and the quality ensures that you can use it till long after your golden pup turns into an adult Retriever.
The company GoPets provides a lifetime guarantee for this product and if you are not satisfied, it will replace or refund the brush.
Cons
The cleaning part requires some time and effort. Users have suggested using old brushes to eliminate the stuck fur and dirt off the brush.
Although the description of the product states that the brush is a two-in-one product meant for undercoats as well. However, the reality is you might need a different brush to penetrate the undercoat of your Golden Retrieverefficiently.
.
FURminator Dog Rake
The head of the rake is such that it allows perfect grooming with a few strokes. This means you do not have to spend hours grooming our dog. This undercoat rake is best for pet parents who have busy schedules. This tool ensures that grooming your dog doesn't become time-consuming.
The handle has a rubber coating with secure grip features that rests firmly in your hands no matter how you hold the tool.
The brush has a single row of teeth that makes cleaning very efficient. The fur slides off easily.
The fur is also great for gently eliminating mats from longer fur.
The teeth are flexible and rotate to a certain degree to make grooming more efficient, easy, comfortable, and gentle for the dog.
The teeth have blunt tips so they do not irritate your Golden Retriever.
Cons
This is a good brush to use for everyday maintenance of the undercoat but for heavy shedding seasons, longer brushing sessions are required.
This brush is not suitable for Golden Retriever puppies that have not yet developed an undercoat. It should only be used for undercoat grooming and not maintaining the guard coat.
FURminator DeShedding Tool
Pros
The handle has an excellent rubber grip providing ease of use for the user.
Online reviews have vouched for this product effectiveness in eliminating the undercoat during heavy shedding.
The tool features a button that ejects fur and allows you to groom your dog with one hand, leaving the other hand free to comfort or pet your Golden Retriever.
Cons
This brush is only meant for deshedding and is only meant to be used on Golden Retrievers with a grown undercoat.
The tool is meant for experienced groomers who know the ins and outs of the shedding season. Improper use could lead to coat damage.
Our Final Thoughts
When it comes to grooming and caring for your Golden Retriever, brushing your dog is a key component to a healthy dog. Now that you've seen our selections for the best dog brushes for Golden Retrievers, you should be able to make a good choice.