Golden retrievers are admired for their fun, loyal, and energetic personality. Owing to their friendly disposition, they make for the best kid/family dogs. That being said, one thing that is often complained about when it comes to golden retrievers is that they are heavy chewers. These furry creatures like to chew whatever comes in their way. They love carrying things in their mouths because of the sensation it produces in their gums.
In a Hurry? Here are Our Top Choices
Heavy chewing often leads to destructive behaviors. For example, if your golden retriever doesn't have any chew toy that it can munch on, it will start chewing curtains, furniture, tennis balls that are lying around the house, or shoes. If you've recently adopted or bought a golden retriever, make sure to buy dental chews for your retriever.
The 4 Best Dental Chews for Golden Retrievers
Dental chews not only prevent your pet from becoming rebellious but also keep their oral hygiene in check. If you're looking for dog chews for your golden retriever, read this blog post to discover the best dental chews for golden retrievers and features to look out for when buying them.
1. SmartBones SmartSticks Peanut Butter Chews
The reason that SmartBones SmartSticks Peanut Butter Chews is first on our list is that these sticks have been manufactured after years of thorough research.
The brand stands out from others that make dental chews due to its promise to provide better health to dogs of all types. It excludes the use of rawhide – a common ingredient that is used to make dog chews. Rawhide is an ingredient that has the potential to cause a lot of digestive issues in dogs. Therefore, the fact that SmartBones does not use rawhide means that it's committed to sticking to its promise.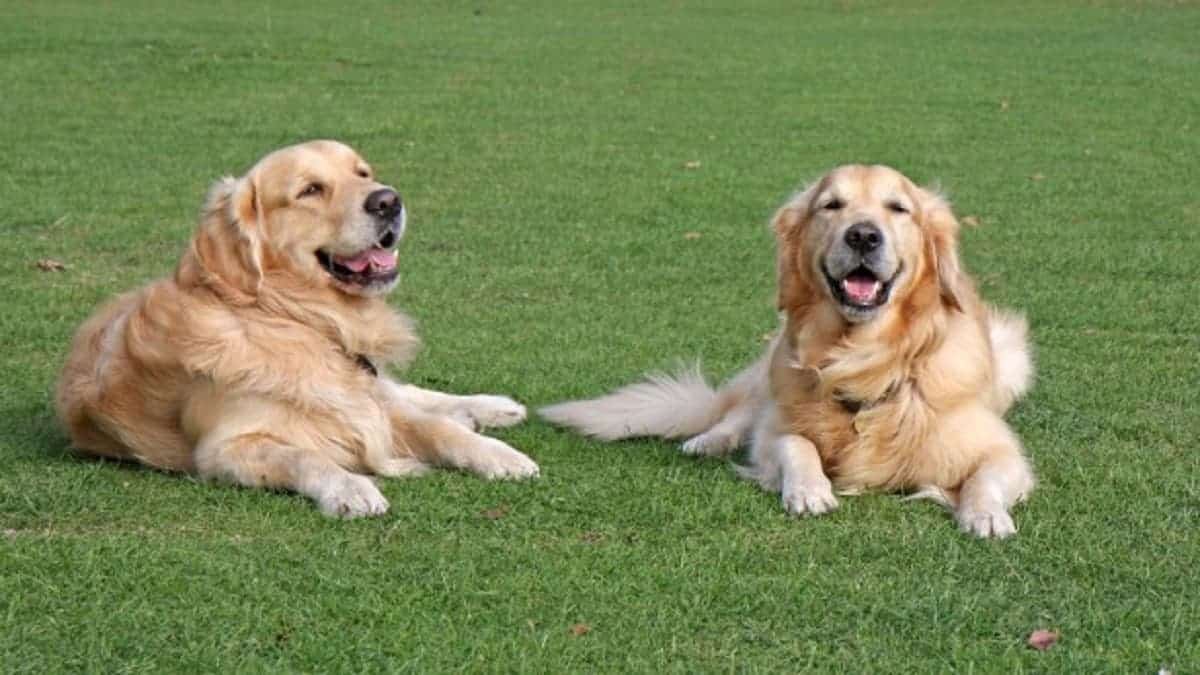 Packed with minerals and vitamins, Peanut Butter SmartSticks are easy to chew and digest. Plus, they help maintain healthy teeth. Even the pickiest golden retrievers love these chew bones because of their delightful chicken, vegetables, and peanut butter flavors. Most dogs can't get enough of these amazing flavors. After reading about all these features, you might think that these dental chews cost a fortune; however, the welcoming news is that these chews are available at quite an affordable price.
Pros
Made with real peanut butter, chicken, and vegetables.
Rawhide-free
Easy to chew and digest
Mineral and vitamin enriched
Available at a reasonable price
Cons
May contain artificial dyes
2. Greenies Original Dental Dog Treats
Greenies Original Dog Treats is prized for being a natural dental chew that lacks all the usual artificial ingredients. These dental chews are packed with all the nutrients that your dog will need – minerals, vitamins, etc., and low-fat content, making it an ideal option for overweight golden retrievers.
Greenies are available in different sizes, which can be chosen depending on your dog's weight. Owing to their flavor and texture, these dog treats are easy to chew and digest. They also aim to keep plaque and tartar at bay while keeping your pet's teeth clean and fresh.
When it comes to a safe and reliable dog chew, you can never go wrong with Greenies. The flavorful dental chew is "clinically proven" and offers a "total oral health solution" when gnawed daily.
Pros
Accepted and recommended by the VOHC (Veterinary Oral Health Council)
Made from natural, easy-to-digest ingredients
Manufactured in the United States
Has a tasty flavor and chewable texture
Is available in different sizes
Cons
May contain wheat ingredients
Slightly expensive
3. Fido Texas T-Bone Dental Dog Bone
If you are looking for a chew bone for your teething golden retriever, look no further than the Fido Texas T-Bone Dental Care dental chew.  The dog treat is made from strong, durable SuperFlex material, which will help keep your pup occupied for hours. It further releases a delicious beef flavor, encouraging your golden retriever to come back for more.
Fido Texas also boasts a unique T shape. This makes it easier for golden retrievers to hold on to the bone and clean hard-to-reach areas in its mouth.
This amazing dental chew toy is available in both small and large sizes; the large one is perfect for older golden retrievers. All of this just serves to make the Fido Texas T-bone one of the best dental chews for golden retrievers.
Pros
Flavored with beef
Keeps golden retrievers happy for hours
Massages the teeth and gums of your pet
Keeps plaque and tartar away
Gentle yet durable
Cons
Only available in two sizes – small and large
Some of them may break easily
4. Pedigree Dentastix Large Dog Treats
Pedigree Dentastix Dental Treats for Dogs are characterized by an X shape that offers the best grip to your golden retriever.  The X shape also helps reduce plaque and tartar by reaching every corner of your dog's mouth.
Unlike other common dental treats, Pedigree is not hard to chew. It features a soft, chewable texture that is best for dogs with weak teeth or gums. Apart from cleaning the teeth, this clinically-proven dog chew helps keep the mouth smelling fresh.
Many pet owners have reviewed Pedigree and have said that it is their golden retriever's favorite chew toy. One of the biggest reasons is because of the treat's juicy and moist flavor. Made from original chicken, beef, and bacon, Pedigree Dental Treat is something that golden retrievers of every age and size absolutely enjoy!
Pros
Clinically-proven to reduce tartar and plaque build-up
Boasts a unique X shape for a firm grip
Manufactured in North America
Available in original beef, bacon, and chicken flavors
Made from a wheat and rice-based recipe
Lacks soy
Cons
Lacks the acceptance seal of the Veterinary Oral Health Council
What to Look for in Dog Dental Chews?
1. Look for Soft and Durable Chew Toys
A good dental chew toy is one that is soft yet durable. It should be firm enough that your golden retriever can easily hold it, but soft enough for your golden to be able to chew it without feeling uncomfortable.
The best dental chews for golden retrievers are the ones that are bendable and softer than your dog's teeth. Some dental chews are so small that your dog can easily swallow them. Therefore, it is important to ensure that the chew toy you choose is of the bigger variety. This way, it will not only clean your dog's teeth, but it won't be a choking hazard either.
2. Go for Digestible Chews
Digestible chews guarantee increased safety. Some digestible dog chews include bully sticks, beef trachea, flavored dental chews, and non-edible chew toys.
It is best to avoid animal hooves, antlers, bones, rawhides, and hard plastic or nylon chews, as they can easily cause digestive issues if they're swallowed by your pet.
3. The VOHC Seal
The Veterinary Oral Health Council is a veterinary dental group that reviews animal dental products. A product only gets the VOHC seal if it prevents the formation of plaque and calculus.
Experts believe that the VOHC seal is a helpful reassurance about the credibility of the product. That being said, many dental supplies lack the VOHC seal, yet they are of excellent quality.
Our Final Thoughts
Keep in mind that there is no single dental chew that is right for every golden retriever. For example, overweight golden retrievers with upset stomachs will do well with non-edible chew toys. In the case of healthy but picky golden retrievers, you'll need to look for a deliciously flavored chew. Just ensure that whatever dental chew you give your dog, it shouldn't make up more than 10% of their daily diet.