If you have a pet golden retriever in the house, you're probably used to their over-the-top excitement whenever it's time for lunch or dinner. All dogs love to eat and really look forward to their mealtimes. As a dog-owner, we're sure you provide your furry friend with the best and the highest quality dog food to ensure that your pet's nutritional needs are being fully met.
In a Hurry? Here are Our Top Choices
However, you must know that it goes way beyond just the quality of the dog food. Your work doesn't stop there because it's equally essential to get the right kind of dog bowl for your pet. Did you know that there is a massive variety of dog bowls available out there that are designed to cater to the needs of different types of dogs?
The 4 Best Dog Bowls for Golden Retrievers
Even if you didn't already know that, you've got nothing to worry about. Why? Well, it's because we've come up with a list of the best dog bowls for golden retrievers. This guide will help you choose the right and the most suitable dog bowl for your furry buddy to make their mealtimes even more pleasing and fun.
1. TripleTree Large Double Stainless-Steel Pet Bowl for Food and Water
If you find yourself cleaning the floors and removing food and water every time after your pet eats a meal, this dog bowl is the ultimate lifesaver for you. This bowl is especially great if you have multiple dog bowls that your pet tends to push around while it eats.
One of the main reasons why the TripleTree large double stainless-steel pet bowl is considered to be an excellent dog bowl for golden retrievers is because it functions like a full dinner set. It has two separate bowls – one for food and one for water. The bowls are fixed on a silicone pet feeder mat that not only helps prevent food and water spillage but further keeps the bowl from skidding and scratching your floors.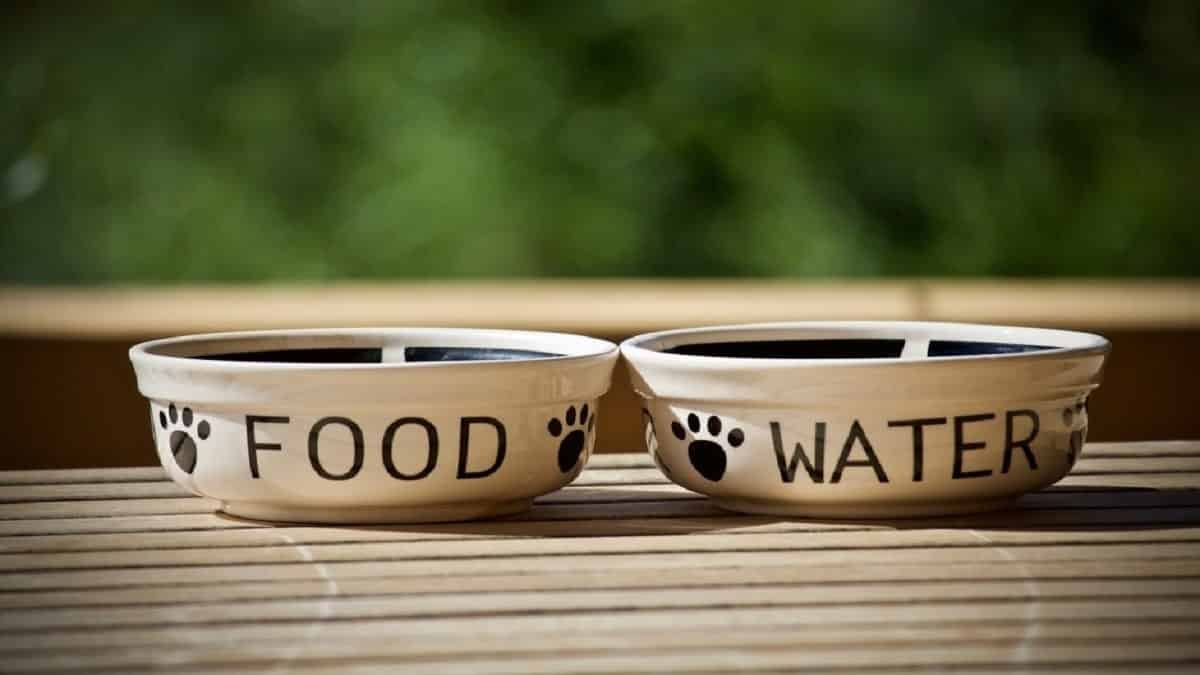 Considering how dogs can often be messy eaters, this bowl allows them to eat excitedly, but without making any mess at all. Another great feature of this dog bowl is that it's made of stainless steel, which is completely odorless, non-toxic, and food-grade. All of this helps ensure a safer feeding experience for your golden pet.
Pros
Excellent value for money
Compact and foldable
Effectively prevents food and water spills
Bowls can easily be removed from the mat to clean or fill
Silicon mat prevents dogs from toppling or dragging the bowls on the floor
Cons
The smaller bowl is not suitable for large retrievers
Bowls tend to bow out a little when filled completely
2. AmazonBasics Dog Bowl
The best dog bowls for golden retrievers don't necessarily have to be expensive, and this stainless steel dog bowl certainly proves that statement right. At a very low price, this dog bowl offers exceptional quality and durability. It allows your pet to eat and drink in peace without making a mess on the floor.
The stainless steel used to construct this bowl gives it an incredible finish and a great resistance to scratches and rust. This means that the bowl will look as good as new for a really long time. The AmazonBasics dog bowl is quite spacious and can hold up to 38 ounces, which makes it a great option for water, treats, wet food, as well as dry kibble.
One of the best features of the AmazonBasics dog bowl for golden retrievers is that it comes with a sturdy rubber ring at the bottom that keeps it in place while your golden retriever enjoys its meal. The slip-resistant rubber base not only prevents the bowl from sliding across the floor but it also greatly protects the floor from damage.
It's also dishwasher safe and rust-resistant, so you can easily wash it when your pet's done with their food.
Pros
Very stable with a sturdy bottom
Is big and spacious
Extremely light on the pocket
Offers a healthier alternative to plastic
Makes mealtimes mess-free
Cons
Large retrievers can easily topple the bowl over
Liquids can get trapped in the rubber ring in case of a spill
3. Bone Dry Ceramic Dog Bowl
Your golden retriever will absolutely love this dog bowl mainly because of its unique and interesting lattice design. Your hungry pup will be delighted at the sight of this bowl as its pattern sports a subtle but pretty paw motif.
The bone dry ceramic dog bowl is one of the best dog bowls for golden retrievers for a number of reasons. It's available in three different sizes; small, medium, and large. This makes it easy for dog owners to get a perfectly-sized bowl for their pets.
Additionally, it also comes with 5 great color options that include two striped designs and three lattice designs. These various creative designs will not only blend in with your home décor but will also excite your pet and help them enjoy their mealtimes.
Like many other top dog bowls for golden retrievers, this bowl also features an impressive non-slip function. The bottom of the bowl has a silicone rim that keeps the bowl upright and prevents it from slipping around. The bowl itself is made of porcelain ceramic that gives it great durability and also makes it dishwasher safe.
Pros
Bowls are pretty and super adorable
Easy to clean and dishwasher safe
Excellent for retrievers of different sizes
Super sturdy and durable
Cons
The dimensions of the bowl don't  match the size
Some pets can easily remove the silicone ring at the bottom
4. URPOWER No Spill Dog Bowls
Does your golden retriever always prefer eating and drinking at the same time? Does this leave you juggling multiple dog bowls at once? Well, worry no more because this dog bowl will save you from any hassle and will make mealtimes enjoyable for your pet and peaceful for you.
The URPOWER no-spill dog bowl comes with two dog bowls that are perfectly fitted on a non-skidding and non-flipping silicone mat. The silicone mat gives it an extra-large base that easily catches any spills and keeps your floors neat and clean.
What makes it one of the best dog bowls for golden retrievers is that it's made of rust-resistant stainless steel, which gives the bowl exceptional durability, making it an excellent option for your pet's feeding time. Additionally, both the bowl and the silicone mat are super easy to clean and completely dishwasher safe.
Pros
The bowls are quite deep and highly spacious
Easy to clean and maintain
Prevents any food or water spillage
The silicone mat effectively prevents skidding
Cons
The mat is quite flimsy
The rubber may bend or collapse
What to Consider When Buying a Dog Bowl
As we mentioned above, choosing the right kind of dog bowl for your golden pup is extremely important. The right bowl will not only make their mealtimes satisfying but will also help them eat at a decent speed as well as improve their posture.
Take a look at a few essential features you must consider when buying a dog bowl for your pet.
The material of the bowl
The size of the bowl
Your pet's feeding needs
The age and size of your pet
Your pet's feeding habits
Our Final Thoughts
One of the many reasons why most pet owners dread their pet's mealtime is the post-feeding mess and spill that is created on the floor. But you no longer have to worry about that anymore because our list of the best dog bowls for golden retrievers will help you pick the right bowl for your pet – one that isn't only adorable, but also guarantees that there'll be no mess!