According to the American Kennel Club, the golden retriever is the third most popular dog breed in the United States. Golden retrievers have several good qualities that make them popular among pet owners. They are loyal, devoted, intelligent, and friendly. Golden retrievers are very good guide dogs and are also great for search and rescue work. If you own a Golden Retriever, you'll want to treat them right. One of the best ways to do that is to feed them well. In this article, we'll go through some of the best dog food for Golden Retrievers.
The Best Dog Food for Golden Retrievers   
As a responsible pet parent, there are several things that you must consider in order to take proper care of your golden retriever. High-quality food is very important for keeping your golden retriever healthy and happy. Offering tasty and nutrient-rich food to your golden retriever is one of the best things you can do as a loving canine owner.
There are a number of pet food brands that offer high nutritional value at a very reasonable price. These food products are also very tasty and easily digestible. A lot of these formulas have been designed to address widespread food sensitivities and allergies. As a result, these products have high ratings from satisfied customers.
Let's get into the list. Here are the best dog food choices for your golden retriever.
Merrick Grain-Free Real Buffalo and Sweet Potato Recipe Dry Dog Food
Merrick Grain Free Dry Dog Food Recipes
INGREDIENT: DEBONED MEAT, FISH OR POULTRY: Merrick Grain Free dog food recipes contain leading levels of high quality proteins for healthy energy levels, building muscle mass and a great taste your dog will love.

HEALTHY SKIN AND COAT, HIPS AND JOINTS: These grain free dog food recipes contain leading levels of Omega-3 and 6 fatty acids to support healthy skin and coat plus leading levels of glucosamine and chondroitin to maintain your dogs hip and joint function.

REAL WHOLE FOODS FOR OPTIMAL NATURAL NUTRITION: Merrick Grain Free dog food recipes include real, whole foods like sweet potatoes, peas, apples, blueberries and contain zero preservatives, fillers, corn, wheat, soy or gluten

A VARIETY FOR EVERY BREED AND NEED: Merrick Grain Free dog food offers a range of specially crafted recipes to nourish all types of dogs, offering: puppy food, senior dog food, large breed dog food, and an option for those dogs needing a little help to maintain a healthy weight.

At Merrick, we promise your pet will not only love the taste of our natural dog food, they'll be happier and healthier, too. That's why if you (or your pet) are not 100%, absolutely, totally, completely satisfied with Merrick Grain Free dog food, return it for your money back. We don't just make the best food ever. We stand behind it.
With this high-quality product, you can let your golden retriever enjoy the wonderful taste of buffalo meat. The good thing is that the meat has been de-boned. It is, therefore, very safe for your dog.
A lot of dogs are allergic to grains. You will appreciate the fact that this food item contains no grains and that the mixture is 70 percent meat. Grain-free foods are a good solution for controlling gluten intolerance and digestive problems in dogs.
Minerals and vitamins have also been added to the preparation to make it even healthier for your golden retriever. Specific nutrients like chondroitin and glucosamine have been added for healthier and stronger joints. Essential fatty acids have also been included due to their health benefits.
Optimal levels of omega-3 and omega-6 EFAs are ideal for a thick healthy coat and problem-free skin.
This grain-free product contains fresh vegetables and fruits like blueberries, peas, sweet potatoes, and more.
Royal Canin Golden Retriever Dry Adult Dog Food
Royal Canin Golden Retriever Adult Breed Specific Dry Dog Food, 30 lb. bag
Royal Canin Golden Retriever Adult dry dog food is designed to meet the nutritional needs of purebred Golden Retrievers 15 months and older

Exclusive kibble shape designed specifically for a Golden Retriever's straight muzzle and scissor bite to encourage chewing

Reinforces the skin barrier with essential nutrients to support healthy skin and help promote a shiny coat

Promotes heart health with taurine, EPA, and DHA for healthy cardiac function

Maintains ideal weight with precise calorie and fat content designed for Golden Retrievers.This diet contains 3489 kilocalories of metabolizable energy (ME) per kilogram or 276 kilocalories ME per cup on an as fed basis (calculated)
This is one of the best food choices that have been specifically formulated for golden retriever dogs. The product contains DHA, EPA, and other essential fatty acids to improve the health of your golden retriever. Omega-3 fatty acids are important since they improve the health and function of lungs, heart, skin, brain, intestines, and bones.
This formula is suitable for golden retrievers that are older than 15 months. The formula has been developed keeping in mind the specific health issues that golden retrievers may face.
For instance, golden retrievers have beautiful flax-colored coats which are greatly admired by pet owners. However, dense and thick hair can cause skin irritation and other problems. Golden retriever breeds are also known to suffer a higher incidence of certain heart problems. The formula has been designed to address these concerns.
An exclusive mix of nutrients has been formulated to maintain the coat and skin health of your golden retriever. Since golden retrievers are genetically predisposed to certain coronary conditions, essential fatty acids and taurine have been included to promote cardiac health.
Fromm Gold Large Breed Formula Dry Adult Dog Food
Fromm Adult Gold Large Breed Formula Dry Dog Food
Large Breed 50+

Added cartilage to support joint health.

Real Wisconsin cheese Viable prebiotics & probiotics

Optimum omega fatty acids ratio Corn, wheat, and by-product free 100% USDA-Inspected Ingredients

Made in the USA in a USDA-Inspected plant
This formula contains a generous variety of meat from different sources so that your golden retriever can enjoy greater health benefits. It contains lamb, chicken, and duck meat. The formula also contains delicious, real Wisconsin cheese and whole eggs that make it an excellent high-protein option for your canine. The mixture has been balanced with potatoes, oatmeal, and pearl barley.
In order to support the digestive health of your golden retriever, probiotics, prebiotics, and essential fatty acids have also been added to the mixture. Cartilage is also one of the ingredients which will improve bone and joint health of your cuddly canine.
The highly balanced preparation is ideal for adult golden retrievers that weigh over 50 pounds.
This food item is free from corn, wheat, and related by-products since they are the most common sources of food allergies and intolerance. It is also free from artificial colors and flavors.
Taste of the Wild Pacific Stream Dry Dog Food
Taste of the Wild Pacific Stream Grain-Free Dry Dog Food with Smoked Salmon 14lb
Taste of the Wild Pacific Stream with smoked salmon; real Salmon is the #1 ingredient; optimal amino acid profile, protein rich for LEAN, STRONG MUSCLES

Premium ingredients with added vitamins & minerals; fruits and vegetables as SUPERFOODS for hard-working ANTIOXIDANTS; fatty acid blend for SKIN & COAT

Ingredients From Trusted, Sustainable Sources Around The World; Made With No Grain, Corn, Wheat, Filler; No Artificial Flavors, Colors, Preservatives Added

Nutrient rich and HIGHLY DIGESTIBLE with guaranteed species specific, PROPRIETARY PROBIOTICS that survive and thrive in the GI tract

MADE in the USA; FAMILY OWNED & run; food made with the most scientifically advanced food safety protocols; Wed appreciate your CALL 800.342.4808
This is a great choice if you want to provide grain-free food to your golden retriever. If your dog loves seafood, then this gourmet dog food item is perfect since it contains salmon as the main ingredient. This is an extremely good choice for golden retrievers since salmon is one of the best sources of high-quality protein. It is also one of the richest sources of omega-3 fatty acids which are essential for gut, skin, and brain health. The product is also environmentally friendly since it uses salmon from a sustainable source.
This is one of the most natural foods that you can provide to your cute golden retriever. Carbohydrates have been sourced from sweet potatoes and peas due to which the formula is grain-free. The grain-free produce used in this food item is highly digestible and, therefore, a great energy source for your canine.
Dried chicory root has been included as prebiotic support to aid digestive health. Your canine will also get lots of antioxidants and nutrients from high-quality fruits and vegetables that have been added to the blend. The recipe also provides a large number of antioxidants thanks to raspberries, blueberries, and tomatoes.
A balanced complex of essential minerals will provide a host of health benefits for your golden retriever. The minerals have been mixed with amino acids in order to improve their bioavailability for maximum benefit. Your furry friend will love the great taste of smoked salmon and will also benefit from the high nutritional value of this food mixture.
The formula does not contain eggs and is therefore suitable for dogs that suffer from an egg allergy.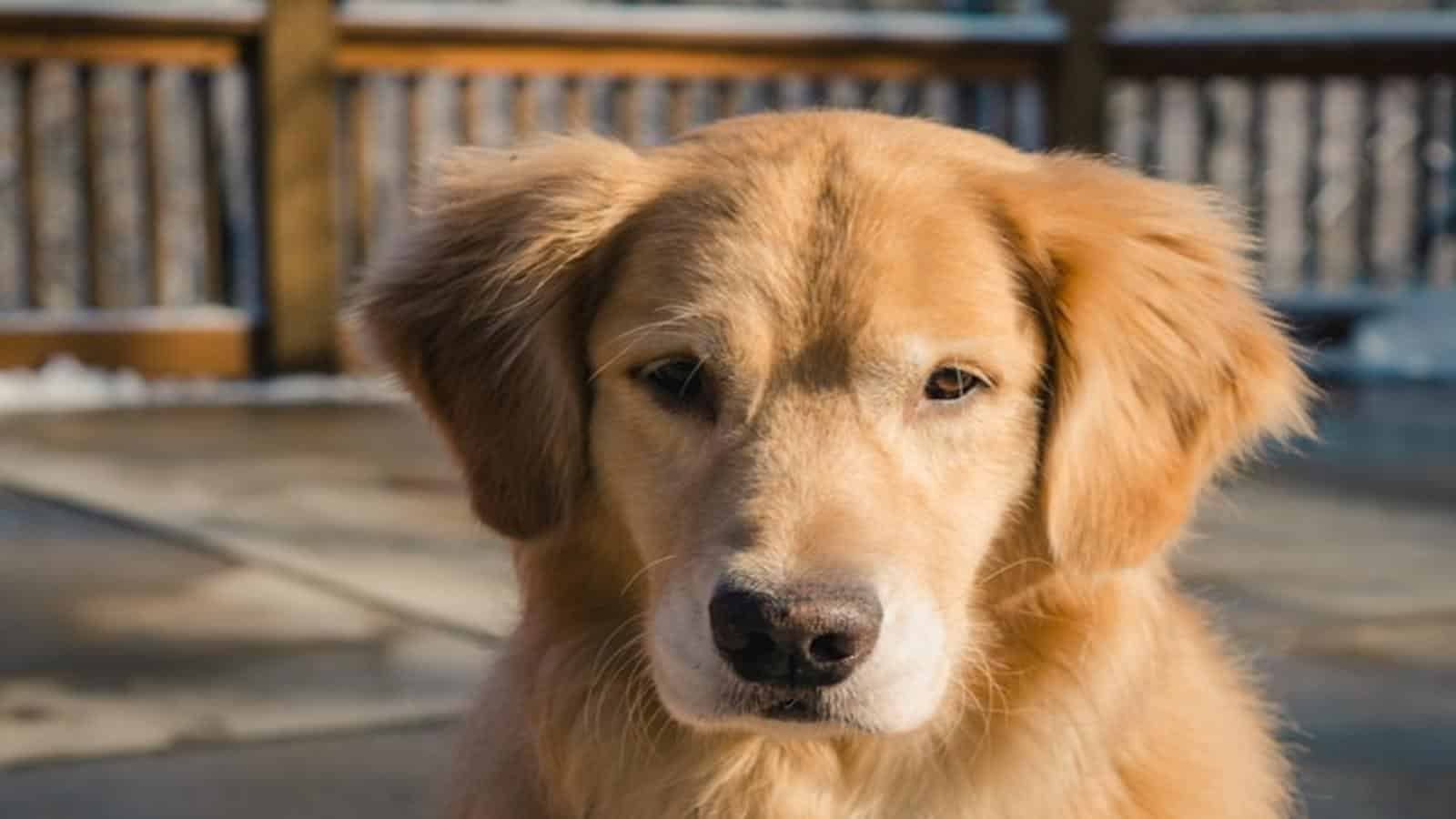 Natural Balance Limited Ingredient Diets Dry Dog Food – Sweet Potato & Fish Formula
If your golden retriever suffers from food allergies and you don't know which food items your furry companion is allergic to, then you can give this formula a try.
The prime advantage of this formula is that it has a limited list of ingredients which will minimize the chances of allergy and intolerance. This recipe is made from fish and sweet potatoes which are the least allergic foods for golden retrievers. As a result, there is a good chance that your golden retriever will be able to tolerate this formula well even if she is very sensitive to food. This food product is free from preservatives and artificial colors and flavors, making it a healthy choice for sensitive canines.
The formula has been kept simple by including only premium sources for all of your canine's protein, carbohydrate, fat and nutritional needs. This product is grain-free and will therefore support the digestive function of dogs that are sensitive to grains. Essential amino acids from salmon have been included to support the immune system, develop lean muscle mass and to maintain a thick and lustrous coat.  Sweet potatoes are a very nutritious source of carbohydrates and are excellent for digestive health. They are very rich in potassium and antioxidants which are great for high energy levels.
The company has been developing premium pet food products since 1989 based on the latest nutritional science. They have also developed a high safety standard so that you can feed your furry friend only the healthiest and safest food.
Nine safety tests are performed on every batch by a team of experienced and high qualified chemists and microbiologists. The results of the tests are also posted on the website so that buyers can be confident about product quality and safety.
Blue Buffalo Wilderness Adult Duck Recipe Dry Dog Food
Blue Buffalo Wilderness High Protein Grain Free, Natural Adult Dry Dog Food, Duck 24-lb
PACKED WITH REAL DUCK: A recipe made to satisfy your dog's natural love for meat, this high protein dog food features real duck to help build and maintain lean muscle mass.

GRAIN FREE DOG FOOD: BLUE Wilderness grain free adult dog food is made with healthy carbohydrates including sweet potatoes and peas to help fuel your adult dog's active lifestyle. Plus, it contains omega 3 & 6 fatty acids to support skin and coat health.

WITH LIFESOURCE BITS: This formula contains BLUE's exclusive LifeSource Bits – a precise blend of antioxidants, vitamins and minerals carefully selected by holistic veterinarians and animal nutritionists to support immune system health, life stage requirements, and a healthy oxidative balance.

NATURAL DOG FOOD: BLUE dry dog food is formulated for the health and well-being of your dog and features the finest natural ingredients enhanced with vitamins and minerals. It never contains chicken (or poultry) by-product meals, corn, wheat, soy, artificial flavors or preservatives.

Contains one (1) 24-lb bag of BLUE Wilderness High Protein Grain Free, Natural Adult Dry Dog Food, Duck
This food product takes natural evolution into consideration to develop a formula which will suit golden retrievers very well. This dog food is high in protein and free from grains. It therefore closely matches the diet of the ancestors of modern-day dogs.
The dry recipes are made from high-quality ingredients that have been enriched with kibble packed with the right blend of antioxidants, minerals, and vitamins. This premium quality kibble is called LifeSource Bits. In order to maintain freshness and to maintain the potency, the nutrient-rich kibble is processed at lower temperatures compared to other ingredients.
The company has a diverse product range which can suit golden retrievers at different stages of growth. You can pick formulas for pups as well as fully developed adults. The recipes contain real salmon, duck, chicken and other high-quality protein sources which all dogs love to eat.
The formulas have been enhanced with ingredients which target the health needs of dogs at different stages of their life. For instance, DHA supports brain development of little pups while chondroitin and glucosamine improve joint health of senior dogs.
The nutrition profile of the formulas has been developed by animal nutritionists and holistic veterinarians so that your golden retriever can benefit from optimum levels of antioxidants, vitamins and minerals.
You can choose from several formulations so that your golden retriever is never bored from the same recipe. The company makes exotic and tasty products from uncommon sources like venison, rabbit, quail, halibut, and bison that will appeal greatly to your golden retriever. There are few brands that offer such a diverse range of rich and extraordinary flavors.
All products of this brand are free from soy, corn, and wheat which are the leading cause of intolerance and food allergies. No preservatives, colors or artificial flavors are used in the recipes. You can enjoy peace of mind knowing that you are feeding your golden retriever the most natural ingredients that will support its health.
Since the formulas are rich in protein and low in carbohydrates, they are good for maintaining the weight of your dog in the ideal range. With other carbohydrate-rich formulas, you have to be careful since your golden retriever can easily start gaining excessive weight if you are not careful. High protein and low carbohydrate formula will prove helpful for canine weight management.
Eukanuba Adult Large Breed Dry Dog Food Lamb & Rice
Eukanuba Adult Large Breed Lamb 1st Ingredient Adult Dry Dog Food, 30 lb. bag
Eukanuba Adult Large Breed Lamb 1st Ingredient dry dog food is complete and balanced nutrition for large breed dogs 15 months or older, weighing over 55 lbs.

Promotes lean muscle development and joint health in active adult dogs with a combination of animal protein, glucosamine, and chondroitin sulfate

Helps keep dogs sharp and supports healthy brain function with DHA and vitamin E

Fuels an active lifestyle with optimal levels of fats and carbohydrates

High-quality lamb is the first ingredient for protein that powers their day
This recipe has been designed to provide the optimal nutritional formula for your Golden Retriever. This dry dog food product provides the right mix of fats, proteins, and carbohydrates to satisfy the needs of adult golden retrievers. The nutritional formula is balanced and complete and therefore suitable for health maintenance.
No fillers have been added which can reduce nutrient density and increase calories. The protein comes from premium quality real lamb which is ideal for maintaining and developing lean muscle mass. Calcium has also been added to increase bone density and strength. Your dogs can reach their full health potential with this balanced formula.
The digestive health of canines is also supported through the inclusion of a specially formulated fiber system that has been enhanced with beet pulp and prebiotic fructooligosaccharides. These ingredients help to increase gut flora diversity for a host of health benefits. Better digestion also leads to increased nutrient absorption.
Glucosamine and chondroitin from natural sources have also been included to improve joint support and mobility of senior golden retriever dogs.
The optimal blend of omega-3 and omega-6 essential fatty acids will provide several health benefits.
Which Dog Food Will You Choose for Your Golden Retriever?
You now have a better understanding of the best dog food options for Golden Retrievers. Choose one that you think your Golden Retriever will enjoy and go with it. They're all good options. You can always switch later on if your dog doesn't do well with a certain food, but make sure to ease them into the new food by overlapping with the old food.