An incredibly popular crossbreed, Goldendoodles are the gorgeous offspring of Poodles and Golden Retrievers. Since they are hybrid dogs, they can be found in plenty of sizes and shapes.
In a Hurry? Here are Our Top Choices
When it comes to Goldendoodle pups, the mix breed is admired for the endless love and energy that it brings into a pet owner's home. If you are planning on getting one, you may have already thought about this dog breed's diet needs. And, the first question that may have probably popped into your mind is – what puppy food is ideal for a Goldendoodle?
The Best Dog Food for Goldendoodle Puppies
A Goldendoodle pup is bouncy and energetic, so taking care of its dietary needs is crucial. You don't want your pup to be weak and lifeless. And for that, it is important to nourish them with high-quality food. Continue to read this blog post to discover the best dog food for Goldendoodle puppies.
1.  Victor Dog Food Grain-Free Active Dog and Puppy
If you are on the lookout for grain-free puppy food, Victor Dog Food Grain-Free Active Dog and Puppy is a formula you should consider. Because it is grain-free, it is ideal for pups that may have allergies or sensitivities to grains.
Even though the pup food lacks ever-so healthy grains, it is rich in essential nutrients (proteins, minerals, fatty acids, and amino acids) nonetheless. Owing to these nutrients and other active ingredients like beef and sweet potatoes, this formula is best for growing puppies.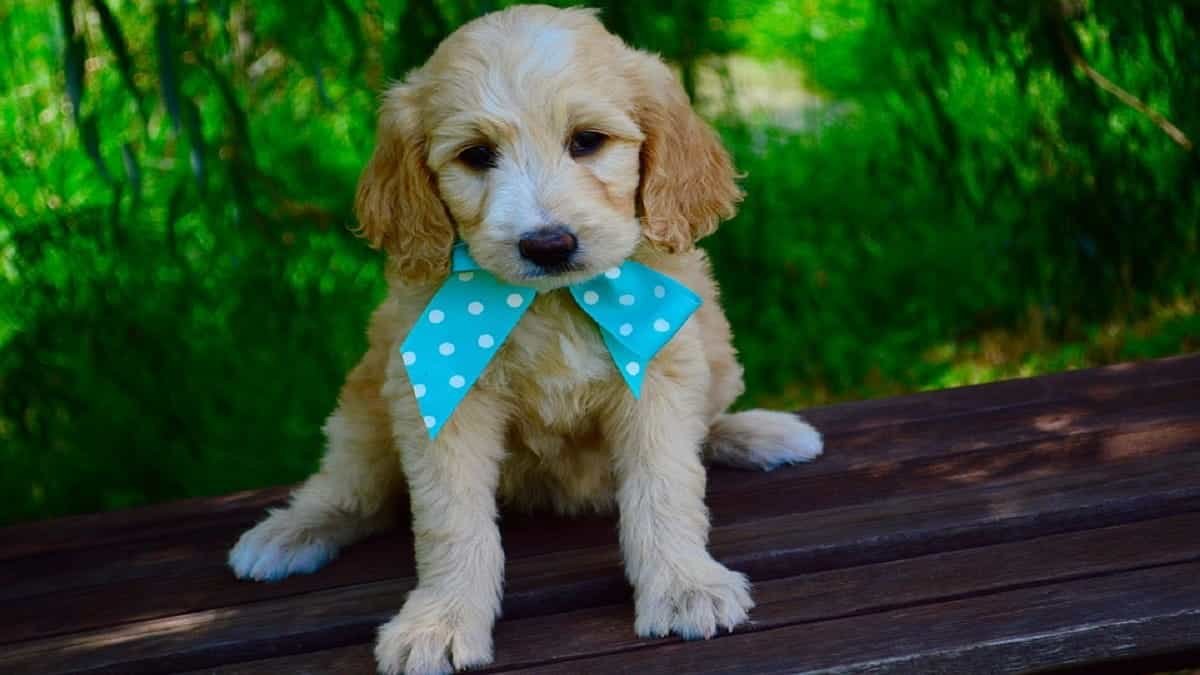 Did you know that Victor Dog Food is made from scientifically-advanced VICTOR Core ingredients? This ensures a healthy digestive and immune system of your Goldendoodle. As far as the best dog food for Goldendoodle puppies is concerned, Victor Dog Food is right up there with the best of them.
Pros
Uses three of the best types of animal protein – pork, fish, and beef
Higher protein content ensures the physical development of small and big Goldendoodle pups
Contains zinc, selenium, and vitamin E – all of which are great for a puppy's skin
Good for your pup's eyesight
Cons
2. Nulo Puppy Food
Nulo Puppy Food is another grain-free recipe that lacks corns, soy, wheat, white potatoes, artificial flavorings, and preservatives – the ingredients that may cause your dog to experience allergic reactions.  What's more is that the meat formula is based on 80% animal protein which nourishes your dog with the necessary amino acids and other nutrients.
But that's not all.
With higher DHA content, your puppy is less likely to engage in destructive activities and settle more comfortably in your home. Calcium and phosphorus help increase bone formation. Plus, strong, healthy bones prevent fractures, which is common among active pups.
Pros
Grain-free
Packed with nutrients like protein, calcium, phosphorus, etc
DHA promotes cognitive development
High meat but low carbs
Cons
Slightly expensive
Lacks vegetables
3. Blue Buffalo Life Protection Formula Puppy Dog Food
Real meat is the primary ingredient of Blue Buffalo, which makes this formula an excellent source of protein. In addition to meat, the healthy pup food contains real chicken, which helps build and maintain the healthy muscles of your growing Goldendoodle.
What's more is that this dog food contains wholesome veggies, grains, and fruits.  Because Blue Buffalo is packed with so many healthful ingredients, it offers a holistic and balanced diet to your pet. All this and more make this a strong contender for the best dog food for Goldendoodle puppies.
Please note that Blue dry food is formulated from fine, natural ingredients for enhanced flavor. The recipe, by no means, contains any additives or preservatives. After opening the packet, you'll find the food in small-sized kibble, which will help your pup hold, chew, and break down their food quite easily.
Pros
Made from chicken and meat
Offers a wide variety of nutrients – proteins, vitamins, minerals, and antioxidants
Ideal for a well-balanced, holistic diet
Has no by-products, artificial colors, and preservatives
Cons
4. Whole Earth Farms Healthy Puppy Dog Food
Whole Earth Farms Puppy Recipe is filled with the real goodness of proteins and good carbs. These vital nutrients ensure that this puppy food is ideal for highly-energetic Goldendoodles. Formulated in the United States, Whole Earth Farms offers quality that is unmatchable.
Another reason for suggesting this brand is because with it, what you read is what you get – this dog food is made using ingredients fresh from the farm. Salmon and chicken provide excellent-quality protein, oatmeal and barley have carbs, and herbs like sage, thyme, rosemary are a source of essential nutrients and delicious flavors. The amalgamation of these ingredients ensures dog food that is organic and wholesome.
Pros
Cooked and prepared in the USA
A great source of high-quality protein
Tasty and nutritious
Ideal for dogs of all breeds and sizes
Has no artificial flavors, additives, or preservatives
Cons
Contains less protein than other dog foods
Features to Consider When Buying a Dog Food for Goldendoodle Puppies
1. Nutrition
The key factor to look for when getting pet food is the nutrition content. Protein is the most important nutrient for growing dogs. Therefore, it is best to look for meat-based meals. That being said, you need to pick the right kind of meat. Meat meal is better than whole meat as the latter has more water than meat, which reduces the nutrition content in the product.
In addition to proteins, good carbs are also an important nutrient that the best dog food for Goldendoodle puppies must contain.
2. Ingredients
Apart from nutrition content, always check the type of ingredients used to make the product. These days, manufacturers liberally use preservatives and additives that can be harmful to your pup. Whichever product you pick, ensure that it doesn't have chemicals or artificial ingredients.
It is always ideal to use natural preservatives like tocopherol or ascorbic acid. These natural preservatives are way better than the chemical ones. It's also unlikely that your dog will have any kind of allergic reaction to these natural preservatives.
3. Wet or Dry Food
This is something that your puppy will choose themselves. Your job is to try feeding your pup both types of food. Keep in mind that every dog has a different preference; some like dry food while others like wet food.
Wet and dry food come with their own set of advantages; wet food is higher in water content while dry food is higher in other nutrients. Therefore, it is advised to keep switching between the two when feeding your dog.
Our Final Thoughts
Giving the right food to your pup is important when it comes to taking care of their health. Experts suggest choosing a food product depending on the breed, age, and size of your pup. For Goldendoodles, the best kinds of dog food are the ones that we've listed down in this blog post.
Before you buy any of them, make sure to go through their ingredients and nutrition content. Also, keep your pup's allergies in mind while shopping for puppy food. As long as you keep the needs and requirements of your dog in perspective, you'll stay on the right path. If you aren't sure what dog food to buy your Goldendoodle, consult a vet. Other than that, best of luck!