Apart from a loving pet owner, nice toys to play with, and a spacious yard to run around, dogs need high-quality food too. As they say, without health, there is no happiness; a healthy-looking dog is much happier than an undernourished dog, or one that doesn't get the right kind of dog food.
In a Hurry? Here are Our Top Choices
Similarly, if you have a Goldendoodle as your pet, you'll need to take care of its nutritional requirements. You can't go around feeding it whatever pet food you come across on the supermarket shelves. The food that you give to your Goldendoodle should be healthy and of premium quality.
The 5 Best Dog Foods for Goldendoodles
In this blog post, we've listed down the best dog foods for Goldendoodles that you must give your precious doggy if you want it to grow to be healthy and strong.
1. Instinct
Instinct is a high protein, calcium-based raw food for Goldendoodle puppies and adults. It includes three major pet food types – freeze-dried raw kibble, stored kibble, and frozen patties. In addition, the versatile dog food contains some extras that make it more wholesome and healthier for Goldendoodles.
Regardless of how picky eater your Goldendoodle is, Instinct has the kind of food that every dog has or develops a liking for. And with extra treats, mealtimes become more exciting. This nutritious pet food has no grain, corn, wheat, potatoes, soy, artificial colors, or preservatives – ingredients that can trigger food sensitivity. Apart from protein and calcium, pets will find loads of fats, carbohydrates, vitamins, and minerals as essential nutrients.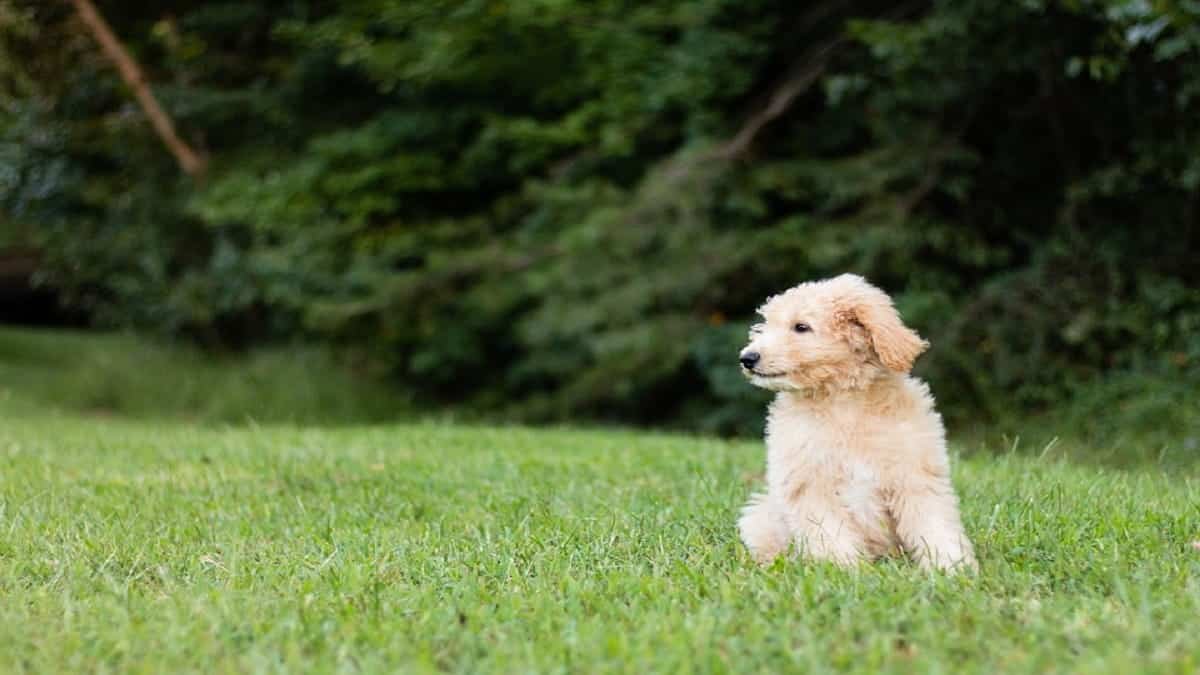 Pros
Nutritious and wholesome
Doesn't contain any artificial colors or preservatives
Available in many sizes
Has USA-raised beef as a major ingredient
Cons
Not suitable for dogs with poultry allergies as it has chicken fat
Uses artificial sources to provide the necessary minerals and vitamins.
2. Nutro Wholesome Essentials Dry Dog Food
Your elderly Goldendoodle may have different diet requirements than that of a Goldendoodle puppy. Nutro Wholesome Essentials Dry Dog Food is tailored to the changing physiology of the hybrid dog. It also offers a balanced diet with lower calorie and protein levels, making it one of the best options for an aging pet.
It also has those vital nutrients needed for treating symptoms of age-related diseases such as arthritis and weak joints. The inclusion of easy-to-digest carbs and proteins is gentle on the aging digestive system. Packed with Omega 3 and 6 fatty acids and essential antioxidants, this wholesome pet food is the number one product that can help your dog as its body changes with age.
Pros
Contains antioxidants
Has omega 3 and 6 fatty acids
Produced from farm-raised chicken
Available in small, chewable kibble
Suitable for dogs with allergies and special diets
Cons
3. Orijen
When it comes to excellent quality and exceptional ingredients, Orijen is the one to beat! This quality food is high in protein, which gives an extra boost to highly active and energetic Goldendoodles. A version of this dog food with a lower calorie content can be found in supermarkets. Even the lower-calorie version still has a high protein content, which means that it keeps your dog's kidneys healthy and active.
This grain-free food nourishes dogs at all stages of their lives, especially in the earlier stages. This dog food for Goldendoodles is packed with fresh, raw, and whole-animal ingredients that provide the dog with an enriched diet. Orijen comes in the form of frozen kibble, which is highly palatable and ideal for picky Goldendoodles or ones with allergies.
Pros
Grain-free
Fresh and rich ingredients
Meat-rich diet
Nourishing and enriching
Cons
High-protein content may not be ideal for all dogs
Locally-sourced ingredients increase the product's price
4. Blue Buffalo Wilderness High Protein Wet Dog Food
This pet food also offers delectable chicken and grilled turkey flavors that help to stimulate the appetite of your aging pet.
One of the main ingredients of this wet food is protein. While Blue Buffalo is loaded with a wide range of nutrients, its high protein content is its main selling point. It also has enough calories per serving to keep your senior Goldendoodle happy and healthy.
Pros
High in protein, vitamins, and minerals
Ideal for senior dogs
Contains real meat
Grain-free dog food
Cons
No treat option available
5. Hill's Science Diet Puppy Food
A Goldendoodle puppy needs the healthiest food to ensure that it grows to be a healthy, energetic, and strong dog. Hill's Science Diet Puppy Food is the best option in this regard. It's an excellent quality puppy food, manufactured by the world's best pet food owners. The recipe contains digestible ingredients along with vitamins, minerals, and amino acids.
What's more, it has no artificial colors or additives. The blend of vitamins C and E helps support a well-functioning immune system. Manufactured in the United States with imported ingredients, the product is one of the top foods for Goldendoodle puppies.
Pros
Clinically-proven formulas
Use whole foods
No use of artificial colors, flavors, and preservatives
Often recommended by vets across the world
Made in the United States of America
Cons
Protein is not the main ingredient
May contain grains or gluten
What to Consider When Buying Dog Food for Goldendoodles
1. The Dog Food Should Be Wholesome and Nutritious
First and foremost, every pet owner must look at the ingredients of the pet food they are interested in getting. High-quality food for Goldendoodles is one that's full of the right nutrients. This is exactly what makes the food wholesome and healthy.
To choose the best dog food for your Goldendoodle, take its nutrition requirements into consideration. For example, a puppy full of life may require food that has a higher protein content to keep their energy at peak levels. On the other hand, a senior dog may need pet food with lower calorie content to avoid them becoming obese and lazy.
2. Make Sure It Doesn't Have Added or Artificial Ingredients
The color of the food is hardly a concern for your dog, and artificial flavors rarely provide any health benefits. Instead, natural preservatives should be used in the food that you buy for your Goldendoodle. Some of the natural preservatives to look for in pet foods for Goldendoodles are tocopherols, rosemary extract, and vitamin C.
3. A Best-Before Date That's Six Months Away at Least
Checking the expiry date of your pet's food is important. You can't be feeding stale food to your pet, so it's always ideal to check the "best by" date before you buy any pet food.
Our Final Thoughts
One of the most frequently asked questions by pet owners is, "how much should I feed my Goldendoodle?" Please note that with every food packet, there is a feeding guideline either on the right side of the bag or on the back of the bag.
Excellent quality food is dense in nutrients, so a small quantity of it goes a long way. As compared to kibble, canned food is less fulfilling and nutritious, so better is to always get kibble in any form – frozen, raw, etc. If you're not sure which pet food will be ideal for your Goldendoodle, you can always consult a vet.