There's no doubt that your golden retriever is practically family for you, and you are doing pretty well as a pet parent. But, things can go terribly wrong if your furry family member suffers an injury or illness. And when you and your retriever are going through the emotional and physical trauma, you'd never want your financial issues to become a hurdle in getting the best treatment for him. A fool-proof way of ensuring that you don't have to worry about the vet bills or health costs is pet insurance.
How Pet Insurance Works?
You must have experienced the relief of being protected by a health insurance plan. You can now offer the same benefits to your pet by investing in the right plan. Pet insurance isn't much different from health insurance for humans. It is a special policy that you can buy for your beloved golden retriever and get financial safety. Once you purchase a policy, you'll pay a monthly premium, which will be reimbursed when your dog is unwell, needs expensive treatments, or needs to visit a veterinarian frequently. The policy will pay some part of your bills or can cover the entire amount, depending on the plan you've purchased.
You'll be spending a few hundred dollars annually for a pet insurance plan, which isn't a big deal considering your unconditional love for your golden retriever. A typical plan would comprise of: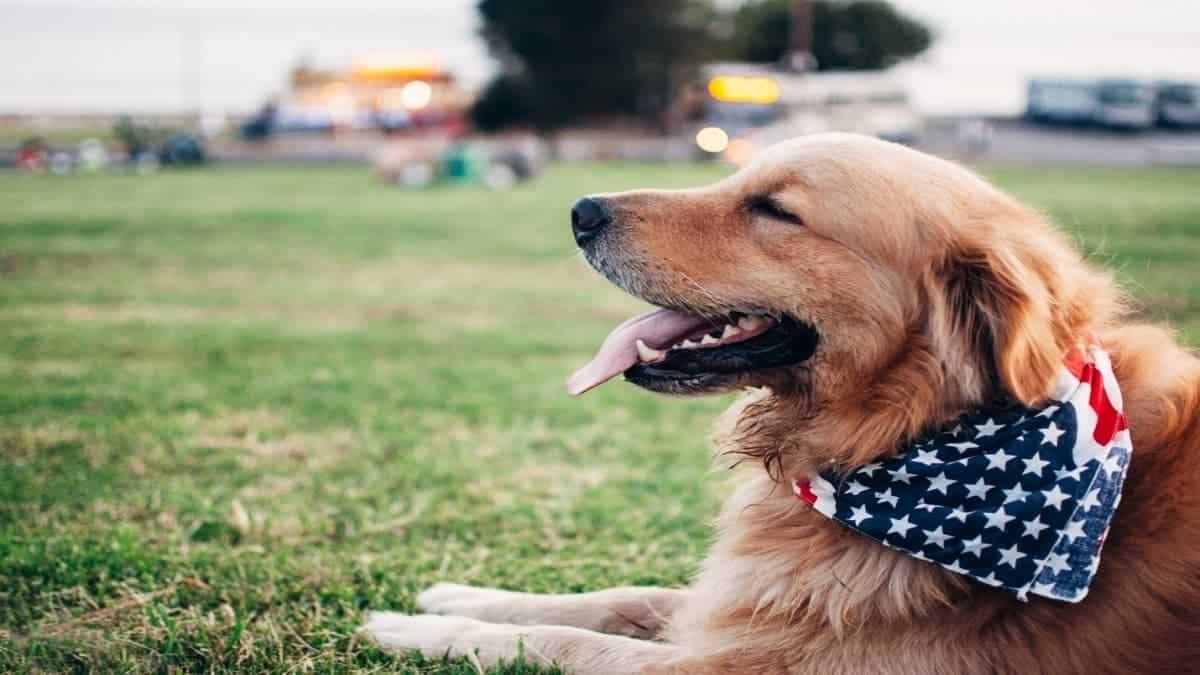 An Annual Deductible:  This is the sum you'll pay every year when you buy a pet insurance plan.
A Reimbursement Level: This is the amount the pet insurance company will pay as your dog's health costs when needed.
An Annual Max: This is the maximum limit of the amount you can receive annually from the insurance company.
These details ensure that the insurance company will share your pet's health expenses with you. Based on your dog's current health conditions, you can buy different types of plans; for example, accident coverage will be useful if your retriever faces an accident. Similarly, if you wish to take care of your dog's regular check-ups, vaccinations, and annual wellness exams, you should probably invest in a pet wellness plan. You can choose to buy time-limited or lifetime coverage if you need long-term medical care for chronic illnesses.
We understand that searching for the best pet insurance for golden retrievers can be quite difficult, especially if you've no prior knowledge or experience related to buying one. Is the policy worth the price? Is it offering the best coverage? Which one of the numerous options should you choose? The questions might start bombarding you from everywhere, but here we are to rescue you yet again!
The Best Pet Insurance for Golden Retrievers
Choosing a pet insurance policy doesn't have to be something that keeps you up at night. To make it as easy as 1-2-3, we have reviewed the best pet insurance for golden retrievers. Scroll away and learn all about the best plan for your four-legged pal.
Located in Washington State, Healthy Paws Pet Insurance and Foundation is the best overall insurance plan for your golden retriever. It has been ranked Number-1 in the list of best dog insurance plans. The raving reviews of extremely satisfied customers are living proof that Healthy Paws is just paw-fect!
The company offers you comprehensive policies in market competitive and highly affordable rates with unlimited benefits, impressively high reimbursements, and one of the best customer support services. You can enroll your golden retriever if he's older than 8 weeks and younger than 13.99 years.
Healthy Paws Pet Insurance is free from caps on annual or lifetime payouts. All you have to do is take your goldie to a licensed vet. The insurance providers fully understand your love for your dog, and that's why 99% of the claims are paid in no more than two days. Now that's what we call quick and efficient!
For more insight into the Healthy Paws Pet Insurance, let's discuss each of its amazing features one by one:
Comprehensive Coverage
The first question bound to pop into your mind is: What's covered and what's not?
Healthy Paws is covering all breeds and age groups of dogs and cats. You are free to select a licensed vet of your choice. It covers everything from Accidental conditions, genetic, congenital, and chronic illnesses, accidental dental conditions, and new illnesses. Healthy Paws covers a variety of treatments as well, including surgeries, hospitalization, emergency care, specialty care, prescription medicines, and diagnostic tests. Your policy will cover you even if you are out of your state.
While the company doesn't offer a wellness plan, it treats hip dysplasia if it's a new condition. Like all other insurance providers, Healthy Paws doesn't cover any pre-existing condition. It means that if your golden retriever has shown symptoms for any disease before the coverage start, it won't be covered. It also does not cover the vet's examination fee or cost of annual check-ups, vaccinations, spay/neuter procedures, and teeth cleaning. We compared Healthy Paws' coverage with that of other pet insurance providers and found it to be ahead of all of them.
Unlimited Benefits
Most other companies have reserved the word "unlimited" for the high-end and costly policies only, but not Healthy Paws! Whether you're planning to buy annual, lifetime, or incident-based policy, Healthy Paws offer unlimited benefits without any caps and limits. This feature is particularly helpful for those pet parents who can only afford a standard plan.
Flexible Reimbursements and Deductibles
With Healthy Paws, you can customize your reimbursement percentage and deductibles as per your financial requirements. Once you've paid the chosen deductible, $100, $250, or $500, the insurance company will pay your pre-selected reimbursement percentage of the actual veterinary bill — 70%, 80%, or 90%.
A higher reimbursement percentage or a lower deductible would mean you'll pay as a larger amount as the monthly premium. With a 70% reimbursement and $500 deductible, the monthly starting premium for your golden retriever would be $32.83.
The model is quite simple. You can take your dog to the vet, either pay upfront and then claim the amount from Healthy Paws as reimbursement or contact Healthy Paws and ask them to pay the vet directly.
Customer Support
Healthy Paws has the most dedicated and polite customer support. You can easily file a claim, seven days a week, via Email, Fax, Online Portal, or Mobile App. You can expect reimbursement within 2 to 3 days.
Our Final Thoughts
If you want to know that your Golden Retriever, or any pet for that matter, is covered if it gets sick or needs any type of veterinary care, pet insurance may be the right option for you. It makes sense if you'd rather pay a set amount of money per month to have your pet covered, than paying a large amount of money if something unfortunately goes wrong.