Golden retrievers are playful, energetic creatures that like to play with other dogs, kids, and even older adults. These friendly beings aren't fond of just sitting in one place; they want to be involved in exciting activities.
Pet owners love the energy that golden retrievers fill their homes with. However, at times, the energetic attitude of golden retrievers can become a problem for some pet owners. They may end up destroying delicate items in your home like a flower vase, a cup/glass, or other precious things. In such situations, experts advise getting a playpen for your four-legged buddy. A playpen helps confine pets and keeps them from running around and breaking things that may come their way.
The 4 Best Playpens for Golden Retrievers
The market is full of playpens in different materials, colors, sizes, and features. Thus, figuring out which one is worth your money can be quite the challenge. This article can come in handy as it discusses the best playpens for golden retrievers and the different factors that you need to consider when you're going to buy a playpen for your precious dog. Have a look!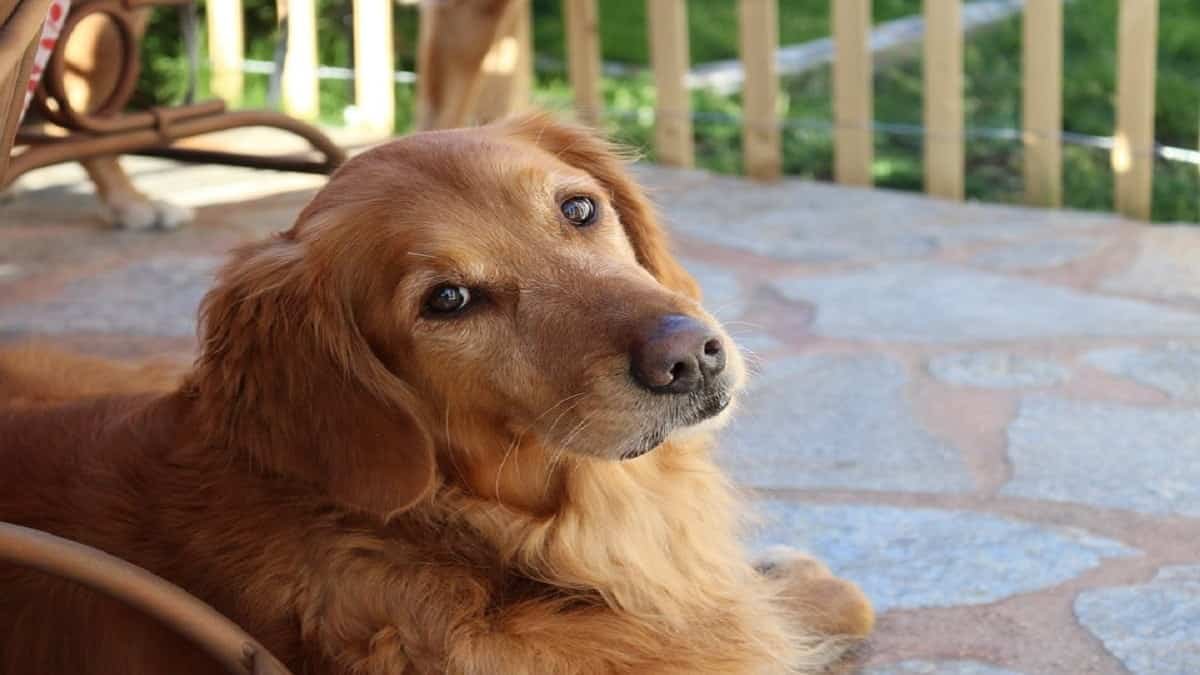 1. Richell Convertible High Pet Playpen
The Richell Convertible High Pet Playpen is prized for its durability, versatility, unique design, and top-notch customer rating. This playpen offers three products in one; how so? The playpen can turn into a square/hexagonal pen, a room divider, or simply a freestanding gate. All it needs is a little bit of tweaking to shape it according to your dog's needs and the space that you can afford in your house.
This multi-functional playpen is excellent for both indoor and outdoor environments. Since the playpen comes with a lockable gate door, it's easy for the pet to enter and exit the playpen. If you don't want your pet moving in and out freely, or want to confine them in the playpen, all you have to do is lock the gate. Plus, the convenient playpen can be placed anywhere in the house, in your dog's play area, in the garden, or backyard.
The pen appears to be made of wood, but it's actually manufactured from long-lasting and water-resistant plastic. The pen weighs up to 88 pounds, so it's an ideal pick for a large-sized golden retriever.
Pros
3-in-1 pet playpen
Available as 4 to 6 playpens
Durable and trendy
Works great indoors and outdoors
Comes with a lockable gate door
Cons
Expensive
Gets dirty quite easily
2. IRIS Exercise Panel Pet Playpen with Doors
The IRIS exercise panel playpen is one of the bestsellers in the dog pen world. It's built with long-lasting and heavy-duty molded plastic, which can be used both indoors and outdoors.
It's also weather-resistant, so heavy rainfall or snowfall won't damage the material of the playpen. This factor adds to the durability of the product.
The IRIS exercise playpen is also easy to set up and fold. It features a hinged access door with double steel latches and panels secured with connecting rods, so the playpen is totally safe and convenient to use.
As your golden retriever grows, you can increase the size of the pen by using add-on panels. Each of these panels comes with a non-skid rubber that keeps the floor in optimum condition. At 34" high, this is a playpen your enthusiastic pet won't be able to jump out of.
Pros
Easy to assemble and portable
Affordable and stylish
Rubber feet protect your flooring
Good height
Cons
May take time to assemble at first
3. EliteField 2-Door Soft Playpen
The EliteField 2-Door Soft Playpen makes for the best traveling playpen for golden retrievers in the market. It's an ideal choice for pet owners that camp or travel a lot with their furry companion. Owing to the playpen's wide space and tall height, golden retrievers of all sizes can easily fit into this portable pen.
It can be set up and folded within seconds. Plus, it comes with a removable zip-off and soft floor mat and top cover. It's also lightweight, as the playpen is made from soft, durable material. This allows your pet to stay cozy and comfortable throughout the journey.
EliteField offers a two-year warranty to all its customers. In case you run into an issue, you can always return the product for a 100% refund.
Pros
Ideal for traveling
Portable and comfortable
Lightweight
Offers a 2-year warranty and a 100% refund
Available in six sizes and seven colors
Con
The material wears off eventually
4. The BestPet Heavy-Duty Playpen
The BestPet Heavy-Duty Playpen is best for large-sized golden retrievers as it offers a large amount of space and considerable height for your dog to exercise or play in easily.
It also offers a lot of space to keep food bowls, water bowls, and potty pads, which keep the dog safe and happy for a long time. Even if you're not around, you won't have to worry about your pet's needs.
Additionally, the playpen design can be changed into multiple shapes, including square, rectangle, or octagon. Considering the needs and requirements of your pup, you can alter the playpen in the shape that best suits your dog. Since the playpen is designed from strong, heavy-duty, rust-resistant metal, it provides increased durability and longevity.
Pros
Spacious
Multi-functional
Easy to assemble and tear-down
Strong and durable
Rust-resistant
Cons
Slightly expensive
Folding it up requires considerable strength
What to Consider when Buying a Dog Playpen
Different playpens offer different features; some of the must-haves you should look into while shopping for the best playpen for golden retrievers are as follows:
1. Assembly
A playpen should be easy to set up and tear down when need be. And this process needs to be quick and effortless. If you spend hours just trying to set up the playpen, then what's the point? You'd rather use that energy to run around and play with your dog.
When looking for a playpen at a shop, ask the seller to show you how to assemble the product. The practical demonstration will give you an idea of whether or not the playpen is easy to assemble.
2. Portability
If you're a frequent traveler or camper, you will need to invest in a playpen that's easy to carry from one place to another. We encourage you to look for a playpen that lightweight (so you can carry it easily), easy to store, and doesn't take up a lot of space.
3. Lightweight
A playpen must be lightweight if you wish for it to be convenient and manageable. That being said, you can buy a heavier playpen if you plan on keeping it in one place.
Plus, it will also be hard for a highly-energetic dog, like a golden retriever, to escape a sturdy, heavy playpen. If you want a playpen for a small golden retriever, then a lightweight one made from plastic will do.
4. Material
Playpens are available in different materials such as plastic, metal, or mesh, each of which serves a different purpose. For a small, mellowed golden retriever dog, you can get a playpen that's made from plastic. However, if your golden retriever is uncontrollably energetic, then consider getting a metallic playpen.
Our Final Thoughts
Keep in mind that the best playpen for your golden retriever largely depends on the age, size, and weight of your golden retriever. Other than the factors mentioned above, you should also look into other crucial factors, including the appearance and versatility of the object!