As an owner of a Golden Retriever, you would already know that this breed is magnificent. Its lush golden coat gives this dog its name and groomers, breeders, and owners often describe it as spectacular, stunning, and glamorous.
In a Hurry? Here are Our Top Choices
The beautiful, thick golden coat is undoubtedly one of the most special characteristics of a Golden Retriever. It takes some effort to keep your pup looking and feeling healthy and clean. Regular grooming and brushing and baths should all be a part of your routine. Use a quality shampoo for bathing your Golden Retriever. We will share some of the best shampoos for Golden Retrievers to help you select the one that is right for your dog. But before that, let us take a look at some important things to consider when buying a shampoo for a Golden Retriever.
Things to Consider When Buying a Shampoo for Golden Retrievers
If your Golden Retriever stays inside, it will be pretty clean and won't have the glands that could make them stinky. However, when your dog goes outside, it will likely splash in puddles and roll in grass and mud. You would want to keep bacteria and parasites at bay and for that, you should use a top-rated Golden Retriever shampoo. Some important things to consider before shopping for a shampoo include:
You should be careful in selecting a shampoo for your pooch if it has sensitive or dry skin. Unless your vet says otherwise, look for a shampoo that contains vitamin E, oatmeal, and other ingredients that are good for your dog's skin. Golden Retrievers are prone to skin allergies, so you should ask your veteran about the shampoo you are choosing.
If your Golden Retriever has problems with ticks and fleas, consider a product that is aimed at removing these pests.
Consider buying a conditioner along with the shampoo to help with grooming your canine's fur.
If you have a Golden Retriever puppy, then consider choosing a milder shampoo or a tearless shampoo.
If your Golden Retriever has a medical condition, ask your veteran about the shampoo that would be right for bathing.
Different Kinds of Shampoo for Golden Retrievers
There are many different kinds of dog shampoos available these days. You should know about them if you plan to buy a shampoo that would be best for your Golden Retriever:
Puppy Shampoo
The skin of a Golden Retriever puppy is extra sensitive. Puppy shampoos are made for sensitive skin. Consider choosing a tearless formula with pH-balanced for a puppy skin.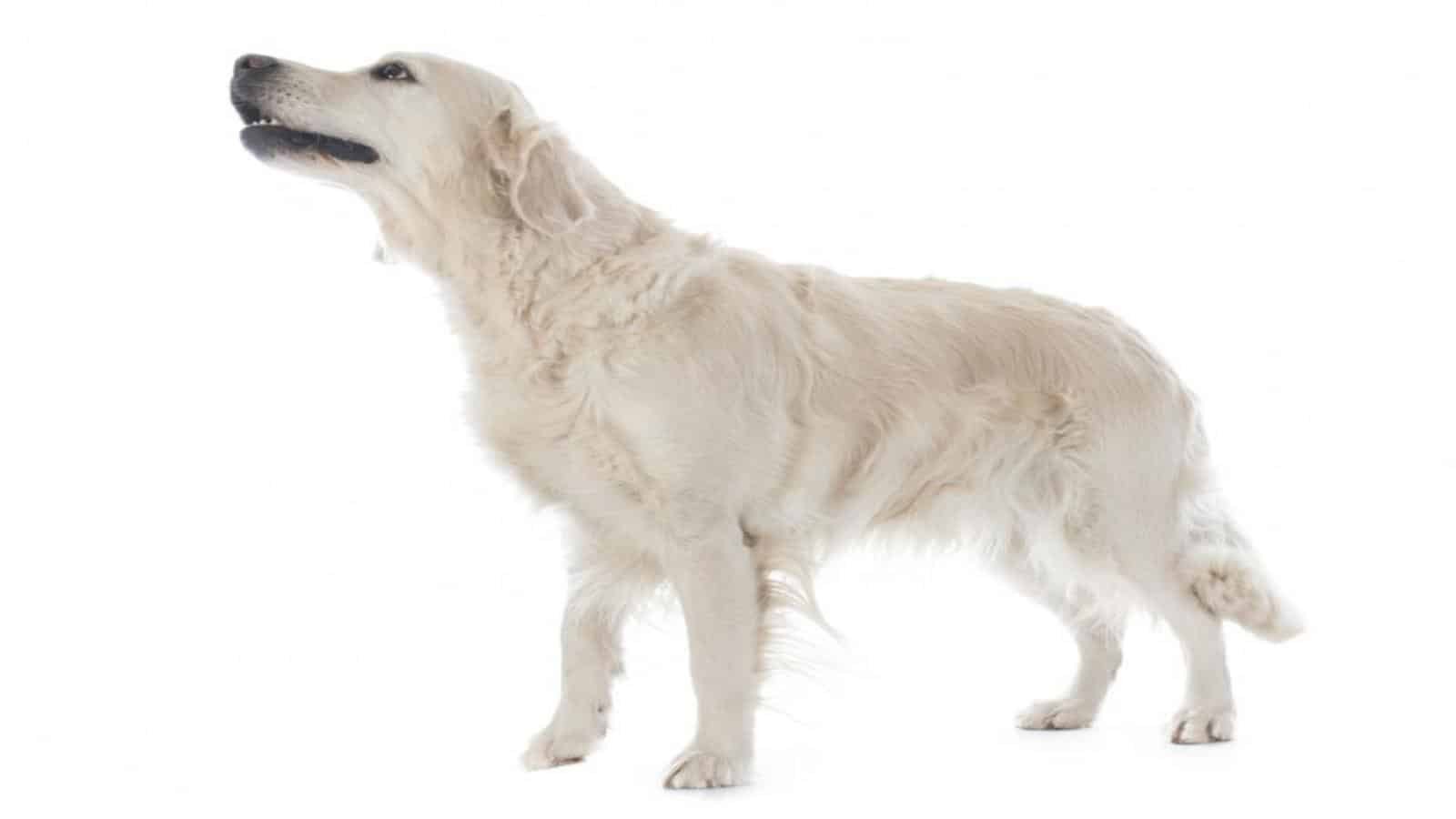 General Purpose Dog Shampoo
General purpose shampoos are a good option for your Golden Retriever. Consider getting one that's all natural or hypoallergenic with deodorizers and moisturizing agents.
Medicated Dog Shampoo for Skin Issues
Medicated shampoo can combat skin infections. They may offer antiseptic, anti-bacterial, and anti-fungal benefits. A vet can advise on medicated shampoo that would be right for your Golden Retriever.
Flea and Tick Dog Shampoo
These shampoos are designed to kill ticks and fleas. You will need to work a flea and tick shampoo all the way down the skin of your pooch and let it sit for ten minutes before rinsing.
Two-in-One Shampoo and Conditioner for Dogs
Two-in-one shampoos are another great option for your Golden Retriever. You can use this shampoo to give your dog the combined benefits of a shampoo and conditioner.
How Often Does a Golden Retriever Need a Bath?
There isn't any specific number of times you should give a bath to your Golden Retriever. The frequency of baths will depend on your dog. If your Golden Retriever spends most of its time outdoors, then it will get dirty easily and will need baths more frequently. If your pooch has a skin condition, then you may need to bathe it more often than usual.
Golden Retriever Bathing Tips
If you want to make bathing a pleasant procedure for your pooch, follow these simple tips:
Use a Drain Cover
The golden fur of your canine is beautiful, but it is extremely damaging to plumbing and pipes. So, before you turn the water on, put a drain cover over the plug. This way, you will be able to catch the hairs that are removed during bathing before they get into the drain and cause a blockage.
Brush Before Bathing
Before you get your Golden Retriever in the bath, give it a good brush. This will remove knots or matting before they get wet and become harder to remove.
Place a Towel Underneath
Always place a towel underneath your dog to make things safer and more comfortable for it. The plastic of the tub or the slippery ceramic combined with soap can make it difficult for your canine to move around on.
Be Prepared
Make sure you have everything you need to give your Golden Retriever a bath. If you go back for something you forgot (for example, the shampoo)  and leave your canine unattended, you will end up with a soaking wet Golden Retriever. They may start running around the home while you are away and this would make the bathing process extremely difficult for you.
Best Shampoo for Golden Retrievers
1. Earthbath All Natural Shampoo
Earthbath All Natural Shampoo is one of the most popular pet shampoos currently available in the market. It is a good option for you if you want to wash your beloved Golden Retriever with natural products rather than chemicals that can be rough on your pets' skin.
One of the best things about the Earthbath shampoo is that it is available in a variety of types and scents. Earthbath offers products for very specific needs like sensitive skin, itchy and dry skin, and hot spots. There is even a tearless Earthbath shampoo that you can use if you own a Golden Retriever puppy. Earthbath has also made a shampoo that can brighten dull coats and we recommend it for Golden Retriever parents.
There are a variety of highly-recommend products made by Earthbath. Some of them include:
Shed control shampoo
Clear advantage
Eucalyptus and Peppermint
Oatmeal and Aloe
Orange peel oil
Wild Cherry
Tea Tree Oil and Aloe Vera
Earthbath also makes a line of waterless shampoos, conditioners, spritzes, wipes, and other products that you can use for grooming your Golden Retriever. Moreover, there are additional items that you can use for your canine's feline friend.
Pros
No harsh chemicals
Good for the environment
Variety of products are available to fit your Golden Retriever's individual needs
Brightening shampoo available
Cons
Rare cases of dogs experiencing having allergic reactions to the Earthbath shampoos
2. Particular Paws Oatmeal Shampoo
Particular Paws is another popular brand and its products usually do what the brand claims they do. Available in a 12-ounce bottle, the Oatmeal Shampoo from Particular Paws is ideal for soothing dry and irritated skin. It promotes healthy skin, restores natural oils, and improves the look of your Golden Retriever's coat.
One of the things we like about the Particular Paws Oatmeal Shampoo is that it is safe for puppies and contains shea butter, aloe vera, honey, and oatmeal. These natural ingredients will have a positive impact on your dog's skin. Particular Paws claims that the Oatmeal Shampoo can help thicken the coat of your pet all while softening and straightening it. While this shampoo isn't specifically made for light-colored dogs or Golden Retrievers, it does boost the shine of their colored coat.
Pros
Uses natural ingredients and is non-toxic
Excellent for soothing itching, dry or irritated skin
Works well with all dogs despite the size, age, color, breed or coat texture
Can improve the health and look of your canine's coat
Cons
3. Buddy Wash Original Lavender and Mint Dog Shampoo and Conditioner
This is one of the best 2-in-1 shampoo and conditioner available in the market. It is perfect for long-haired coats of your gorgeous Golden Retriever.  Buddy Wash Original is a natural, soap-free formula so you can use this shampoo to wash your canine as often as you want to without causing them harm and irritation. Instead of soap, the Buddy Wash Original Lavender and Mint Dog Shampoo and Conditioner uses natural extracts like sage and green tea to provide cleaning power. The smell busting power of Buddy Wash shampoo and conditioner comes from the wheat protein included in it. However, when it comes to odor elimination, it doesn't compete well with soaps.
Lathering is something that many natural Golden Retriever shampoos struggle with. But, the non-soap-based shampoo and conditioner is great in terms of lathering. The lavender and coconut oil have been added into the product to help your Golden Retriever relax. This is great if you have a pooch that hates to bathe.
The added tea tree oil and aloe vera in the Buddy Wash Original Lavender and Mint Dog Shampoo and Conditioner work well to protect any skin that is a bit sore and red. These ingredients help ensure that your pooch is as healthy and comfortable as possible. There are only a few products that can compete with this shampoo at this price point.
Pros
Benefits of shampoo and conditioner in a single product
Great brand
Coconut oil and lavender infusions
Great natural deodorizer
Great for long-haired dogs
Aloe vera and tea tree oil in the product soothes skin
Great value for money
Cons
4. Vet's Best Allergy Itch Relief Shampoo for Dogs
If your pooch suffers from allergies or skin issues, then you are going to need a specialist shampoo that can help with this problem. Several shampoos can solve these skin issues, but your Golden Retriever will be healthier and happier with the use of a dedicated product.
The Vet's Best Allergy Itch Relief Shampoo for Dogs is an excellent allergy shampoo for your Golden Retriever. It contains a variety of essential oils that are designed to repair and soothe your dog's skin. It also has aloe vera that serves the same purpose.
The shampoo's cleaning power comes from oatmeal. Oatmeal is a great odor eliminator and one of the best sanitizers Mother Nature has blessed us with. The fragrance this shampoo leaves behind are floral, light, and very enjoyable.
The only problem with the Vet's Best Allergy Itch Relief Shampoo for Dogs is that it doesn't have any conditioner in it. This can be an issue considering the long hair your Golden Retriever has. However, in terms of tangling, it isn't a bad product.
Since this product doesn't use soap, you may use it as many times as you want to for cleaning your Golden Retriever. It is also perfect for dogs that are undergoing tick and flea treatments. This shampoo's powerful yet gentle formula will not clear the protection that you may have applied previously.
Our Final Thoughts
If you want to ensure that the lush golden coats of your pooch stay healthy and beautiful, give it a bath on a regular basis.  We recommend giving your Golden Retriever a bath at least every six weeks. To ensure that the bathing experience is comfortable, use a good quality shampoo. We have listed some of the best shampoos available in the market that you can use on your Golden Retriever. These shampoos vary in price and ingredients included in them. Take your time to assess the pros and cons of the shampoos to decide which one would be right for you. If your Golden Retriever has a special condition or skin allergies, talk to your veteran before you use any shampoo on it. A vet would advise on the shampoo that would be best for your pooch and won't cause any adverse reactions.
We hope that you find our advice helpful while selecting the best shampoo for your Golden Retriever.