If you are lucky enough to own a golden retriever, you would already know the importance of slicker brushes for the grooming of your extremely affectionate and intelligent dog. Slicker brushes, designed with rounded wire pins closely packed together on a flat surface, are known to essentially help clean, de-tangle, and remove loose fur from your dog.
But not all slicker brushes are safe to use! When it comes to safety and comfort, make sure that you take extra precautions and choose the best slicker brush for golden retrievers. We understand that the different varieties of slicker brushes in the market will inevitably confuse you.
Therefore, this article will review some of the most efficient slicker brushes and recommend the best slicker brushes for golden retrievers.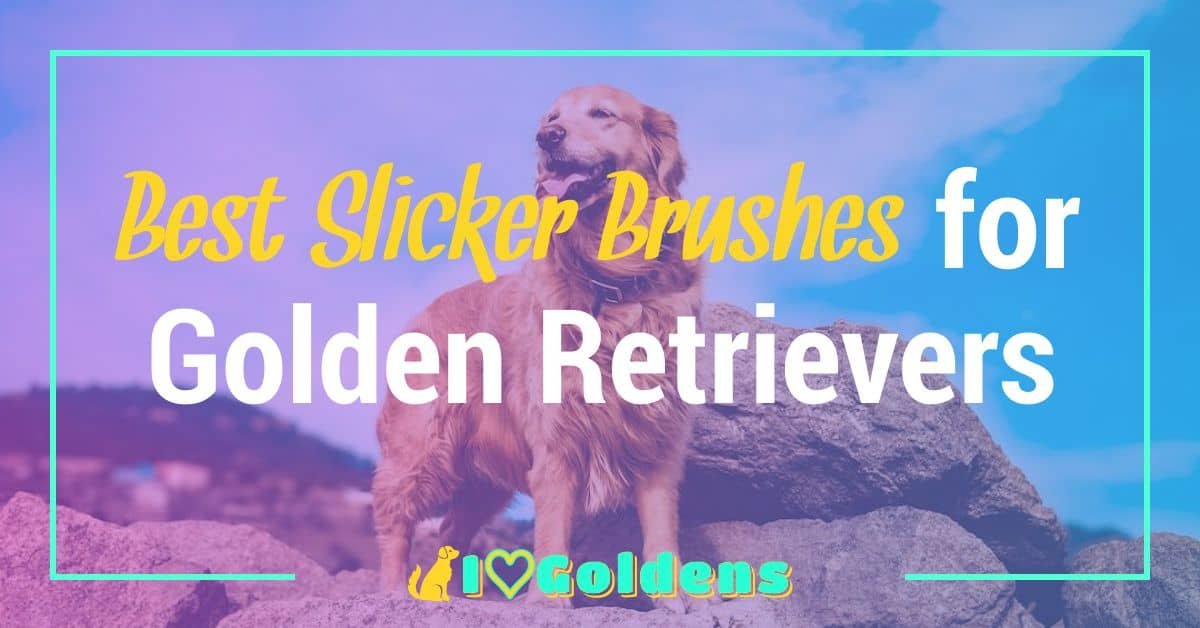 The Best Slicker Brush: Hertzko Self Cleaning Slicker Brush
Hertzko self-cleaning brush is the absolute best option available in the market. Designed especially to remove loose hair and dust, this brush is highly effective in removing any tangles, debris, or dead hair from your golden retriever's fur coat. The slightly angled wire pins are long enough to penetrate your pet's coat without scratching the skin.
This also qualifies as the best slicker brush for golden retrievers because it allows effortless and painless manual cleaning that saves you a lot of time. Thanks to its easy-clean function, all you have to do is press a button on the brush after you're done brushing your dog. The pins automatically retract and your retriever's hair falls away, making it easy for you to remove the collected hair. Hertzo self-cleaning brush operates smoothly without sticking or jamming, leaving your golden retriever's hair soft and healthy.
Pros
100% money-back guarantee
High-quality product made with materials that are strong and durable
Extremely effective on double-coated breeds
Easy to clean and convenient to use
The anti-slip handle and comfortable grip prevent wrist and hand strains
When not in use, slicker pins are covered, preventing any accidental poking
Cons
More expensive than other slicker brushes
The brush head is small as compared to other slicker brushes for golden retrievers.
Not as effective on very long hair or a large-bodied golden retriever
Runner-up: Chris Christensen Coral Slicker Brush
Does your golden retriever have a long undercoat that makes it highly uncomfortable? Chris Christensen Coral slicker brush is what you need right away! This brush is our runner-up in the list of best slicker brushes for golden retrievers because of its impressive design and features that facilitate the removal of undesirable undercoats or dead hair. The only reason it loses to Hertzko's self-cleaning brush is that it is a little too pricey.
Preferred by most groomers, the Chris Christensen Coral slicker brush has long and bent bristles that are 40% denser than normal slicker brushes for golden retrievers. It comes with two size options to choose from: the medium size is recommended for use on legs, while the large size is suggested to be used on the body. It works efficiently on all coat types ranging from light straight coats to dense, curly ones.
Pros
It has an extra-long handle
Smooth pins that prevent irritation on the skin
Very effective even in dense and curly coats
Leaves the coat looking voluminous and fluffed
It has a unique design that maximizes comfort
It has bendable and long pins that keep the dog safe from brush burns
Easy to use – the brush is dense with pins that allow effortless de-matting and separating the hair
Cons
More costly as compared to other slicker brushes of the same quality
Not recommended for short-haired golden retrievers
Pro Quality Self-cleaning Slicker Brush
Like other self-cleaning brushes, the Pro Quality slicker brush is also simple to use. However, what makes it stand out is its clever self-cleaning feature which enables it only to take 5 seconds to clean! You only have to push the button, wipe it, and your brush will be as good as it was when you first bought it.
Great for long and short-haired golden retrievers, the Pro Quality slicker brush not only removes any excess hair or dirt but also detangles matted coats. It has soft and flexible bristles packed in a 3.75-inch brush and has a rough rubber handle with a ridged effect – all of which help in combing through tough coats. While it may not be the best slicker brush for golden retrievers, it is still one of the better ones that promise to make your dog's experience joyful and fun.
Pros
It has a cleaning feature that makes cleaning of the brush fast and easy
It comes in a variety of sizes
Perfect for thick-coated golden retrievers
Provides a comfortable and pleasant grooming experience
It comes with a free dog grooming e-book
Lifetime money-back guarantee
Cons
It has weak pins that may break off after sometime
The material creates static when used for long periods
FURminator Soft Grooming Slicker Brush
Meant to provide you with quality results, the FURminator Soft Grooming slicker brush is one of the most appropriate options for curly-coated golden retrievers. FURminator Soft Grooming slicker brush's interesting design incorporates a head that is split in two to react to your golden retriever's sensitivity as you stroke through its coat. It has a dual bristle style that includes both straight and bent bristles that ensure the effective removal of pesky surface mats and debris without damaging the coat at all. This design also reduces the pressure on your dog's skin.
Pros
Safe to use and avoids any damage to the coat of a golden retriever
Has an ergonomic handle that is comfortable to hold and use
Works great on all coats – undercoat and guard coat
Made using high-quality materials such as the anti-microbial plastic
Available in a range of sizes
It includes both bent and straight bristles
An affordable, slicker brush
Cons
Not too flexible
Not recommended for short-haired golden retrievers
The pins and bristles break easily
Pet Republique Slicker Brush
Pet Republique slicker brush is made with flexible wire bristles and can be used for soothing the coat after grooming your dog. The high-quality material used in making this brush enables it to last for years, even after frequent uses. In addition to the healthy and pleasant-looking coat, regular use of this brush can also lead to reduced shedding.
Pros
It comes with a 30-day money-back guarantee
It has a self-cleaning feature
It has an ergonomic rubber handle
Soothes, de-mats, and cleans the coat
More affordable than other slicker brushes for golden retrievers
Cons
The brush size is too small
The pins and bristles bend easily
It can be too sharp on the skin if pressed hard
What to Look for in a Good Slicker Brush?
The best slicker brushes for golden retrievers have certain features that make them better than others. You can't afford to overlook:
Durability and quality of the brush
Design of the brush (are the pins bendable? Do they have smoothed tips?)
Comfort and safety of use
The functionality of the brush
Size and purpose of the brush
Our Final Thoughts
While the Hertzko Self Cleaning brush is the best slicker brush for golden retrievers, other brushes on this list are some of the better slicker brushes that you can also consider buying. Regardless of what your final decision is, remember to use the brush carefully, employing short brush strokes to give your golden retriever a comfortable grooming experience.