If you are tired of buying chew toys that turn out to be non-durable and low-quality, it's time that you invest in good toys for your dog. Luckily, you've come to the right place! Read this guide to find out the best chew toys for golden retrievers and bring an end to your tiresome buying experience.
As an owner of a golden retriever, you must know that in addition to being extremely joyful and playful companions, these furry creatures are also very heavy chewers. Being retrievers, they are naturally inclined towards carrying things in their mouths and chewing on them whenever they get the opportunity to do so.
Getting a chew toy for your golden retriever can decrease the risk of it harming something in your house or getting harmed itself by chewing on something dangerous. However, what is more important is to get a toy that is long-lasting and enjoyable for your golden retriever.
In a Hurry? Here are Our Top Choices
Top Pick: Red Kong Wobbler Treat Dispensing Dog Toy
Our top pick for the best chew toys for golden retrievers is the Red Kong Wobbler which is undeniably one of the most famous and useful chew toys of recent times. This chew toy also functions as a twist-off dispenser so your golden retriever can chew on it and then feed from it too. The dispenser is particularly important in keeping your retriever busy for long periods without you having to worry.
Since the Wobbler is made up of strong rubber, it is hard for it to wear off or break down easily even under severe pressure. It measures 7x6x10.5 inches that makes it suitable for adult dogs who are 25-pounds or more. If you are in the phase of training your dog, this chew toy can be a great help. Red Kong Wobbler prevents rapid eating because your dog needs to first control the toy from wobbling and then stop it from rolling away to be able to access the treats inside the dispenser.
Pros
It is easy to clean and safe to use in a dishwasher
Can be used as a dog bowl
Encourages your golden retriever to work for dinner
Gives your retriever a mental workout
Ideal for fast-eaters, curious and playful golden retrievers
Challenges your dog
High-quality material used that is approved by FDA
Cons
Has a large size and hole
Needs to be used under supervision or the retriever may break it down
The base is low which requires you to hold it upside down to put the food inside
Is noisy when knocked around
Best for Fetchers: Chuckit! Ultra Ball
The best chew ball for golden retrievers who love to fetch is the Chuckit! Ultra Ball. It is specially designed to facilitate fetching games and therefore has a higher bounce, visibility and durability. It features quality materials such as the extra-thick rubber core that allow it to float in water making it suitable for water sports as well. The Ultra Ball can also be used in intensive training exercises to build your golden retriever's strength and endurance.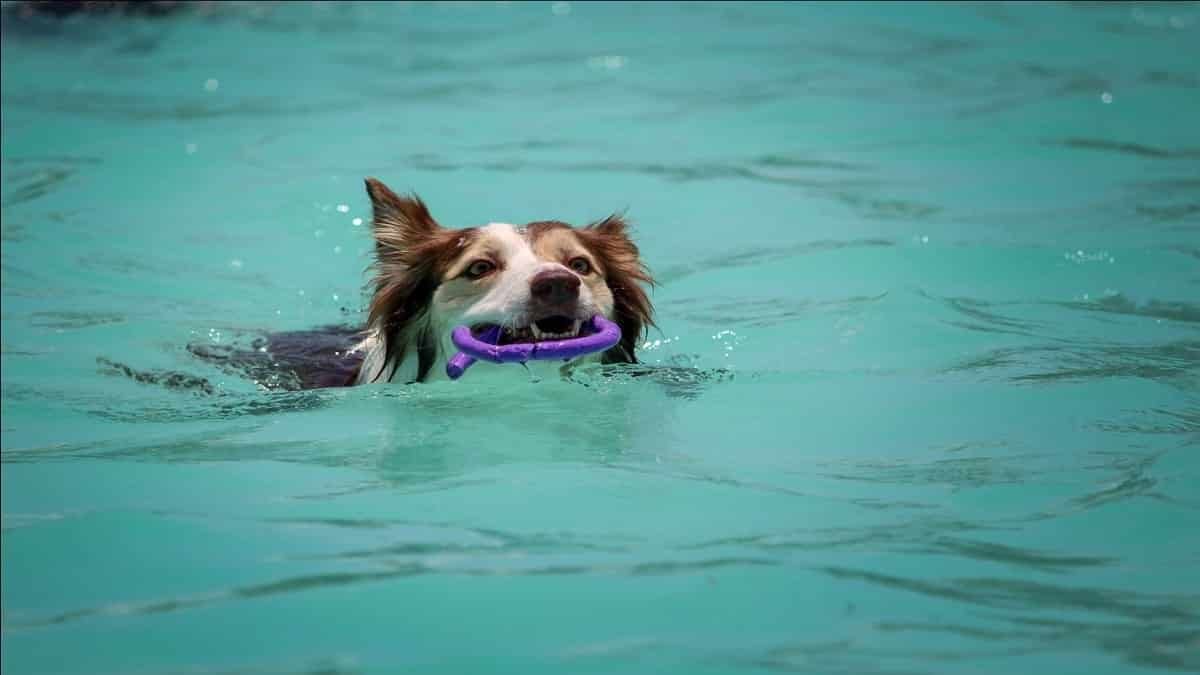 Pros
Has an attractive color that makes it easy to spot
Is available in multiple sizes
It can be used with Chuckit! Launchers for more enjoyable experiences
Produces a high bounce
It is easy to throw
Made of durable natural rubber
Gentle on the dog's mouth
It is easy to clean
Can be when exercising with your golden retriever
Cons
There is a danger of a suction effect once the sealed plug comes off the ball
Can only be used for supervised play
Dogs may choke on it if the wrong size is chosen
Best for Anxious Chewers: Pacific Pups Dog Rope Toy
If you have an anxious golden retriever around, you are probably stressing out by now. The best chew toy for golden retrievers who are highly anxious is the Pacific Pups product rope toy. This rope chew toy comes in a bundle with multiple options. The rope toy is made of high-quality non-toxic materials that qualify for the ASTM F-963 safety standards, which makes it extremely safe even if your golden retriever ingests its pieces.
The Pacific Pup Products are known for their dental benefits such as teeth cleaning and gum strengthening. They are perfect for tugging games like the tug of the war due to their durability and strong manufacturing. Plus, you are likely to find a unique rope for every occasion!
Pros
Comes in various shapes and sizes
Made up of the safest material
The package comes with a variety of chewing options
Cheaper than other chew toys for golden retrievers
Most of the ropes in the packet do not fray or tear
Is made by a non-profit organization that donates its earning for charitable causes such as rescuing dogs
Cons
Not very enjoyable for larger golden retrievers
Ropes are small
Not all ropes in the assortment last long i.e. less than a week
Best for Teething Puppies: KONG Puppy Durable Rubber Chew and Treat Toy
The best chew toy for golden retriever puppies is the Kong Puppy Rubber chew toy simply because very less toys will entice your puppy as much as this chew and treat toy. In addition to being a chew toy, Kong puppy toy is also great for cleaning and soothing your puppy's teeth. It is designed specially to fulfill the needs of a growing puppy's gums and baby teeth by using the teething rubber formula.
The Kong puppy toy is safe and reliable to be used for a long time. You can stuff it with treats for your puppy which regulates the chewing behavior of your golden retriever. Some of the effects include reduced separation anxiety, decreases the frequency of misbehavior and increased mental stimulation.
Pros
It is a highly durable chew toy for golden retrievers
Also works as a great fetch toy
The all-natural rubber formula acts gently on a puppy's teeth
Has an erratic bounce which excites the puppy retrievers
It can be stuffed with puppy kibble to extend playtime
Can be used for making training easier
Recommended by animal behavior experts and veterinarians
Available in different sizes
Cons
Does not have any option to select the color
Comes in small sizes only
Can't be used for too long because puppy retrievers outgrow this toy fast
Important Considerations
A chew toy will be most enjoyable for your golden retriever given that it is appropriate for the type of activities that it is interested in. When deciding which one of the chew toys for golden retrievers will best suit your dog, don't forget to consider:
Whether you need one for indoor use or outdoor use?
What is the quality of the toy?
Do you have enough space for your dog to play around with a chew toy?
How much money can you afford to invest in a chew toy?
Is the toy safe for your dog and children (if you have any at home)?
Our Final Thoughts
While the decision of buying the best chew toys for golden retrievers may seem overwhelming at first, knowing what suits you and your dog will make it way easier than you think! Whether you choose our top pick for you – the Red Kong Wobbler – or any other chew toy on this list, don't forget to keep your dog's needs ahead of yours.