Goldendoodles are best known for their thick, curly hair, which is a part of the reason why they require a lot of grooming. Since Goldendoodles like to stay outdoors most of the time, they get stubborn stains and accumulate dirt and grime buildup faster than other pets. This further intensifies the need for grooming a Goldendoodle.
In a Hurry? Here are Our Top Choices
Regular care helps keep your pet's coat in excellent condition and prevent its fur from tangling. It also improves blood circulation and promotes good overall health. To make the most of these benefits, you'll need to brush the gorgeous hair of your Goldendoodle pup on a regular basis. The most basic tool you'll need to groom your Goldendoodle is a comb. Dogs that have long, silky hair coats require a different kind of brush than those with short, wavy hair. Depending on the kind of coat your Goldendoodle has, you'll have to invest in a comb accordingly.
The 4 Best Combs for Goldendoodles
To help you find the best brush for your Goldendoodle, we've composed this blog post. Here, you'll learn about the best combs for your Goldendoodle and what to look for when buying one.
1. Burt's Bees Hemp Bristle Brush
Burt's Bees Hemp Bristle Brush is a double-sided brush that can be used to remove debris and to restore that wonderful shine to your pet's coat.
Because Goldendoodles have a thick, curly coat, untangling the knots can be an arduous chore – but not if you're equipped with this two-in-one tool.  It's soft and gentle and straightens out your dog's coat in one sweep. The brush has a unique shape and offers a tight grip, making it a joy to use.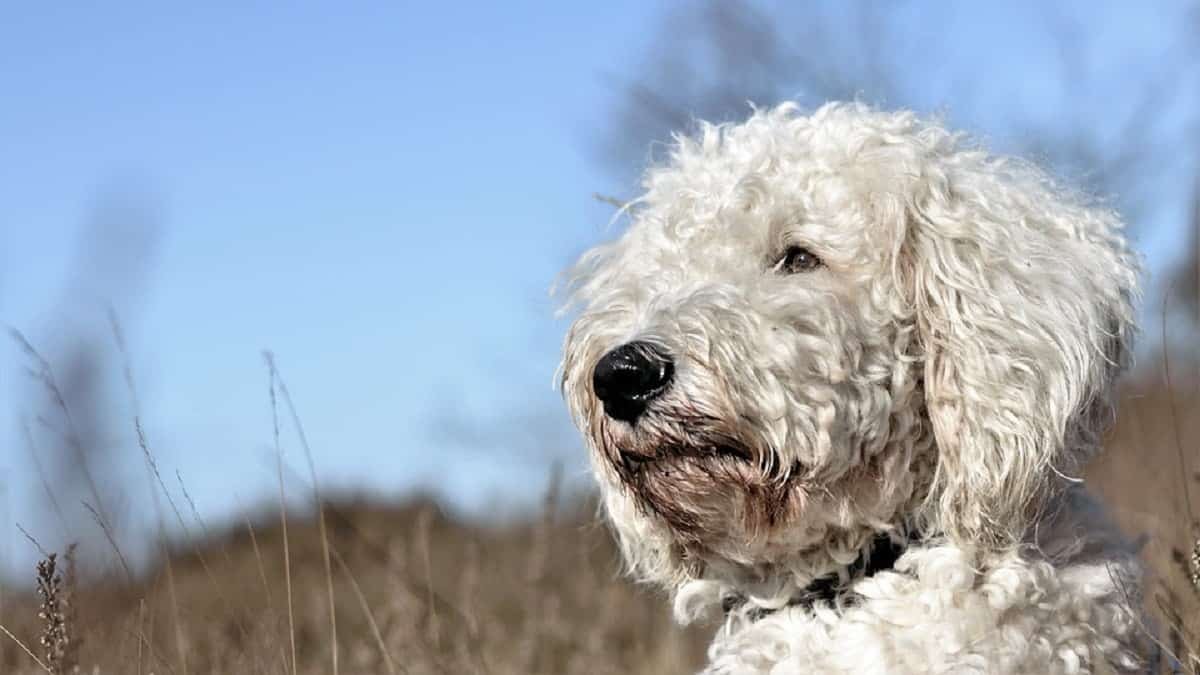 Pros
Two-in-one grooming tool
Easy, gentle, and safe for all types of dogs
Environmental friendly
Reliable and durable
Cons
May get stuck in extremely curly hair
2. Pet Grooming Brush
This is possibly one of the best combs for Goldendoodles. Whether your pet has a short, medium, or long coat, it de-sheds your pet's coat without any fuss. According to experts, this trendy grooming brush eliminates up to 95% of shedding from your Goldendoodle's fur. All you'll need to do is gently comb through your pet's fur, and within seconds, you'll get a fistful of dead hair.
This durable tool is made of steel with tiny gaps in it. These gaps help grasp loose, dead fur from the coat and make it appear neat and shiny. Owing to its stainless steel pleated brittles, the brush allows you to groom your Goldendoodle like a pro. This saves time and money, which you may spend otherwise on professional grooming services. The body of the brush is made from plastic with thick rubber that makes brushing easy and comfortable.
Pros
The anti-slip handle offers ease and comfort
Detachable hand design
Durable and rust-resistant blade effectively removes fur
Environmental-friendly
Lightweight, rubber-coated handle
Cons
Fur may get trapped and damage the blade as a result
A damaged blade may slow down the shedding process
3. Michel Mercier Detangling Brush
Michel Mercier Detangling Brush features rubber bristles that make the brushing process easy and fun for both you and your Goldendoodle. Since these bristles are made of soft, durable material, they prevent fur your dog's fur from getting pulled and damaged.  Whether your Goldendoodle has a fine, normal, or thick coat, it doesn't matter. This detangler is one of the best combs for Goldendoodles, and works smoothly on all types of coats.
Its ergonomic design provides a firm grip and allows you to access every part of your pet's body without having to strain your wrist. Designed for both puppies and older dogs, the Michel detangler aims to keep your pet's coat healthy and shiny. It also successfully removes parasites like ticks and fleas.
Pros
Offers a user-friendly experience
Rubber bristles make brushing easy and fun
Lengthy brittles detangle and de-shed fur types
Helps in removing parasites
Durable and long-lasting
Cons
Long bristles may make the cleaning process a tedious one
4. Glendan Dog Brush
As far as the best combs for Goldendoodles go, the Glendan Dog Brush is one of the very best out there. It is an easy-to-clean grooming brush that is best for long and short-haired Goldendoodles. The brush is not just suitable for removing trapped dirt, but it is great for massaging your dog as well. The grooming brush massages in a way that it doesn't scratch your pet. It helps increase blood circulation and increase the fur growth, leaving your pet's coat soft and shiny all the while.
The handle is cushioned with soft rubber, which enhances the user experience. It is also lightweight, which means that using it for extended periods of time won't cause your wrist to hurt. It is also unbothered by the length of your dog's coat.
Pros
Wire bristles are strong and durable
Padded rubber provides comfort
Prevents skin diseases by increasing blood circulation
Comes with a one-year warranty
Massaging doesn't scratch the dog
Cons
Wire bristles may get damaged after several uses
Features to Look for When Getting a Comb for Your Goldendoodle
1. Type of Brush
There are four types of combs used for the purpose of brushing Goldendoodles – slicker brushes, rakes, pin brushes, and bristle brushes. Each brush caters to different hair types. For example, slicker brushes are best for long-haired or curly-haired Goldendoodles. One of their primary functions is to help eliminate mats. On the other hand, bristle brushes are ideal for short-haired dogs that shed a lot. Depending on the fur coat of your Goldendoodle, choose a hair comb accordingly.
2. All-Purpose Comb
Always look for a versatile comb that does various jobs like de-shedding, eliminating nits, detangling, etc. This will allow you to invest in one tool as opposed to many, saving your money to a large extent. For a brush to perform various functions, you'll have to ensure that it is of excellent quality. Durability, strength, and weight of the tool are some features to look into.
3. Offers Massages
Professional massage combs provide various health benefits to pets. For instance, they increase blood circulation and make the pet's coat soft and shiny. If you want your Goldendoodle to get these benefits, make sure you get a comb that can also double up as a massage comb.
Our Final Thoughts
Whichever comb you get for your lovely pup, you should know how to use it properly. Most pet owners make the mistake of brushing their pet's coat way too harshly. This irritates the pet's skin, pulls their hair strands, and permanently damages the coat. Be patient while brushing your pet's coat – always brush it gently.
Remember, this is also bonding time for you and your Goldie. Your pup will love you even more if you groom them with care and patience. Getting the best comb for your Goldendoodle will ensure that grooming time is a fun time for both you and your pet.