If you have recently gotten a Goldendoodle as a pet, you may have already stocked up on some pet accessories for them. Pet accessories are crucial for the comfort and happiness of your pet, and one such accessory is a comfy dog bed.
In a Hurry? Here are Our Top Choices
Your Goldendoodle may love to play and have fun, but when they get tired, they need some downtime to rest and relax. In times like these, your home should accommodate a dog bed for your pet.
The 4 Best Dog Beds for Goldendoodles
This is why, in this blog post, we'll review the top 4 dog beds for Goldendoodles currently available on the market. We'll list down different types of dog beds with their features, and pros and cons so that you can make the right decision when getting a bed for your precious pup!
1. BarkBox Memory Foam Dog Bed
Comfort and durability are the two most sought-after features of a dog bed, and the BarkBox Memory Foam Dog Bed offers both. It is simple and manageable, and therefore, it can easily be adjusted inside your dog's crate. In this way, you can ensure that your dog feels cozy and comfortable inside its crate.
The bed is made up of ergonomic memory and gel foam, which helps relieve body pain. If your Goldendoodle is suffering from body pain, joint ache, arthritis, and dysplasia, this bed can help to soothe the pain that your Goldendoodle is suffering from.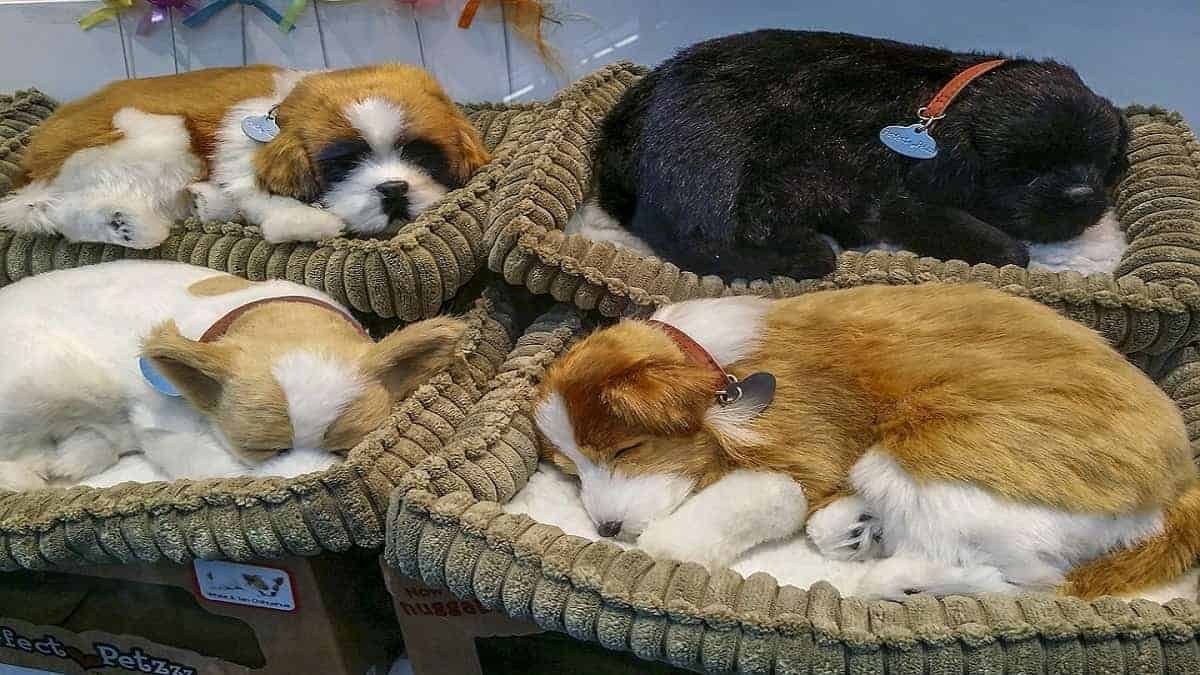 A dog bed can easily be stained by mud, feces, or urine. But the BarkBox Memory Foam dog bed is washable, which means that no matter what your doggy does on this bed (short of tearing it up), it can be easily fixed.
Pros
100% pure memory foam
Helps with body pain and aches
Offers restful sleep to your dog
Orthopedic ultra-plush
Great for medium-sized Goldendoodles
Cons
More expensive than a typical plastic foam bed
2. Serta Ortho Quilted Pillowtop Pet Bed
Does your Goldendoodle like to stretch out their legs while they sleep? If that's the case, then the Serto Ortho Quilted Pillowtop Pet Bed is the best pick for your adorable dog. It's a high-quality, large mattress that can easily accommodate dogs that need a lot of place to sleep. What's more, this dog bed for Goldendoodles is manufactured in the United States with 100% CertiPur US foam, ensuring its top quality.
The ultra-sleek foam boasts a tan color that goes well with any kind of home interior. If your Goldendoodle suffers from arthritis, aches, or dysplasia, this orthopedic foam will serve them right. It provides the perfect amount of support and stability to dogs with physical health issues.
You don't have to worry about your pet making any mess on the foam. The soft, silky cover is easy to clean. All kinds of stains can be removed in one quick wash.
Pros
Machine washable
Helps relieve pain
Offers superior comfort and support
Made in the USA
Cons
3. Pet Tent-Soft Bed for Dog
Popularly known as a plush tent for pets, this dog bed is assembled with linen, corduroy, or faux suede – soft and secured forms of linings. The super-soft polyfoam makes the bed supremely reliable and comfortable. The lush, soft pillow further adds to the comfort level of this dog bed for Goldendoodles. Unlike other tent houses, this tent bed won't collapse – thanks to its anti-skid base. It is easy to assemble and disassemble, so you can clean/wash it without any trouble.
The fact that this bed is easy to assemble and disassemble means that traveling with your pet will never be a hassle. Just carry the bed along with you and assemble it wherever your pet has to sleep.
The shape and fabric of the bed are also quite modern and trendy. Plus, it comes in neutral colors that can go along with any home décor style. If your doggy stains the bed, no worries; toss it in the washing machine without any fear of losing the shape or color of the bed.
You can find this dog bed for Goldendoodles in three sizes – medium, large, and extra-large. It also comes in four colors – brown, grey, beige, and tan.
Pros
Extremely soft and plushy
Waterproof bottom
Comes in three popular sizes and neutral colors
Supremely convenient
Cons
Has a chemical smell
The bottom part of the bed may not be cushioned well
Some of the beds may have a very thin material on their bottom side
4. AKC Sweet Dreams Orthopedic Pet Sofa Couch Bed
The AKC Sweet Dreams Orthopedic Pet Sofa Couch Bed is best for Goldendoodles that like hogging all the space on your bed or sofa. This is cute when your pet is small but not so much when they become an adult and twice their size.
This dog bed features a sofa style that guarantees a lot of space for your Goldendoodle to lay and stretch comfortably. It also comes in several colors like grey, tan, and brown. Because it is lightweight, you can easily move it from one spot to another. This allows you to bring the bed into any room you want and let your Goldendoodle be with you whenever you want.
Ideal for Goldendoodles of all sizes, this luxurious sofa is covered with an orthopedic base, which is best for dogs with physical pain or ailments.
Pros
Durable and comfortable
Comes with a tough, anti-skid base
Made from eco-friendly material
Comes in many sizes and shapes
Cons
Some users complain that the sizes aren't as advertised.
Features to Look for When Buying Dog Beds for Goldendoodles
1. Size of the Bed
You can determine the bed size if you know the size of your pet. Before you head to a pet supply store, measure your pet's size with a measuring tape. Make sure you also know your dog's preferred sleeping position so that you can choose a bed accordingly.
2. The Material of the Bed
Dog beds are available in plenty of materials that can keep issues like odors and allergies at bay. Look for a bed that is cedar-filled as it repels odors and radiates pleasant scents. If your Goldendoodle is incontinent, ensure that the bed you pick is waterproof and machine washable.
3. Bed Color and Design
The bed style you choose eventually becomes an important part of your home décor. Therefore, choose a bed in color, pattern, and design that suit your house interior.
4. Type of Bed
Dog beds come in plenty of styles – pillow style, donut style, dog mat/pad, orthopedic dog bed, etc. Depending on your dog's needs and requirements, pick the style that suits your pet the best. For example, if your dog is suffering from arthritis or hip dysplasia, then an orthopedic dog bed will be an ideal choice for you.
Dog beds are essential pet accessories that come in a number of styles, designs, colors, sizes, etc. Because every pet is different, you need to ensure that you choose the bed that suits your dog's specific needs. Your pet's age and health issues will also play an integral role in selecting the right type of bed for them. For example, long-haired Goldendoodle puppies may need a bed with cooling pads, while Goldendoodles with orthopedic issues will need orthopedic beds.
Our Final Thoughts
While shopping for a dog bed for Goldendoodles, you will also need to keep your pet's sleeping style in mind. If your dog stretches out while sleeping, you'll have to get a bed larger than your dog. If you keep all these things in mind, you'll choose the perfect dog bed for your Goldendoodle.