You can do so much to give your furry companion a perfect life. The best thing is that you don't have to go to great lengths to make your dog's life a happy and healthy one. Start with giving the best quality food. Pet foods are divided into many categories, but the two most notable ones are wet dog food and dry dog food.
In a Hurry? Here are Our Top Choices
The 5 Best Dry Foods for Goldendoodles
This blog post specifically discusses the best dry foods for Goldendoodles. So if you're on the lookout for the best of the best in dry pet food for your Goldendoodle, look no further than this comprehensive guide!
1. ACANA Grasslands Dry Dog Food
ACANA Grasslands Dry Dog Food is America's best natural dog food on the market. Owing to its fresh and yummy ingredients, pet owners trust this brand wholeheartedly.
ACANA pet food is manufactured in their own state-of-the-art kitchens in Kentucky. Their refusal to outsource the production of this dry dog food for Goldendoodles means that they can stick to their strict quality control measures. This dog food is made with organic, regional ingredients. The recipe contains 70% animal proteins and 30% healthy veggies and fruits from nearby farms.
The best part? It's designed for Goldendoodles of all ages and sizes. Hence, it delivers the nutrients that your pet may require without the need for any artificial additives, colors, and flavorings.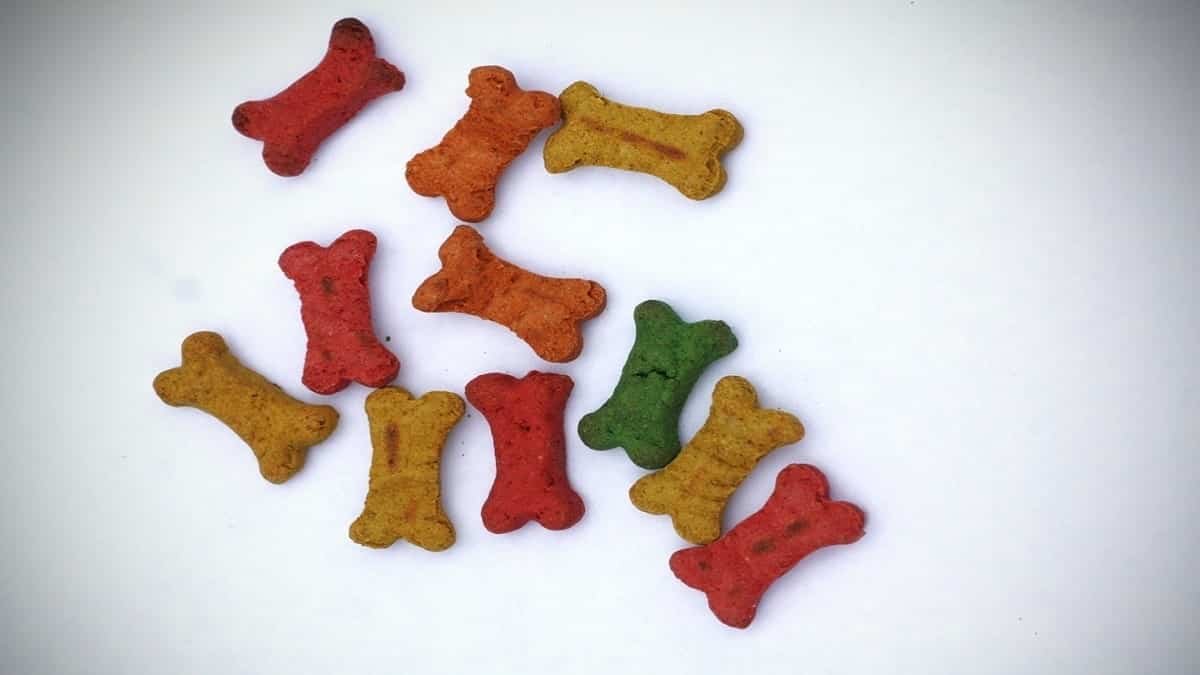 Pros
Rich in protein and low in carbs
Contains all-natural ingredients
Made with fresh meat and farm products
Grain-free
Easily available
Cons
A little costly for some dog owners
May not suit dogs with a high-carb food preference
2. Fromm Family Foods
You can never go wrong with Fromm Family Foods. The manufacturers of this dry dog food for Goldendoodles only use the highest quality ingredients. Naturally formulated with fresh ducks, lambs, chickens, whole eggs, and real cheese, this dry food provides all those nutrients that are needed to maintain a healthy digestive and immune system.
The essential nutrients packed in this gourmet canine recipe fully nourish Goldendoodles and keep them active and happy at all times. A glance at the nutrients content will reveal that the dry food is made up of 25% crude protein, 10% moisture, 5% fiber, and 16% fat. Minimal doses of amino acids, minerals, vitamins, probiotics, and fatty acids can also be found in this wholesome food.
Pros
Wheat-free
Contains beneficial and high-quality ingredients
Helps maintain a healthy pet lifestyle
An excellent source of a wide variety of nutrients
Nourishing and wholesome
Cons
Pricier than other food brands
Comes in only one flavor
3. Taste of the Wild Dry Dog Food
Taste of the Wild is a popular grain-free formula, best for Goldendoodle puppies and adults alike. The dry food has an improved nutrient profile that helps provide digestible energy and strength. Formulated with the perfect blend of fish protein sources, fresh vegetables, and fruits, this wholesome formula delivers minerals and antioxidants that support your Goldendoodle's healthy lifestyle.
The main ingredient that sets this grain-free food apart from others is its unbeatable naturally-smoked salmon, which lends a distinctive flavor – something that all Goldendoodles like. You can feed Taste of the Wild to all Goldendoodles, including growing puppies, pregnant/nursing adult dogs, and highly-energetic adult dogs.
Pros
Real, tasty salmon as the main ingredient
Grain-free and contains no additives or artificial flavors
Rich sources of proteins, amino acids, and antioxidants
Small in size and easily manageable
Easily chewable and digestible
Made in the USA under strict safety protocols
Cons
Slightly expensive
May not be suitable for all types of dog breeds
4. Merrick Grain-Free Dry Dog Food
Merrick Grain-Free Dry Dog Food is a perfectly well-rounded meal for pets. It contains 70% of protein and healthy fat ingredients and 30% of fibers, vitamins, minerals, and other natural ingredients.
The top five ingredients that enrich the pet food with excellent nutrients and flavors are deboned buffalo, salmon, turkey, chicken, and sweet potatoes. These ingredients are fresh and gluten-free. Plus, they promote a healthy digestive tract in your precious Goldendoodle.
The specifically-crafted, grain-free recipe aims to deliver taste and nutrition in equal quality. Therefore, you can't go wrong when you feed this incredible dog food to your Goldendoodle.
Pros
All-natural and grain-free
Offers yummy flavors and essential nutrients
Ensures a healthy digestive system
Manufactured in the USA
Cons
More expensive than other less-than-premium dog brands
5. Purina Pro Plan FOCUS Dry Food
This is a guilt-free dog food that's specifically crafted for Goldendoodles that are sensitive to certain ingredients. Does your Goldendoodle have sensitive skin or a sensitive tummy? This nutrient-filled pet food will be ideal for your dog.
It's made from protein-rich meals and healthy oatmeal, which promotes lean muscle mass and provides digestible carbs, respectively. Since it's free from peas, soy, corn, and wheat, the rice formula will provide a comfortable digestive experience to your furry friend.
Pros
Flavored with salmon and rice
Contains no soy, wheat, and corn
Promotes a healthy digestive system
Comfort food for sensitive dogs
Cons
Best for adult dogs only
May not be suitable for all dog types
What to Look for in Dry Food for Goldendoodles
1. Proteins as the Main Ingredient
Protein makes for the most important ingredient in pet food as it provides innumerable health benefits. Protein promotes muscle mass, boosts energy, increases bone health, and lots more. Be sure that the dry food you opt for has maximum amounts of proteins derived from natural ingredients.
2. Grain-Free and Guilt-Free
Your dog food should be a source of healthy and natural ingredients. Therefore, it's important to check the list of ingredients before buying the food for your pet. Make sure it doesn't have wheat, soy, and corn as they can be harmful to your dog. Also, be careful of the amount of carbs the dry food contains. Keep in mind that the high content of carbs can make your Goldendoodle feel lethargic and heavy.
3. Natural Fruits and Vegetables
Dry foods with whole, unprocessed ingredients are more beneficial than artificial ones. Pet food with fruits and veggies, along with real meat and chicken, are always better than ones with artificial colors and flavors as they are more nutritious and wholesome.
4. Lack of Artificial, Colors, Flavors, and Sweeteners
Please note that these ingredients provide little to no benefit to pets. Your pet doesn't care about the color of their food. Therefore, it's of no use to get colored food. Plus, artificial flavors are only limited to providing taste but hardly any health benefits. Along with that, it's very likely that some foods contain artificial preservatives that can be harmful to most dogs. When you're shopping for dry food for your Goldendoodle, have a look at the packaging and carefully go through the ingredients. If you see that the product is packed with artificial preservatives, don't buy it!
Our Final Thoughts
Choosing the best dry food for your Goldendoodle should be a breeze if you choose from the different dry food options on this list. While shopping for the best dry food for your Goldendoodle, keep in mind the tips that we've mentioned here. We bet you'll be able to make a quick decision as long as you remember what ingredients are good for your dog and what his diet needs and requirements are.