When it comes to types of food and diets for Golden Retrievers, grain-free food has become quite the trend lately.
In a Hurry? Here are Our Top Choices
Grain-free dog food, as the name suggests, is a type of dog food that is void of any kind of grains. These include wheat, corn, rice, oats, soy, and barley, to name a few. One of the main reasons why pet owners give their Golden Retrievers grain-free food is that dogs often have certain grain allergies. Research also shows that the Golden Retriever is one of the many dog breeds that have a higher chance of developing food allergies.
Some of the many benefits of grain-free dog food include increased energy levels, reduced flatulence, less shedding, a shinier and healthier coat, reduced canine food allergies, and feeling full for an extended period of time. If your Goldie has allergic reactions to regular dog food that contains different grains, you must give it high-quality, grain-free food to ensure its good health.
The 4 Best Grain Free Food for Golden Retrievers
To help you find the best grain-free food for golden retrievers, we have come up with a list of some of the highest-quality food options that your furry friend will thoroughly enjoy.
1. Castor & Pollux Organix Grain-Free
This is one of the most popular grain-free foods for Golden Retrievers as it promises to deliver excellent nutrition and a great flavor for your cute little Golden pet. It's the highest-quality organic pet food around, as it's made with free-range and organic chicken along with organic sweet potatoes, which are some of its key ingredients.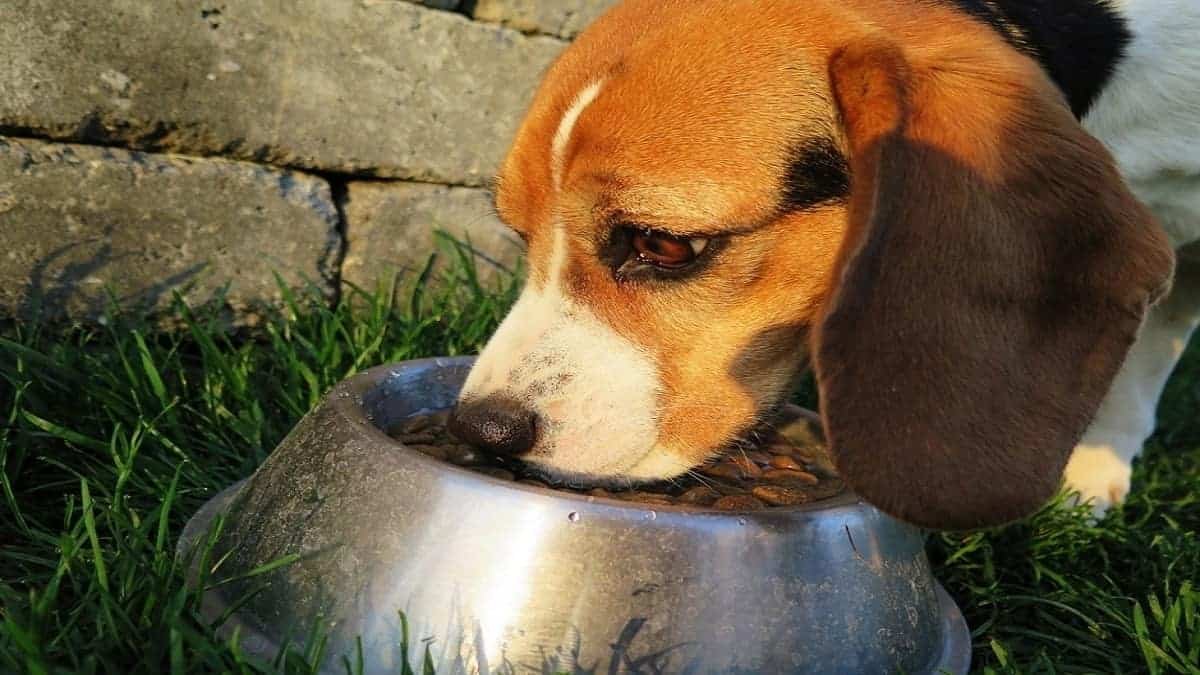 The Castor & Pollux Organix Grain-Free dog food consists of an abundance of probiotics that promote a proper and healthy digestive system in your pet's body. It also contains an incredible blend of super-foods and nutrients, including organic coconut oil, flaxseed, and blueberries, which together provide extra flavor and nutrition to your pet.
A great thing about this dog food is that it doesn't contain any synthetic fertilizers, antibiotics, growth hormones, or chemical pesticides, which makes it one of the safest grain-free options for Golden Retrievers.
Pros
Very small and dry kibble
Excellent for small breeds
This dog food does not contain any artificial flavors or harmful additives
Contains all-natural and organic ingredients
Great value for money
Cons
Some dogs might not like the taste
Tends to make some pets sick
2. Earthborn Holistic Large-Breed Grain-Free Dry Food
This is a holistic, grain-free food formula that has been specially designed for those Golden Retrievers who might be sensitive or allergic to grains.
Earthborn Holistic Large Breed Dog Food isn't just grain-free, but it's also gluten-free, making it an ideal food option for your pet. As the name suggests, it's meant for large dog breeds and caters to the needs of all those Goldies that weigh over 50 lbs.
A major reason why this is among our top picks for the best grain-free food for Golden Retrievers is that it features an ideal blend and balance of calcium, carbohydrates, proteins, and fats that help boost your pet's overall health, provide great support to their bones, and significantly enhance their hip and joint function.
Furthermore, this grain-free dog food also consists of an adequate amount of chondroitin sulfate and glucosamine, two essential ingredients that are absolutely vital when it comes to maintaining healthy joint cartilage in dogs.
Interestingly, this dog food has proven to work amazingly well for dogs with sensitive stomachs, so if your Goldie has been dealing with any stomach issues, this is the best dog food you can feed them.
Pros
Has an excellent flavor
Consists of a balance of essential ingredients
It's very light on the stomach
A great option for picky eaters
Cons
A tad expensive
The smell of the food might be a little off-putting
3. Nature's Variety Instinct Raw Boost Healthy Weight Grain-Free Chicken Recipe
Featuring a healthy weight formula with 25 percent less fat and lean chicken, this grain-free dog food is an excellent option for all those Golden Retrievers that are obese or have a risk of becoming obese. One of its key ingredients is cage-free chicken that is filled with protein. Your Goldie will absolutely love this meal because its dry kibbles contain delicious, natural bites of frozen and dried raw chicken.
Nature's Variety Instinct Raw Boost Healthy Weight dog food is void of any kind of grains, preservatives, artificial colors, potatoes, soy, and corn. This makes it one of the top grain-free foods for Golden Retrievers. Instead, it features a fat burning component called L-Carnitine that greatly boosts your pet's metabolism and keeps them full for hours.
Another great feature of this dog food is that every serving is power-packed with all-natural and minimally-processed bites of real meat along with non-GMO vegetables and fruits. It also consists of large amounts of fatty acids, natural probiotics, and antioxidants that not only boost your pet's immune system but also make their skin and coat super healthy and shiny.
Pros
Contains the power of raw ingredients
Has 15 percent lower calories than other variations
It's crafted from real and natural organic ingredients
Provides complete and balanced nutrition to pets
Cons
Might cause nausea in some dogs
Tends to give off a sour smell
4. Taste of the Wild High Prairie Grain-Free
This grain-free dog food for Golden Retrievers has primarily been designed to provide the ultimate nutrition to your pet and effectively maintain their overall good health. It has been formulated with some novel ingredients – bison, buffalo, sweet potatoes, and peas that serve to maintain the high energy levels of your super active and playful pet.
Taste of the Wild High Prairie Grain-Free dog food is 32 percent protein, which means that this dog food provides dogs with highly digestible energy. In turn, they use this energy to go about their daily routine, as well as to stay active at all times. This dog food also contains an abundance of fruits, legumes, and vegetables that are packed with all the vital antioxidants your dog needs to stay healthy.
Like other grain-free dog foods, this one also doesn't contain any artificial colors, flavors, preservatives, wheat, corn, or fillers. It does contain omega-6 and omega-3 fatty acids that promote healthy skin and a shiny, thick coat.
Pros
Will improve your dog's digestive health
Contains raw buffalo, which your dog will absolutely love
Consists of chelated minerals that are easy to absorb
The kibbles are small and packed with flavor
Cons
Some dogs might not like the flavor
Can cause vomiting in sensitive dogs
What Makes the Best Grain-Free Dog Food?
When buying grain-free food for your golden pet, there are some essential features and factors that you must consider in order to make a well-informed decision.
To help you with that, here is a short guide to help you pick the best type of grain-free food for your furry pet.
Natural Ingredients
Good-quality dog food always contains wholesome and natural ingredients that are full of antioxidants and minerals. They are also free from any artificial ingredients, such as preservatives, chemical additives, and artificial flavors. Therefore, you must look for the kind of dog food for your pet that is packed with organic and natural ingredients in order to maintain their overall health.
Fat and Calorie Content
Another important factor you should consider when buying grain-free food for your pet is a low calorie and fat content. This helps control excessive growth and weight gain and also boosts their lean mass.
Protein Source
Dog foods that are rich in lean protein are ideal for Golden Retrievers. You should especially look for those that consist of lean protein from high-quality sources such as fish and beef.
Our Final Thoughts
As the owner of a beautiful Golden Retriever, you must always take special care of their dietary and nutritional needs. Therefore, you must get your hands on the best grain-free food for Golden Retrievers in order to boost their overall health, as well as to keep them active, playful, and energetic at all times.