One of the best ways to make sure that your super energetic, lively, and playful Golden Retriever stays like that at all times is to provide them with well-balanced and nutritional food. As a pet owner, you must take extra and special care when it comes to their daily food and diet. This will not only ensure their good health, but will also greatly enhance their thick, rich, and silky coats.
In a Hurry? Here are Our Top Choices
One of the best and most popular dog food brands out there is Merrick. Merrick has some incredible varieties of all types of dog foods, including wet, dry, treats, and mixers. Not only are they super healthy and high-quality, but they also consist of some of the most amazing ingredients that help make the food extremely flavorful and satiating.
Merrick dog foods strive to provide highly balanced nutrition to all dogs, and they do so with their natural, grain-free formula. This formula is full of nutrient-rich ingredients that work to improve your dog's overall health.
The 4 Best Merrick Dog Food for Golden Retrievers
To help you find the best Merrick dog food for Golden Retrievers and make your pet's mealtimes really special, we have come up with some of the best options for you. Let's take a look.
1. Merrick Chunky Grain-Free Carvers Delight Dinner Canned Dog Food
This is one of the most delicious varieties of Merrick dog food for Golden Retrievers. It consists of rich, grain-free, mouthwatering gravy that features big chunks of tender, deboned chicken, which is one of its key ingredients.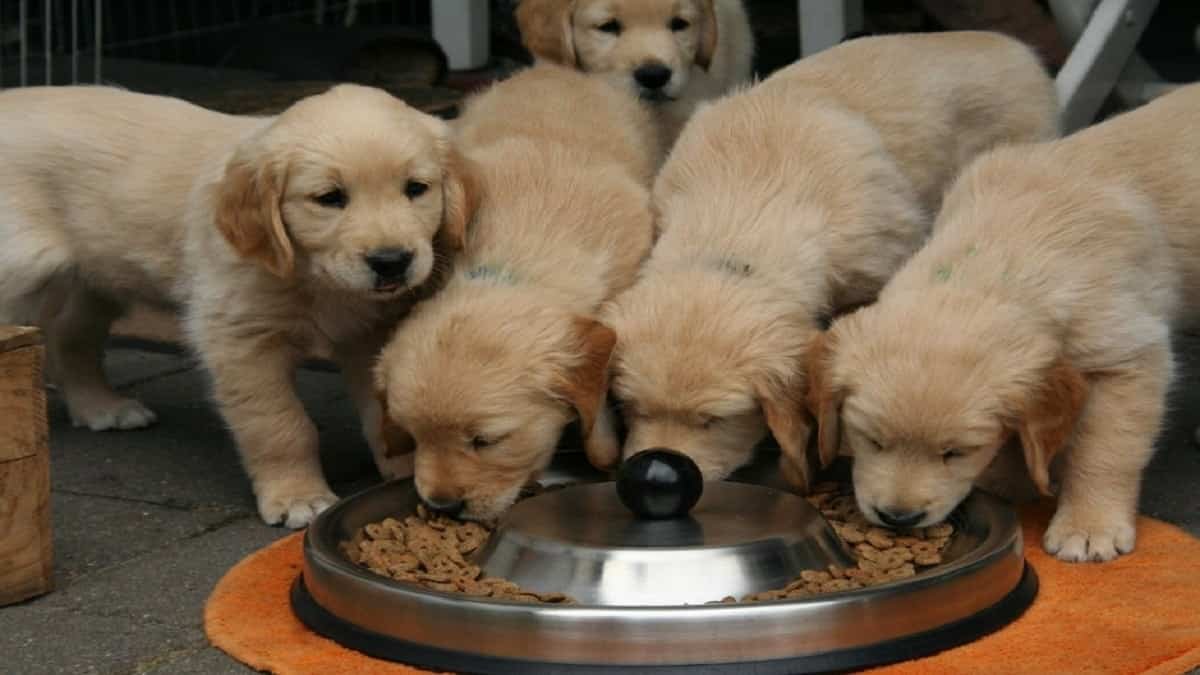 The Merrick Chunky Grain-Free Canner Dog Food is ideal for all types of Golden Retrievers, including puppies and adult breeds.
Other than the ultra-soft chicken, this dog food also features big pieces of turkey that are equally tender and yummy. The meat is mixed together with nutrient-rich vegetables such as carrots and potatoes that provide your pet with high energy levels. They also add great flavor to the warm, tasty gravy.
One of the best things about this dog food is that it doesn't contain any artificial flavors, by-products, or preservatives, which makes it ultra-safe for all your pets. You can either give this dog food to your pet as a separate meal or top their favorite dry kibble with it, making it all the more wholesome.
If your dog prefers eating wet food, the flavorsome savory broth of this Merrick dog food will simply make them go crazy!
Pros
Incredible smell and taste
Free from preservatives, chemicals, and additives
Excellent value for money
Ideal for dogs of all ages
Features a grain-free formula
Cons
2. Merrick Grain-Free Real Texas Beef + Sweet Potato Recipe
If you are particularly looking for protein-rich dog food for your Golden Retriever, this is the perfect option for you.
The Merrick Grain-Free Real Texas Beef consists of high-quality proteins that come from its first key ingredient, the top-grade deboned Texas beef. This beef is packed with essential proteins that your pet needs to build and maintain the health of its muscle tissues.
This Merrick dog food for Golden Retrievers is completely grain-free and contains high levels of omega-6 and omega-3 fatty acids. These are some of the most vital ingredients that promote healthy dog skin and a super soft, thick coat. This dog food also maintains your pet's high energy levels with the help of its excellent ingredients. This includes real whole foods like blueberries, peas, and apples. These are packed with high levels of antioxidants, essential vitamins, and minerals.
This dog food is that it is free from any preservatives, gluten, wheat, fillers, or corn. This makes it ideal for Retrievers with food allergies and sensitivities.
Pros
Full of proteins, vitamins, and minerals
Doesn't contain any harmful additives or chemicals
Features a delicious taste
Completely grain-free
Has real whole foods that provide sustained energy
Cons
The new formula might not suit all dogs
3. Merrick Grain-Free Real Buffalo and Sweet Potato Recipe
Similar to the other Merrick varieties, this is yet another excellent Merrick Dog Food for Golden Retrievers that consists of some of the most delicious ingredients. It satisfies all your pet's protein cravings and also has an amazing real buffalo taste that your pet will love.
Other than buffalo, the Merrick Grain-Free Real Buffalo Dry Dog Food consists of many other flavorsome ingredients such as apples, blueberries, sweet potatoes, flaxseed, potatoes, and peas. With so many amazing ingredients packed into this dog food, your pet will definitely end up asking for more!
This canine kibble offers grain-free nutrition without any gluten-based ingredients. This promotes smooth and easy digestion. It's enriched with omega-6 and omega-3 fatty acids that lead to a healthy, soft, and shiny coat. It also has high levels of chondroitin and glucosamine, which are two of the most vital elements required to improve the joint and hip function of your pet.
Pros
Consists of tender deboned meat
Provides increased nourishment to all dogs
Has real whole foods for optimal nutrition
It doesn't contain any preservatives, gluten, fillers, and harmful chemicals
Cons
Can lead to gas problems
Some dogs might not like the flavor combination
4. Merrick Grain-Free Salmon & Sweet Potato Recipe Dry Dog Food
If your Goldie is a fan of salmon, you must get the Merrick Grain-Free Salmon Dry Dog Food for your furry friend. As Merrick dog food for Golden Retrievers goes, this is an amazing variety to feed to your dog. It consists of deboned salmon, which is one of its key ingredients. Salmon is an excellent source of protein that helps maintain healthy muscle tissue in pets and provides them with high nutritional value.
It has leading levels of omega-3 and omega-6 fatty acids that foster healthy and shiny coats. They also promote hair growth, which, in turn, results in even and well-distributed hair all over your dog's body.
This dog food also consists of easily digestible carbohydrates in the form of sweet potatoes that offer high levels of sustained energy to your pet. The food is free from artificial flavors, preservatives, colors, and any gluten-based ingredients, which means that this dry dog food incredibly safe for your pet.
Pros
Full of flavor and has an amazing smell
Packed with rich, nutritional ingredients
Suitable for dogs with allergies
Worth the money
Helps boost overall dog health
Cons
Can result in nauseous reactions
Choosing the Best Dog Food for Golden Retrievers
While Merrick has an incredible variety of dog foods for Golden Retrievers, not every variety will suit your dog. There are a few features that you must generally consider when buying dog food for your pet, depending on their dietary needs and preferences.
Key Ingredients
The best dog foods for Golden Retrievers are those that feature animal protein as their key ingredient. Look for dog foods that have named animal proteins on the ingredient list, such as beef, lamb, salmon, turkey, or any other type of meat.
Doesn't Contain Harmful Additives
Dog foods with artificial flavors, colors, and preservatives are really dangerous for your pet, which is why you must look for food that does not have any fillers, colors, additives, and gluten-based ingredients.
Smell and Flavor
Golden Retrievers are really big on the flavor and smell of their food, and they look forward to their mealtimes. As such, you should ensure that the dog food you choose is tasty and smells amazing, in addition to being highly nutritious.
Our Final Thoughts
Your adorable Golden pet surely deserves the best and top-quality nutrition, which is why you must get your hands on the best Merrick dog food for Golden Retrievers. The best part is that your furry companion will significantly start enjoying their mealtime (if they weren't already), and they'll be more excitable and energetic!