Do you need to trim the fur between your Golden Retriever's paw pads? Although a large number of hair clipping tools are available on the market, not all of them will meet your expectations.
You'll need to perform proper market research to find the best tool for clipping the hair between your Golden Retriever's paw pads. Yes, we know it sounds like a lot of work, and that's why we have taken it upon ourselves to do it for you.
We've searched far and wide to find a hair clipping tool for your dog. We've read all the user reviews, reviewed the features, and checked the ratings of each hair clipping tool for dogs to create this list.
In a Hurry? Here are Our Top Choices
But first, why do you need a tool to clip the hair between their paw pads?
To prevent potential injuries and gives your dog less fur to chew when they lick their paws. In fact, you'll be surprised to know how common paw injuries are; hence, keeping the area between their toes clean and neatly trimmed can keep their paw pads healthy.
Another benefit of fur trimming is that it keeps their paws clear of excessive mud, debris, dirt, and snow, preventing them from getting stuck between their paw pads. When you're trimming the hair between your dog's paw pads, know that it's a tender area.
The 5 Best Tools for Clipping Hair Between a Golden Retrievers Paw Pads
Regardless of how tough their paw pads appear to you, your dog may not like you touching the area between their paw pads, especially with a trimmer or scissors. Moreover, your dog may not like the sound or feel of hair clippers.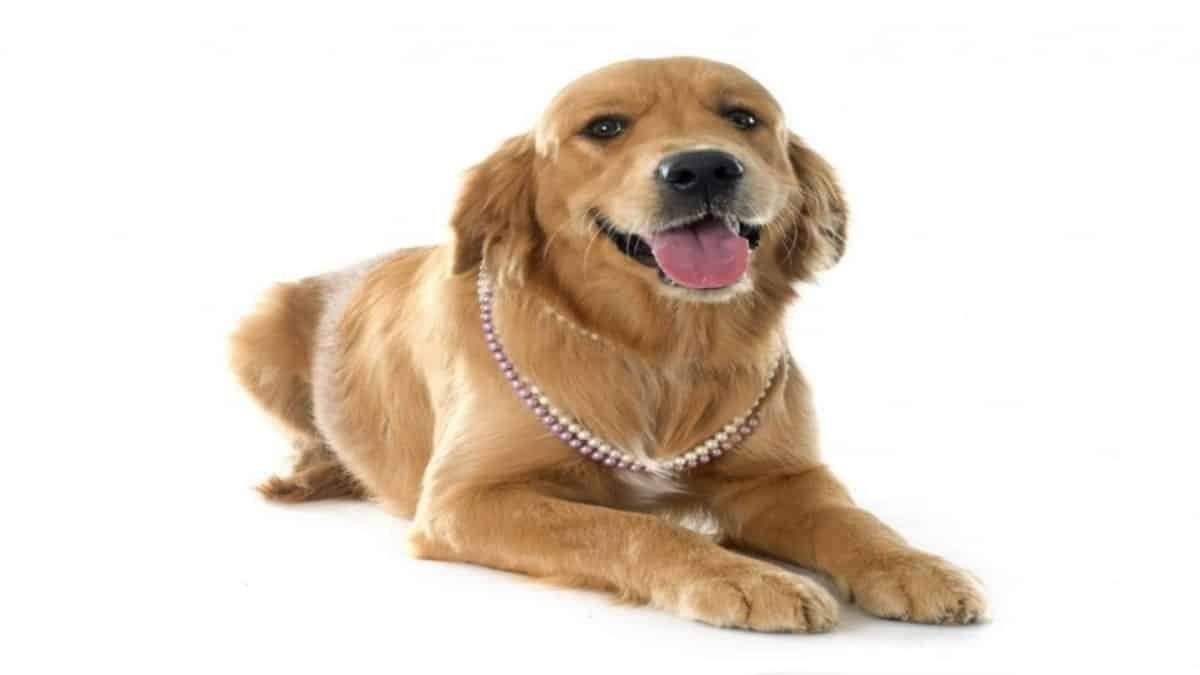 With proper training, you can help them relax and calm down. Use a soft voice to soothe them even if they fidget and do not lose your cool. With time, your dog will get used to you trimming the fur between their paw pads. With this out of the way, let us tell you about the best tools for clipping hair between your dog's paw pads:
1. ConairPRO Dog Rounded-Tip Shears
The ConairPRO Dog Rounded-Tip Shears is available in three different sizes, 5-inch, 6-inch, and 7-inch. You can also opt for 6.5-inch textured shears or 7-inch curved shears. If you want to trim the fur between your dog's paw pads, use this rounded-tip shears.
The shears feature an ergonomic design with built-in finger rests and soft-grip finger holes, which reduces fatigue and give you more control. You can use these shears for perfecting your dog's coat length and fine finishing works.
Make sure your dog's hair is dry and isn't matted or tangled before you trim it. You'll receive an incredible number of benefits with these shears. The blade is coated with a nonstick and smooth surface to make cutting easier.
Made of Japanese stainless steel, these premium quality shears have a micro serration to ensure durability and precision in cutting and trimming fur. Its rounded tip is perfect and safe for trimming the fur between your dog's toes, around their eyes, ears, and nose. It also reduces the risk of injury.
2. Wahl Deluxe U-Clip Dog & Cat Clipper Kit
The Wahl Deluxe U-Clip Dog & Cat Clipper Kit is a home grooming kit for your dog. With the home grooming kit, you receive 7 color-coded attachments (1/8 inch, 1/4 inch, 3/8 inch, 1/2 inch, 5/8 inch, 3/4 inch, and 7/8 inch combs), stainless steel scissors, styling aprons, pet styling comb, durable storage case, red clipper blade guard, and "How To" DVD to teach you the proper method to trim and cut fur.
It also comes with an instruction book in three different languages; English, Spanish, and French. You also receive the company's standard adjustable blade, which you can adjust to cut lengths of 10, 15, and 30. The blades are made from premium quality steel.
The trimming tool offers you speeds up to 7,200 strokes per minute for easy and quick trimming. You can increase the speed and power of the clipper without worrying about it generating extra noise or heat. You can use these trimmers to trim your dog's paws, ears, face, light body trimming, and touch ups.
3. ConairPRO Dog Palm Pro Micro-Trimmer
The ConairPRO Dog Palm Pro Micro-Trimmer is an excellent trimmer for trimming the hair on your dog's paws, face, and ears. This lightweight trimmer is the size of your palms, making it easier for you to hold while trimming the delicate areas of your dog.
It doesn't make a lot of noise either; hence, keeping your dog calm during trimming. It features an ergonomic shape and is powered by battery, allowing you to move it easily. When you're traveling with your pet, you can take it with you thanks to its compact size. You turn it on and off with the press of a button.
With the clippers, you'll receive two cutting guides, a cleaning brush, an AA battery, lubricating oil, and a cleaning brush. You can make its battery last by removing it when it's not in use. Apart from dogs, you can also use these trimmers on cats, horses, and cattle. If you're looking for a versatile and easy to use trim, consider using this tool to clip the delicate and sensitive areas of your pet.
4. Wahl Professional Animal Stylique Trimmer
The Wahl Professional Animal Stylique Trimmer is a battery-powered trimmer. You can use it for touch ups and trimming your dog or cat's hair. You can also use it for other pets, such as horses and livestock. You can trim your pet's ears, face, paws, and sanitary areas with it. You'll get instructions on how to use the trimmer for trimming your pet's hair. Even though you won't come across any problem in using them, if you get stuck, you can always refer to the instruction manual.
Its lightweight design is perfect for people who travel frequently with their pets and who don't want to hold trimmers that cause fatigue. The cordless trimmer comes with a 3/8-inch fine tooth blade. The trimmer's pencil-shaped design makes it easy for you to hold and move around when trimming your dog's fur.
This is especially useful when you're trimming fur in small areas. You can travel with it and get one alkaline battery and a blade guard with it. If you need trimmers that are easy to carry, easy to use, and will last long, opt for these trimmers.
5. Miracle Coat 7 1/4″ Curved Blunt Tip Shear
The Miracle Coat 7 1/4″ Curved Blunt Tip Shear is a grooming tool for dogs and cats. Made from ice-tempered stainless steel, these superior quality shears will last you a long time. The shears have a protective sheath and feature a durable and lightweight design for comfort and ease of use.
You can adjust the tension of the shears to increase control and precision. The shears' curved design with blunt tips are made for rounding and roughing areas. The tool has a buffered stop to prevent you from accidentally pinching your dog. This means that your pet will get a perfect and safe cut every time.
They are easy to hold in your hand and will not strain your hands. If you're traveling and taking your dog with you, you can take these shears with you.
Our Final Thoughts
After reading this detailed guide, you can buy a hair trimmer for your pet. Don't neglect trimming the fur between your dog's paw pads because it's unhealthy for them. Make sure to get a trimmer that suits their trimming needs from this list.