Golden retrievers are one of the most loyal, cuddly, and playful dogs which is why they are so popular with canine owners. But they do have one fault – they love to chew anything that comes their way. This is why you will need to find the best toys for a golden retriever puppy.
In a Hurry? Here are Our Top Choices
Image
Title
Buy

Top

Top

KONG Puppy, Medium (2 Pack)
Check Today's Price

Top

Top

KONG Cozie, King the Lion, Medium, 2 Pack
Check Today's Price

Top

Top

Top

Outward Hound Nina Ottosson Puzzle Toy for Dogs - Stimulating Interactive Dog Game for Dispensing Treats
Check Today's Price

Top

Top

Tumbo Tugger Outdoor Hanging Doggie Bungee Rope Toy, Large
Check Today's Price

Top

Top

Benebone Wishbone Durable Dog Chew Toy for Aggressive Chewers, Made in USA, Medium, Real Bacon Flavor
Check Today's Price

Top

Top

West Paw Zogoflex Hurley Durable Dog Bone Chew Toy for Aggressive Chewers, 100% Guaranteed Tough, It Floats!, Made in USA, Large, Aqua
Check Today's Price

Top

Top

KONG – Jumbler Football – Interaktiv mit Tennisball zum Apportieren – Mittelgroß/groß (Farbvar.)
Check Today's Price

Top

Top

Nina Ottosson Dog Twister Advanced Dog Puzzle Toy – The Stimulating Treat Dispensing Game for Smart Dogs' Toy Boxes
Check Today's Price
Selecting the Best Toys for a Golden Retriever Puppy
As with other retrieving dogs, golden retrievers love carrying all sorts of stuff in their mouth. And while they love carrying things they also like to take a good chew at stuff that is lodged between their jaws.
Although golden retrievers are friendly and frisky, this undesirable habit can be annoying and destructive. Curtains, shoes, furniture, and other items can get battered and tattered very soon if you have golden retrievers.
This is why you need to give them chew toys so that they can direct their energy towards replaceable toys with high endurance rather than your precious property.
Not only will your possessions be spared but your pup will also be so happy!
8 of the Best Toys for a Golden Retriever Puppy
Here are the best toys for your golden retriever puppy.
Kong Puppy Toy
KONG Puppy, Medium (2 Pack)
2 Toys. Colors may vary

Assists In Teething, Soothes Sore Gums

Encourages Proper Chewing Habits

Kong Toys are the best in quality, originality, safety and value

Aids in crate training, decreases separation anxiety, promotes proper chewing behavior and deters misbehavior
This is one of the best selling golden retriever toys on Amazon. The reasons for its popularity are quite simple.
This is a really tough toy made of rubber which your golden retrievers can gnaw and chew on to their heart's contentment. Since the rubber material is so tenacious, there is no danger of breakage, tearing, or shredding. Your money will not go to waste and there is no risk of injury to your pup. The rubber material is also neutral for your dog's health.
The size and shape of this nifty toy make it ideal for teething puppies. There are a few tricks that you can use to encourage your dog to play with this toy and also to reward her. For instance, you can fill the toy with a tasty treat that your pup really loves. This will encourage your pup to fetch and retrieve the toy when you throw it.
When your pup starts teething, you can add a cold treat inside so that the toy provides a cooling and soothing sensation when your pup takes a chew at it.
Another good thing about the toy is that it is not only bouncy but it also has a somewhat uneven shape. You can, therefore, throw it on the ground for an unpredictable bounce which will fascinate and intrigue your pup and motivate her to keep on playing.
Kong Cozies Dog Squeaky Toy
This soft, comfort toy is perfect for golden retriever pups. The cuddly toy squeaks when compressed – this will encourage your pup to play with it.
You will be absolutely delighted by the fact that these toys come in ten different adorable characters that will delight your pup. You can choose from the moose, monkey, elephant, lion, rhino and others. They are all extremely cute and cuddly. They also come in two sizes: small and medium. The medium size is suitable for older golden retriever pups.
One big disadvantage is that these toys have not been built for chewing.
However, these soft toys are so cheap that they can be easily replaced when the need arises. The minimum amount of filling material has been stuffed into the toy so that you can clean up with minimum fuss if your pup tears it apart. An outer fabric, which is tough yet soft, has been used so that the toy can last for a long time.
These toys are ideal as a source of comfort for your pup and also for playing fetch.
Nina Ottosson Dog Puzzle Toy
Outward Hound Nina Ottosson Puzzle Toy for Dogs – Stimulating Interactive Dog Game for Dispensing Treats
CHALLENGING DOG PUZZLE: The interactive Hide N Slide dog puzzle toy is an entertaining and engaging dog treat dispenser toy that will exercise your dog's mind and strengthen the dog/owner bond.

REAL WOOD APPEAL: Made to look like real wood, the dog treat puzzle toy is a unique composite material, making the durable dog toy tough and easy to clean – a must for any dog toy box.

NO REMOVABLE PARTS: Built so play pieces don't come out when your dog plays. This puzzle feeder dog toy stays intact, making it your new go-to dog enrichment toy.

HOW TO PLAY: Place dog treats in the dog activity toy's blocks and compartments. Swivel flippers to cover the food puzzle's tracks and lock the spinning top. Let the dog games begin!

INTERACTIVE FUN: Nina Ottosson Dog Puzzle Games are smart, stimulating, and challenging for your dog's brain. Place the dog board game on the floor and encourage your pet to seek treats.
This is a really clever puzzle toy which will delight your puppy with endless hours of fun.
The material provides a great advantage. The toy is made of composite material that mimics wood but is, in fact, better and more durable than ordinary wood. Wood is not a suitable choice for your pup because it can splinter, tear, and break. This will create a risk of injury and is, therefore, unsafe. The composite material, however, is really tough and it will not break no matter how enthusiastically your pup gnaws at it.
Since the material is aesthetically appealing, the toy will look like a decorative item in your room. You can also use this toy with treats to train your dogs and help them learn new things. You can stimulate your pup's curiosity by filling the toy with treats, which will encourage your pup to play with the puzzle toy in order to uncover them.
The toy has been designed to be perfect for holding kibble. As a result, it is great for feeding your dog with treats.
This is a basic entry-level puzzle toy which will prepare your pup for more challenging and advanced toys. With this toy, your puppy will never face boredom and will always remain happily engrossed and occupied.
The toy is also easy to wash, rinse and dry.
Tumbo Tugger Exercise Dog Toy
Tumbo Tugger Outdoor Hanging Doggie Bungee Rope Toy, Large
ENTERTAINS YOUR DOGS - The Tumbo Tugger is your doggies new best friend when it comes to solo interactive play. This dog toy uses a strong and safe bungee cord to create a fun stretching force for your puppy to pull against in your outside yard. Medium and large dogs can play tug-of-war with the strength of the outside layer, and when they let go, the ball toy launches off for them to chase down like a game of fetch.

EASY TO HANG - Our easy "no knot" design help you hang this sturdy toy easily by yourself in minutes. You simply toss the bungee cord over the strong tree limb, loop it and pull it snug. Then easily attach the rope and ball toy at the desired height for your size of dog. The Tugger is great for aggressive chewers because you can adjust the height so your furry friend can't sit and chew on the toy constantly. Just make sure you have an attachment point like a tree limb 8 to 13 feet up.

IT'S TUMBO TOUGH - We strive to make our pet products tough to withstand the use of the active and aggressive dogs, big or small. The Tugger has an inner bungee cord that is the action part of this toy and creates the force, this bungee of course is not indestructible. So we protected this from over pulling and breaking by covering it with a tough outer layer that your dog can pull to their hearts desire without breaking. This bungee is protected from your dogs teeth by keeping it up in the air

SAFETY FIRST - Rest assured safety is our top concern. We love our pets! After testing and testing we have the best design for our outdoor tree hanging dog toy. We do not use ANY metal in this toy (like a spring or clip) to keep your dog's teeth safe. The bungee has enough force to be fun, but the outer covering keeps it from over-stretching, breaking or shooting off too fast. The Tugger has a nice fetching force that is safe for your dog or people around them.

WON'T GET DIRTY OR LOST - Our dogs have a way to run off with their new super fun toys and lose them in the yard. If they can be found, they are often so dirty you might not want them in your dogs mouth. Our Tugger hangs nicely in a tree so it stays clean off the ground and always in the same location for your dog to find it and play. Our REPLACEABLE ROPE BALLS make it easy for you to change them out once your dog has finally finished them off. No need to replace the entire toy!
This is a very neat and nifty toy which will entertain your pup for hours and also allow it to exercise.
When it comes to solo play, this highly interactive toy is your golden retriever pup's best friend. You can attach this toy to a tree branch in your yard. Your pup can pull at the chew toy attached to the bungee cord and enjoy stretching it to its limit. When released the chew toy will bounce around thanks to the highly flexible bungee cord and your pup can gleefully chase it as it flies about.
This toy is very easy to install. You will not have to tie a knot to secure it. All you need to do is to hang this bungee cord by tossing its loop through the strongest tree limb. Once the cord has wrapped itself around the limb, you can take a strong tug to secure it firmly. You can then attach the rope and hang the ball toy at the end of the rope. The height can be easily adjusted to suit your pup.
It is best to attach the cord to a tree limb that is between 8 and 13 feet in height.
The bungee cord has been protected with a tough outer layer for added protection against exuberant and aggressive dogs. To further protect the bungee cord, you can install it at a height so that your dog cannot reach and damage it. This way, your dog will have access only to the rope which is expendable and easily replaceable.
Since there are no springs, clips, or any other metal parts in this bungee toy, it is perfectly safe for your golden retriever pup to play with. The tough outer covering will also stop your playful dog from tugging too hard to prevent overstretching the bungee cord. The toy is, therefore, enduring and long-lasting, providing value to the money you spent on purchasing it.
Benebone Real Flavor Wishbone Dog Chew Toy
Benebone Wishbone Durable Dog Chew Toy for Aggressive Chewers, Made in USA, Medium, Real Bacon Flavor
Dog-Friendly Design – Last time we checked, dogs don't have thumbs. Our wishbone chew is cleverly designed so your pup can get a good chew going.

Real Flavor – We use only 100% real food ingredients for irresistible flavor and scent. We fuse 100% USA-sourced REAL BACON all the way through the chew. Dogs can tell the difference.

Made in the USA – We are fully committed to Made in USA, including packaging, tooling, and all material and ingredient sourcing. We proudly manufacture our products in New York.

Dog Welfare – We are fully committed to the welfare of dogs through product donations and community involvement.

Safety First – Benebones are relatively hard and not edible. Ensure your dog has strong teeth and replace after reasonable wear. See our website safety page for more information.
This cleverly designed toy will prove ideal for teething pups and golden retrievers since it is really good for chewing.
The best part is that the wishbone has been infused with real flavor and scent. It is a good thing that real flavor has been used because dogs are smart enough to smell out artificial stuff. Your dog will simply relish the real peanut, bacon, and chicken flavor.
The curved design is highly favorable since it will allow your teething golden retriever pup to grip the wishbone strongly and chew it well.
The wishbone is not indestructible and small bits will keep coming off as your pup gnashes it. As long as the bits are small, it is safe for your dog. In fact, the uneven surface of the chipped wishbone will keep your dog's teeth nice and clean. The bits coming off should be no more than the size of a rice grain.
But you will have to take note once larger bits start coming off. You will then have to discard the toy to keep your golden retriever safe. If you are unsure whether or not your wishbone should be discarded, you can always enjoy live chat with the professional customer service who will courteously advise you.
The toy should be discarded if it shows signs of breakage or bigger cracks. The good news is that the wishbone is very cheap and can easily be replaced.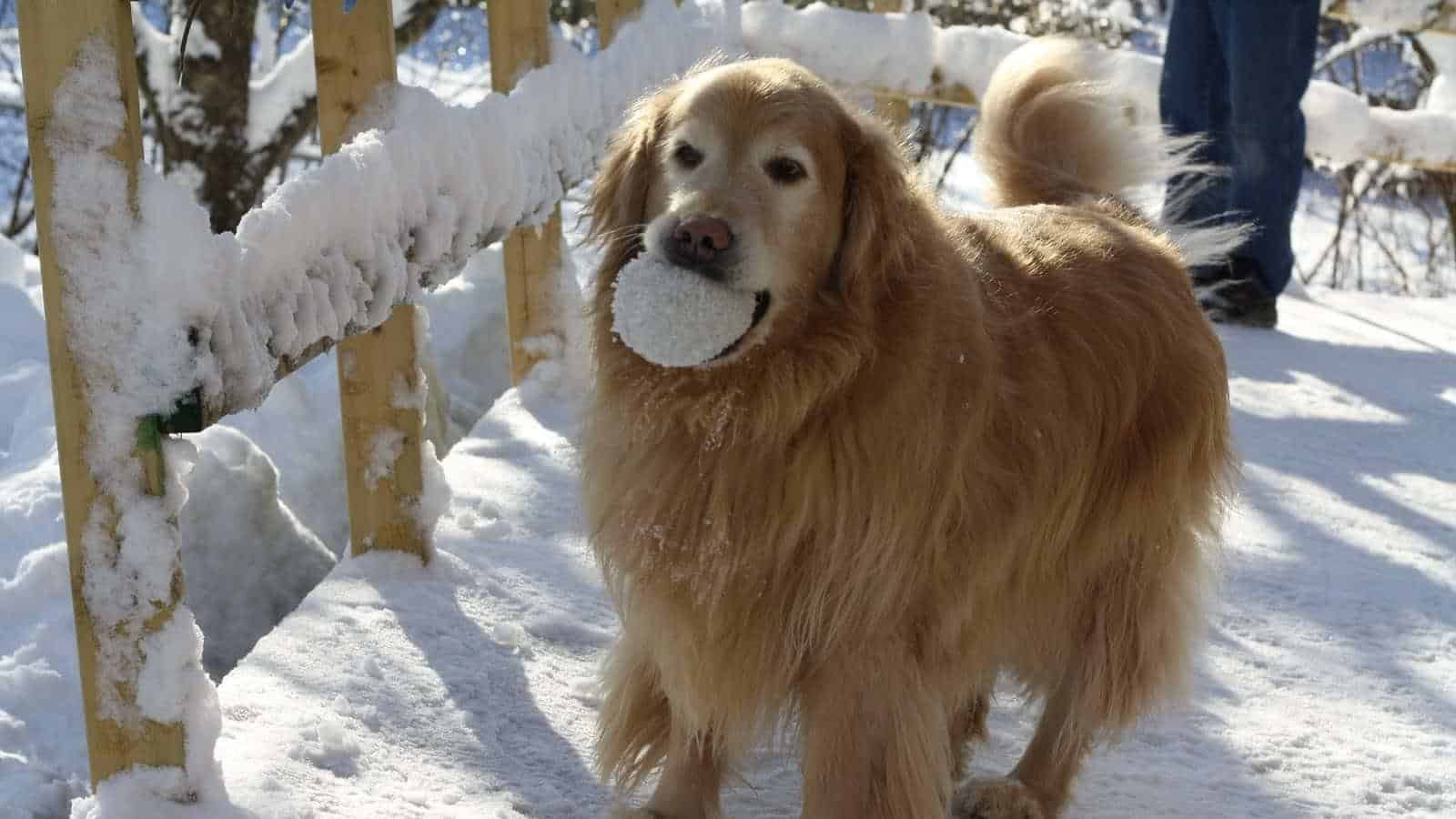 West Paw Zogoflex Hurley Durable Dog Bone Chew Toy
These tough chew toys are built to last. These toys are a great choice for teething golden retriever pups.
The manufacturer provides a hundred percent guarantee for dog damage, which is very rare in the industry. This shows how resilient this toy really is.
The Hurley bone chew toy has a number of features that make it perfect for your golden retriever pup. The material used is fully compliant with FDA standards and is free from harmful chemicals like phthalates and BPA. It is also recyclable and can be safely cleaned in the dishwasher.
The bone has been designed so that it can float in water. It won't sink to the bottom and get lost easily. Bright colors have also been used so that it can be easily spotted in the grass, snow, and other sorts of terrain. With these features, you can easily use it to play fetch. In fact, the design makes the toy very easy to throw and ideal for playing fetch with your pup.
Kong Jumbler Football
This is a really great interactive toy for your golden retriever since it contains a squeaky ball inside which will entice your golden retriever to play with it.
The toy comes with durable handles, so picking it up and shaking it is very convenient. You can choose between an ordinary ball and football for the squeaky ball that lies within.
This is one of the few toys out there which can be regarded as practically indestructible. Even heavy chewers will find this toy too tough to break apart. Moreover, the uneven shape of the toy leads to erratic bounce which can be a source of amusement to both the golden retriever and the owner.
If you are tired of watching your dog toys getting ripped apart by your canine's powerful jaws then you should certainly give this toy a try. The small ball inside will fascinate your golden retriever and it will try to take the toy apart to reach the ball. You can amuse yourself by watching your dog as it plays with the toy and struggles to reach the enclosed ball.
Nina Ottosson DogTwister Interactive Game
Nina Ottosson DogTwister Interactive game
Easy to clean

Great interactive game for you and your pet

Aids in training commands such as wait, go ahead, find, sit, etc.

Tough and hard-wearing, water, dishwasher and slobber-proof.

Great for cats as well
This wonderful toy has been created by Swedish dog trainer Nina Ottosson.
While other types of toys are designed for physical activity, this one has been designed for mental stimulation. This will help you exercise your pup's mind during its growing years. Since this toy relies on dog treats, it will help to build a strong bond between your pup and your family.
Your pup will never get bored again as this toy will keep it amused for hours!
This is a fun and challenging game for your golden retriever puppy. You can conceal treats within compartments located below the blocks and encourage your pup to find the treats by sliding blocks to reveal the hidden treats. To keep your pup stimulated and interested, you can also increase the difficulty level by using pegs to secure the blocks in place.
You will have to supervise your pup and provide hints so that she can understand how the treats can be uncovered. But once your pup starts playing, the game will prove too irresistible to stop. Not only will your pup love playing this entertaining game but she will also love you even more for all the wonderful treats that you will provide.
This clever toy is even great for cats.
Which Dog Toys Will You Get Your Golden Retriever?
You now have an idea of some of the best toys for a golden retriever puppy. These toys are cheap, safe, durable, and highly entertaining for your golden retriever puppy. Get ready to be overjoyed to watch your pup have so much fun with these toys!
Image
Title
Buy

Top

Top

KONG Puppy, Medium (2 Pack)
Check Today's Price

Top

Top

KONG Cozie, King the Lion, Medium, 2 Pack
Check Today's Price

Top

Top

Top

Outward Hound Nina Ottosson Puzzle Toy for Dogs - Stimulating Interactive Dog Game for Dispensing Treats
Check Today's Price

Top

Top

Tumbo Tugger Outdoor Hanging Doggie Bungee Rope Toy, Large
Check Today's Price

Top

Top

Benebone Wishbone Durable Dog Chew Toy for Aggressive Chewers, Made in USA, Medium, Real Bacon Flavor
Check Today's Price

Top

Top

West Paw Zogoflex Hurley Durable Dog Bone Chew Toy for Aggressive Chewers, 100% Guaranteed Tough, It Floats!, Made in USA, Large, Aqua
Check Today's Price

Top

Top

KONG – Jumbler Football – Interaktiv mit Tennisball zum Apportieren – Mittelgroß/groß (Farbvar.)
Check Today's Price

Top

Top

Nina Ottosson Dog Twister Advanced Dog Puzzle Toy – The Stimulating Treat Dispensing Game for Smart Dogs' Toy Boxes
Check Today's Price