If you have a pet golden retriever in the house, you're probably aware of how unbelievably hyperactive and energetic they can get sometimes. As adorable and cute as it is to see your little golden friend run around and jump in sheer excitement, it can often be a serious problem, especially when you are out somewhere walking your dog.
In a Hurry? Here are Our Top Choices
Their hyper activeness and bouts of ever-increasing energy can make them jump on other people, trespass on a neighbor's property during their walk, and can also separate them from you.
For these very reasons, it is important that you leash your golden retriever. Leashing your dog will greatly help you deal with the constant problem of pulling. It also improves companionship by making your dog well-trained and obedient.
The 4 Best Leashes for Golden Retrievers
To help you go out on a peaceful and a fun walk with your pet, we have come up with a list of the best leashes for golden retrievers that will keep them under control and also complement their rich golden coat.
1. TUG Patented Heavy Duty Retractable Dog Leash
As the same suggests, this is a retractable dog leash, which is one of its best features. The retractable feature allows pet owners to set different lengths of the leash at their discretion. Once they set their preferred length, they can easily lock it in place with a button on the handle.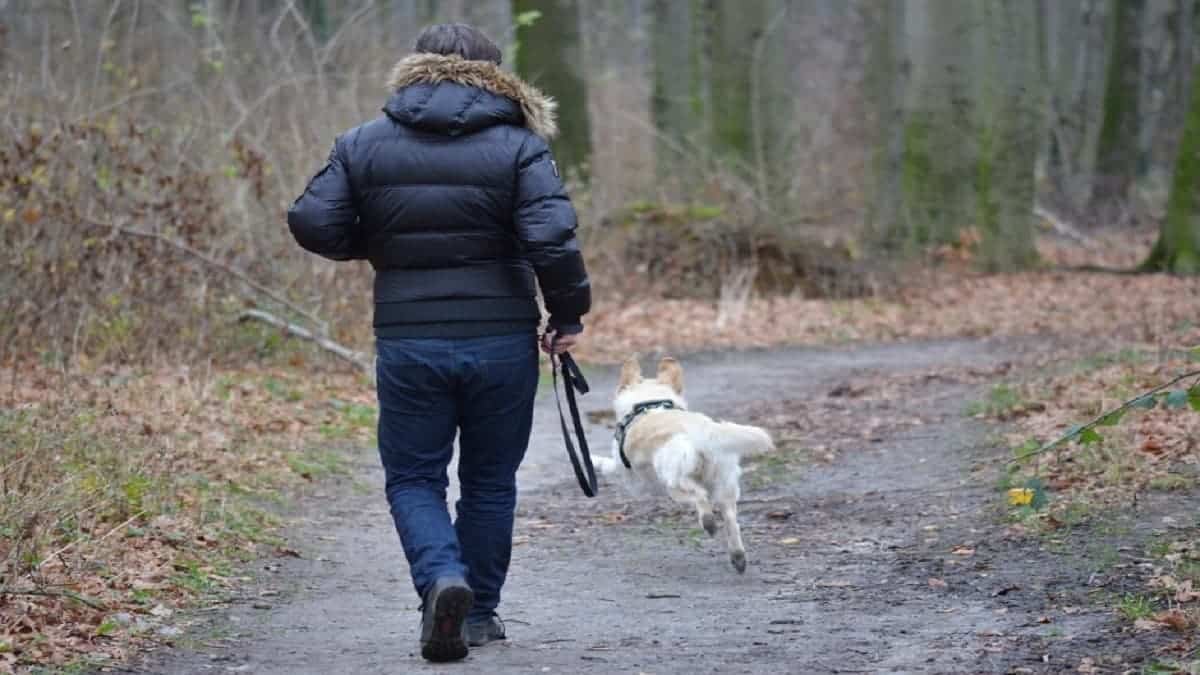 The TUG Dog Leash is a heavy-duty leash that provides your pet with some extra space in open areas, such as the beach or the park. What makes it one of the best leashes for golden retrievers is that it is extremely sturdy and comes with a 360-degree tape movement that keeps your energized little furry friend well in control.
Another great feature of this dog leash is its ergonomic anti-slip handle that offers an extremely comfortable grip, especially when you take your golden out for a really long walk. The quick lock and unlock feature makes it easy for you to walk your dog and have a pleasant time with them.
Pros
Comfortable to hold
Has a smooth design and operation
Is easily locked and unlocked
Can be retracted in a wide array of angles
Cons
Can cause tripping and tangles in jam-packed areas
Not suitable for very large dogs
2. Blueberry Pet Leather Combo Dog Collar Leash
This is considered to be more of a sophisticated and a luxury kind of a dog leash that is going to look great on your golden retriever. It sports pretty, striped colors that will go perfectly with the golden-hued coat of your pet.
The Blueberry Pet Leather Dog Leash is made of really soft leather with flexible and strong polyester webbing. The unique combination of high-quality genuine leather and the intricate polyester webbing makes it super functional, durable, and fashionable, unlike typical 'all-leather' leashes.
The head and end of the leash consist of elegantly carved brand logos that give it quite a stylish look. Additionally, it is available in numerous different sizes and colors, which makes it easy for pet owners to choose the one that is most suitable for their golden retriever.
This dog leash for golden retrievers is perfect for long walks, hiking trips, and even in lakes where it holds up amazingly well.
Pros
It is made with excellent quality materials
Ideal for all situations
Looks really fashionable on pets
Has a unique style and design
Cons
The leather tends to crack
Not suitable for small golden pups
3. Primal Pet Gear Dog Leash
This is an excellent leash for golden retrievers and has some great features. It comes with two handles; one at the end of the leash and one near the clip. This dual-handle feature helps pet owners keep their golden retrievers safe at all times. Unlike many other dog leashes, the Primal Pet Gear Dog Leash has a padded handle, as well as a 'traffic' handle that keeps dogs in check when crossing a busy road or street.
This leash is designed with top-quality, heavy-duty, durable, and soft nylon material that makes it quite sturdy and also gives it a pleasant appearance. Additionally, there is soft padding on both the handles that provides maximum ease and comfort to your arms, especially when you take your pet out for a long walk.
Another great feature of this product is that it has a long leash, as well as a short leash. The latter is excellent crowded areas such as busy sidewalks and bike-paths, where you need to have instant control over your pet, while the former is ideal for casual walks.
Pros
Provides great control over dogs in both crowded and empty areas
Extra padding on the handles offers excellent comfort of use
Has a metal clip for added resistance and thickness
It's strong enough to withstand super tough and large dog breeds
Cons
The clip on the leashes isn't strong enough
Not ideal for dogs who pull excessively
4. HALTI All-in-One Lead
As the name suggests, this is quite a versatile dog leash for golden retrievers that does it all. It's a multi-functional leash that is suitable for a variety of situations, be it hands-free walks, hiking, jogging, or running.
The HALTI All-In-One dog leash comes with a shock-absorber safety function that helps prevent sudden movements or jolts for both the pet and its owner. It has been designed with durable nylon webbing and neoprene-lined handles that offer maximum comfort and a steady grip on the leash.
An interesting and unique feature of this leash is that it comes with a Reflective 3M Scotchlite top that provides great safety and visibility during night time walks. It also features other accessories, including a matching collar, retractable lead, harness, and a traditional lead. This wide range of accessories makes it a highly practical and resourceful leash for a number of situations.
Pros
Great value for money
Comes with an adjustable quick-release handle
The clasps on the leash are extra strong and secure
The colorful two-tone design gives it a very stylish look
Cons
Can tend to be too heavy and large for some dogs
The waist loop often moves from its place
Features to Consider When Buying a Dog Leash
There is an endless variety of dog leashes for golden retrievers, but that doesn't mean every type will be suitable for your pet. A leash is a very important training tool that you are likely to use on a daily basis. Therefore, it is very important for you to get one that perfectly matches your requirements.
To help you get the best dog leash for your golden retriever, take a look at these key features that you must consider before buying one.
Type of Leash
From standard leashes to retractable and adjustable leashes, there are many types with unique features and characteristics. The type of leash you get greatly depends on your pet's temperament and personality. For instance, if your retriever pulls excessively, you might want to get a retractable leash for them.
The Material of the Leash
Once you have figured out the type of leash you want, the next feature to consider is the material of the leash. There is a wide range of leash materials, including leather, hemp, nylon, and rope, to name a few. Each has its benefits and characteristics, so you must get the one that meets your preferences.
Length of the Leash
Choosing the right length of dog leash is essential because it can help keep your pet in check and control. For instance, if your retriever loves wandering, you might want to get a shorter leash in order to keep them very close to you.
Our Final Thoughts
Leashes are indeed a very practical and useful training aid for dogs, and they also greatly help discipline them. The best leashes for golden retrievers are durable, long-lasting, sturdy, stylish, and are easy to use and hold.