The British cream Golden Retriever is a land-and-water loving breed, exceptionally known for its furry white and golden-cream coat. Because of their fur color, some breeders also refer to them as the 'Rare White European Retrievers' or 'Platinum Golden Retrievers.'
While this particular breed might look the same as any other Golden Retriever build-wise, there are quite a lot of differences you should know about if you're planning to welcome them into your family. Moreover, you should know that the British cream Golden Retrievers can be challenging to find as they are not as common as their fellow members in the same retriever family.
All About the British Cream Golden Retriever
If you're looking for a canine companion who is sweet, calm, and friendly to be around families, there can't be any better breed than the British cream Golden Retrievers. Here are some of the things you should go through to inform you better about their traits and help you care for them more easily.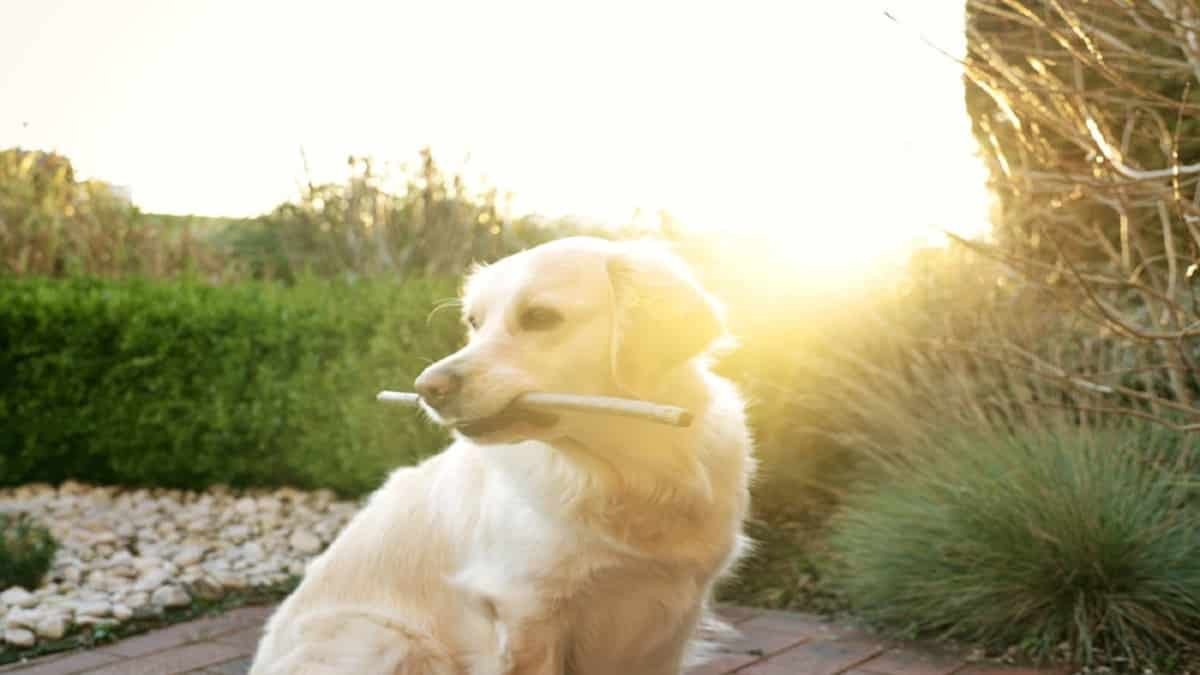 Size
In general, the British cream Golden Retrievers are considered fairly average-sized dogs. However, an interesting fact about this breed is that their topline (the line between their neck and tail) is always leveled, unlike normal Golden Retrievers, who have a somewhat slanted topline.
A healthy female is usually twenty to twenty-two inches tall and weighs between fifty-five to seventy pounds. On the other hand, the males are noticeably larger, as they are twenty-two to twenty-four inches in height, from paw to shoulder, weighing between sixty-five to seventy-five pounds.
Another difference between the males and females British cream Golden Retrievers is that the males have a comparatively muscular neck, stronger jaw, and a slightly larger head than the females.
Health
The British cream Golden Retrievers are one of the healthiest dogs, so you wouldn't have to continually worry about their health as much as other breeds. However, you still can't eliminate potential diseases that they might encounter, especially the heritable ailments.
Consider it your duty to check if they have any medical conditions that might impact their health and whether they are treatable or not. Here are a few things to consider when you study your British cream Golden Retriever's medical health certificate:
1. Elbow and Hip Dysplasia
Elbow and hip dysplasia is a heritable disease in which a Golden Retriever's elbow and hip sockets don't adjust into their joints as they should. It can be detected through X-ray, but its symptoms are not that prominent in the initial stage. As time passes, this condition can cause the British cream Golden Retrievers pain and abrasion, requiring immediate surgery.
2. Golden Retriever Uveitis (GRU)
The Golden Retriever Uveitis (GRU) is a common eye concern for the British cream Golden Retrievers in which their eyes become inflamed, causing permanent eyesight loss if neglected for a long time.
3. Tumor
While tumors are one of the biggest worries in normal Golden Retrievers, there is a significantly less chance for the British cream Golden Retrievers to have cancer. Either way, it is better to confirm and examine their medical clearance beforehand.
4. Cardiac Concerns
British cream Golden Retrievers can also encounter cardiac diseases, especially Dilated Cardiomyopathy (DCM), in which their heart becomes larger, thinner, and weaker.
5. Neuronal CeroidLipofuscinosis
Neuronal CeroidLipofuscinosis is a central nervous system disease that a Golden Retriever usually inherits from its parents. Its symptoms include anxiety, blindness, seizures, and loss of coordination. This condition only worsens if left untreated, ultimately causing death.
Personality
Although the British cream Golden Retrievers are gentle and fun-loving by nature, they are relatively calmer and quieter as they mature faster than a normal Golden Retriever. Similarly, while they enjoy their exercise time like any other Golden Retriever, they are not overly ambitious or hyper-energized about their schedules. This means they might not worry too much if they skip their runs a few days in a month.
These dogs have incredible socializing skills, which is why it is not difficult for people to earn their trust when they are welcomed into a new home. However, you should also understand that these dogs are not meant to act as guards as they tend to greet strangers with as much enthusiasm as they can muster. While this is a good thing if they are meeting your friends or family for the first time, it might not be in their best interest to greet any uninvited visitors in your home who might cause them harm.
The British cream Golden Retrievers remain loyal to their owners to a fault and are extremely easy to train than their fellow golden retrievers. However, these canines also crave human company and might get anxious when they're left alone at home for long periods. That's why it is better to have a big family who can keep them engaged at all times so that they don't get stressed.
Exercise Routine
The British cream Golden Retrievers love their playtime even if they are less peppy than other Golden Retrievers. They usually need daily hour-long exercise sessions to run, swim, or play outdoors, building their stamina. Moreover, it is best to have a house with a garden to roam freely and take in the much-needed fresh air.
Feeding
The amount of food your British cream Golden Retriever needs depends upon his build, weight, age, and energy level. An average-sized pooch typically requires between two to three cups of food every day to reach their maturity. However, we would recommend you to follow the dog food package instructions, as all foods are different from each other, containing different elements. High-quality kibbles can work best because a Golden Retriever needs a well-balanced diet to maintain its fitness.
Our Final Thoughts
British cream Golden Retrievers can prove to be a loving family member as long as they have access to a house with a yard where they can play and enjoy their outdoors time regularly. Moreover, they don't take a lot of your time to be trained adequately, making them an ideal pet from the beginning!