As a proud dog owner, you must be wondering about the best online golden retriever training courses. Everyone wants a well-behaved and disciplined dog that behaves well in front of others. A well-trained dog gives a good impression of the owners. Whereas, a poorly behaved pet will create a poor impression and embarrass the owners in front of others.
The fact is that most dog owners do not have an understanding of dog psychology, therefore, in spite of their best efforts, they will not succeed if they try to discipline their dog themselves. Some owners also think that it is necessary to place restrictions or even use force to tame their canine. This is a big misconception and quite sadly, it is also widespread.
Find the Best Golden Retriever Training Courses on the Internet
Dog owners should learn from those who have spent years training dogs to produce great results. These trainers have a very good understanding of dogs and know what works and what doesn't when it comes to training golden retrievers. It is always better to follow proven techniques of the experts rather than taking matters into your own hands which can prove counterproductive and even detrimental. As a responsible and caring owner, you should give your beloved pet nothing but the very best.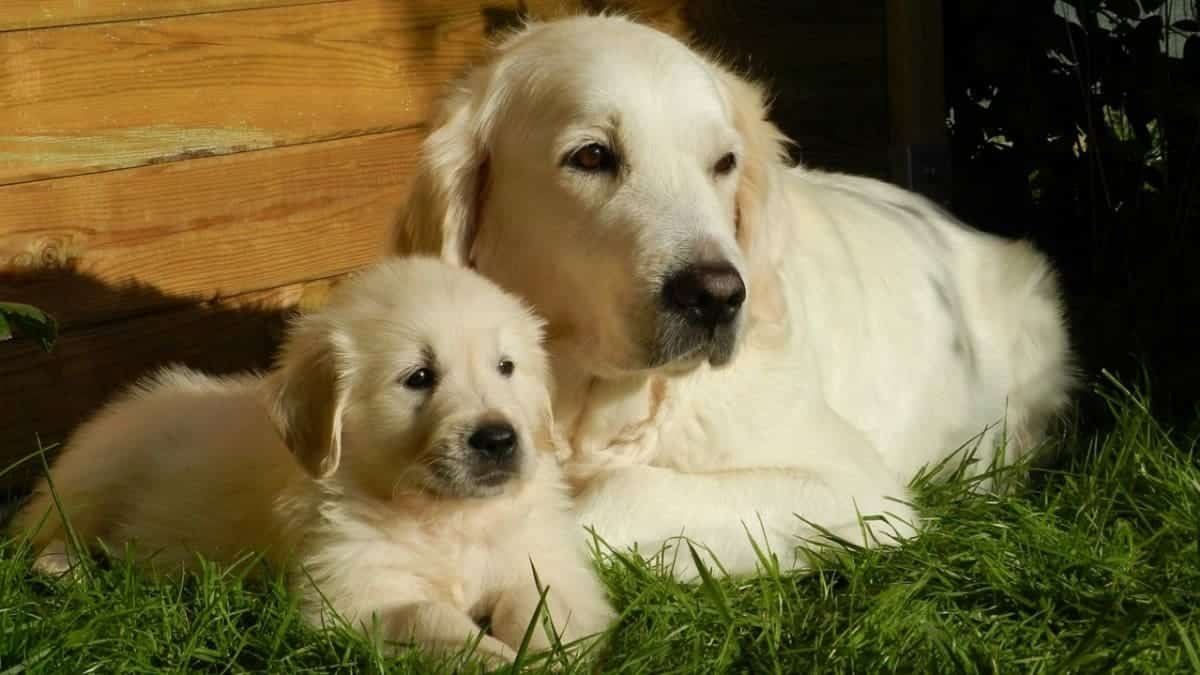 Here is a review of the best online golden retriever training courses.
The Online Dog Trainer
Doggy Dan provides a comprehensive video-based training course which will make it very easy for owners to understand how they can train their dogs. There are over 250 videos that cover virtually every aspect of dog behavior and issues.
Owners might be tempted to think that it might be better to save money by checking out free resources on the internet. But the problem is that unless you are an expert, it is difficult to tell which sites promote outdated and even counterproductive methods and which sites are good. And the very reason why you are here is that you are not an expert.
Rather than taking chances with your wonderful pets, it is better to entrust them to an expert trainer who can provide the best online training courses for golden retrievers.
Dan presents short and concise lectures and demonstrations in his videos. He refrains from using difficult language and expert jargon. He speaks at the level of the audience so that it becomes easier for them to understand.
As you begin watching the video lectures, it becomes quite clear early on that he has a deep understanding of the mentality of canines and that he knows what he is doing. His immense passion for dog training is also clearly evident.
There is no doubt that his methods really work. There are several videos where he successfully resolves behavior issues of golden retrievers that are quite evidently difficult to handle.
He presents his knowledge in an entertaining manner so that watching videos is very fun for dog owners besides being informative.
Dan uses safe and positive training methods for your golden retriever that really work. Since his methods are safe, effective, and cruelty-free, the New Zealand SPCA has endorsed his training course. This is a major achievement because few others can boast such a prestigious endorsement from such an eminent authority.
Since the scope of coverage is so wide you can be certain that you will find cruelty and force-free methods even for obscure issues.
You can find the fastest force-free methods to teach your golden retrievers to behave well in front of others. If you are tired of your dog growling at visitors, biting, or behaving aggressively, you can try out proven techniques to immediately tame your pet. You can then enjoy peace of mind with the knowledge that your well-trained, tame dog will not embarrass you in public or in front of your guests.
The book is also extremely practical. There is no doubt that dog treats are one of the most effective ways of training your golden retrievers. But this can be a problem because you may have to spend a lot on treats and there will be times when you don't have any. There is also no point in overfeeding your dog.
Therefore, Dan presents methods which do not rely too much on treats. This tells you a lot about Dan's expertise. Rather than taking the easiest training route (which may not always be convenient), he has considered the practical needs of owners and offered training techniques accordingly.
If you are thinking of bringing home a new golden retriever puppy, you should definitely learn from Dan so that you can give your puppy the best start possible in life.
Dr. Dunbar's Dog Behavior and Training
There are few experts who can match the credentials of Dr. Ian Dunbar who is an expert dog behaviorist and a Ph.D. veterinarian. He is also the founder of the Association for Professional Dog Trainers. Dr. Dunbar is one of the foremost experts on dog training. In fact, he trains the trainers.
He hosts his dog training videos on the Dunbar Academy which is his own website. He has also shown presentations on Ted Talk which are very impressive because this is an elite forum for top experts only.
His presentations are amusing and very entertaining because he engages the audience in a very charming way. He does not use difficult language, in fact, he uses the simplest terms to describe the psychology of dogs.
He is extremely compassionate towards animals and points out that a lot of dog behavioral issues are the result of conveying the wrong expectations. For instance, people commonly laud puppies for being jumpy and exuberant. But when the same cute puppy suddenly grows into a big golden retriever, people punish the dog for being excited and behaving 'badly'. How is the poor canine supposed to know that the rules change when they 'grow up'?  People criticize dogs for breaking the rules which the poor canines do not even know about. He discusses techniques that will allow owners to teach new rules to canines without using force or cruelty.
There are plenty of free videos on his website which will teach you a lot about training golden retrievers. But if you would like greater details about more difficult issues it is better for you to choose from two paid options. With the $8 per month subscription package, you will gain access to 6 exclusive dog training classes and a vast library of seminars.
You will get full access to the best tips and tricks with the second subscription for which you will have to pay $20 per month. This provides the greatest value for money because you will have full access to all material in the $8 per month subscription plus you will gain access to ten workshops and seminars, 13 videos, four books, more classes and access to the latest material. The best part is that many of his suggestions for training dogs are backed by the latest research.
This golden retriever training website contains knowledge from several accomplished dog behaviorists and trainers. These experts have trained golden retrievers of leading celebrities and have made guest appearances on a number of radio shows. One of the experts is a PhD in biomedical sciences and has a Masters in Animal Nutrition.
You can, therefore, be confident that you will be getting the most authentic advice which is backed by research.
You can get started with the free short course that will teach the fundamentals of dog behavior and training. You can also sign up to gain access to upcoming online seminars that are offered free to subscribers. You will learn strategies and tips about how to take care of your golden retriever in the best possible way.
From the free-mini course, you can learn the best ways of dealing with common dog behavior issues in the shortest time possible. You will learn to train your puppy to become obedient, learn the best methods of teaching them to housebreak and also the simplest ways of resolving bad habits like excessive barking, biting and jumping on people.
Owners can also understand the best ways of feeding their canine pets. They will come to know about optimal golden retriever nutrition which is designed to extend their lifespan and prevent them from gaining too much weight.
The course also discusses the common mistakes which many owners make while training their golden retrievers. These mistakes actually make it harder for them to train their canines and may produce the opposite effect.
You can also learn a surprisingly simple method of teaching new tricks to your golden retriever. There is also a psychological factor common to all golden retrievers, which allows owners to understand and control the behavior of their dogs.
Moreover, you can get access to more exciting information by purchasing the premium training course which is being sold at a steep discount for a limited time period.
Official Golden Retriever (FREE)
This website is one of the most massive free online resources that you will find anywhere on the internet. It is also one of the most popular. The owners started by creating a Facebook page which rapidly grew in popularity. This page has just recently crossed 2.1 million followers.
The website provides informative articles about practically every golden retriever problem that you can possibly imagine. In fact, you will discover a number of golden retriever issues that you were previously unaware of. Here is a sample listing of articles from the dog management and training section:
This is just a small part of the training and management section. There are also other sections that deal with health and nutrition, general information about golden retrievers ( labeled dog's world) , sports and physical activities for your golden retrievers and the most popular breeds.
Since this is a completely free website and one that is rapidly growing in popularity, you should definitely check it out. It will offer you lots of information in simple language. The website design is quite simple and it will allow you to navigate easily so that you can quickly find relevant articles about golden retrievers.
The trainers are charismatic and cheerful and their training methods are based on positive reinforcements. It is easy to understand why the website is growing so rapidly in popularity – the trainers are offering positive training methods that really work and are providing lots of free information that will allow owners to build better relationships with their pets.
Choose Your Favorite Golden Retriever Training Course
After reading this review on the best online golden retriever training courses, you can select the most suitable course which fits your needs. This is one of the best gifts that you can give to your golden retrievers.