Training your golden retriever can be an exciting experience and produce remarkable results if done properly. Sometimes, your love and praise will be enough to motivate your dog, but in other instances, you will have to reward them with treats to keep them going. Naturally inclined to please their owners, golden retrievers are ideal for reward-based training that involves food treats as rewards.
In a Hurry? Here are Our Top Choices
But are all kinds of dog treats worth it? The simple answer is no! Choosing the wrong dog treat for training golden retrievers can have negative long-term consequences like obesity, laziness, etc. In this article, we'll review the top five dog treats for training golden retrievers to help you out.
Best for Regular Training: Benefit Biscuits All-Natural Dog Snacks
You may need to use treats frequently for regular training purposes which is why Benefit Biscuits are the best option. They are made of natural and pro-digestive ingredients that are low in calories making it ideal as a staple reward for your golden retriever. They also make a great supplement to your dog's diet and help in maintaining a healthy digestive system.
Benefit Biscuits are one of the best dog treats for golden retrievers because they are vegan certified and contain vitamins that are directly proven to clean your golden retriever's breath. These can be found in many flavors; however, their most popular flavors are pumpkin and peanut butter. They are available in 7oz pouches and are also sized into small-bite treats that can be a quick reward without the need to break them apart.
Pros
Made up of all-natural and non-GMO ingredients
Does not have any chemical or animal by-products
Comes in a re-sealable bag
Packaging allows the product to stay fresh
Bite-sized treats
Has a great aroma
Cons
Only the pumpkin-flavored treats are in the training size; other flavors need to be broken
More costly than other dog treats for golden retrievers
Best for Extra Incentive: Stewart Pro-Treat Freeze Dried Liver Treats
Considered as a high-value treat, Stewart Pro-Treat works great in times when you want to train your golden retriever to respond to commands instantly. The temptation of this treat is such that your dog will choose to ignore any distraction just to be able to get the dried liver bites in its mouth.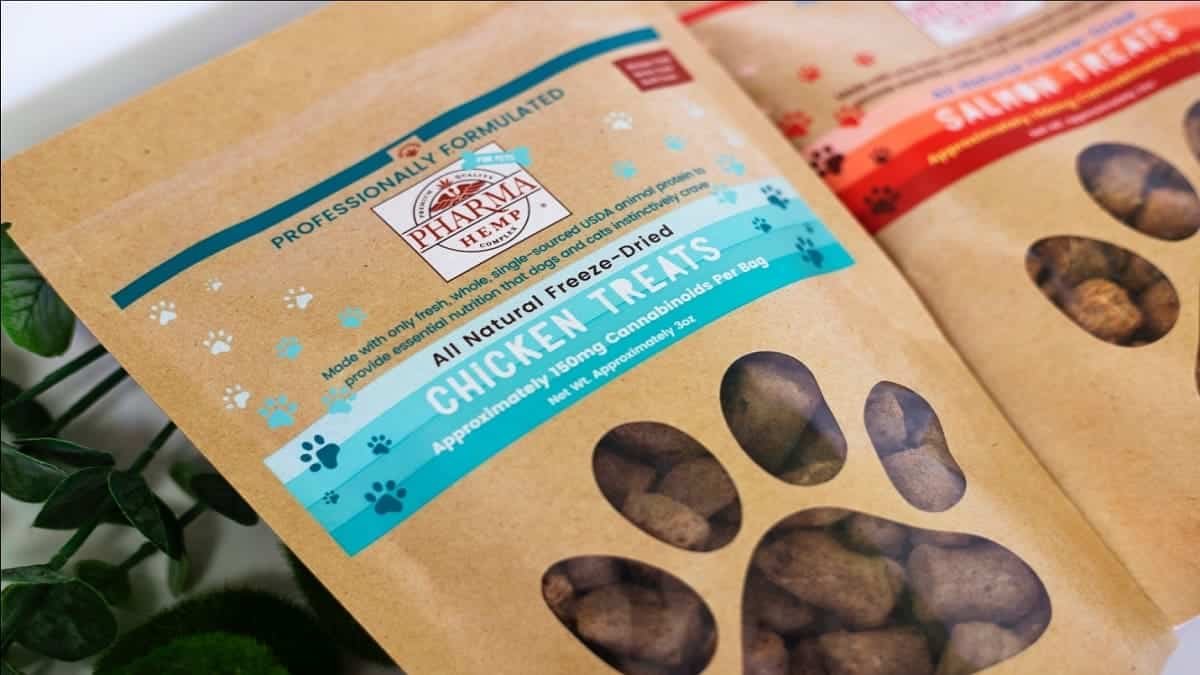 Made up of 100% pure beef liver, Stewart Pro-Treat is gently processed to have everything that a dog needs and not have anything that they don't need. These will work perfectly well even if your dog is a picky eater. Use it for extra encouragement after the training routine or sprinkle some crushed dried liver on their regular food to tickle their taste buds.
Pros
Reliable training treat that is loved by all dogs
Treats are light and freeze-dried that can be easily broken into tiny pieces
These are gluten-free, grain-free, soy-free
Contains no preservatives, artificial colors, or additives
Hypoallergenic
High in protein
Cons
Over-eating can lead to excessive weight gain
Some users have reviewed it to have an inconsistent size of chunks
Best for Adult Golden Retrievers: Blue Buffalo Wilderness Trail Treats
If you are training an adult golden retriever, not many dog treats will work as magically as the Blue Buffalo Wilderness treats. These are the best dog treats for training golden retrievers who are in their adult phase because they are rich in nutrients that stimulate your dog's physical and cognitive development.
The Blue Buffalo Wilderness treats come in a 4-oz bag and consists of bite-sized chunks that are easy to chew. The protein content helps to grow muscles and bones while the omega-3 fatty acids regulate your golden retriever's alertness and energy levels.
Pros
Has a delicious meaty taste
Can easily be broken into smaller pieces
Available in different flavors
Helps to boost energy levels
Made of all-natural ingredients and contains DHA and Omega-3 fatty acids
Free of any preservatives or additives
Cons
Very brittles chunks that can easily fall apart
Has a slightly higher calorie content than other dog treats for training golden retrievers
Best for Puppies: Wellness Natural Grain Free Puppy Training Treats
Wellness Natural puppy treats are the best dog treats for training golden retrievers. They are small, soft and chewy treats that are specifically designed to cater to puppies. These treats are available in small square shapes that are easy to swallow and come in two flavors i.e. soft lamb and salmon or crunchy chicken and carrots.
Wellness Natural puppy treats consist of natural ingredients only and are free of any allergy-causing products. The formula works great for sensitive puppies and ensures that the puppies develop strong and healthy muscles as it grows. Additionally, it is also proven to help in maintain a healthy immune system and stimulate brain development in golden retriever puppies.
Pros
Has a tempting smell
Made of all-natural and healthy ingredients that include sweet potatoes, flaxseed, blueberries, carrots, etc.
Hypoallergenic – doesn't contain ingredients that cause allergies
Meets quality food standards
Cons
Should only be fed in moderation
The size might be big for small breeds of golden retrievers
Things to Consider When Buying Best Dog Treats for Golden Retrievers
When you step out to buy the most suitable dog treats in the market, there are a few things that you must consider to make the best choice. These include:
Avoid any added sweeteners such as sugars or corn syrup. These are the main culprits behind the obesity problems in golden retrievers.
Watch out for filler ingredients that add no nutritional value. Your dog may enjoy them at first, but these are extremely unhealthy in the long term.
Stay away from dog treats that contain preservatives or artificial dyes. These have been proven to have carcinogenic content– which means there is a great health risk associated with it.
Look at the texture of dog food and buy one that your dog would prefer. For instance, soft treats are better instead of hard ones if your golden retriever has sensitive teeth.
The size of the treat is relevant because not all dogs prefer the same size of food. A 'treat' won't work well if it's too easy to swallow of too big to bite.
Our Final Thoughts
The last thing you would want to do is not give a well-deserved appreciation treat to your golden retriever after a training session. However, always keep in mind that your priority must always be your dog's health. Hopefully, our list of the best dog treats for training golden retrievers will make it easy for you to decide which dog treats to opt for.