The most important thing that you can do for the health of your golden retriever pup is to give it the best golden retriever puppy food. The right nutrition can have a positive impact on every aspect of your pup's health and can allow your cute pup to grow into a healthy, strong, and energetic adult.
With so many puppy food products to choose from, finding the best one for your precious pup can be a tough task. So we have narrowed down the list for you by providing a short list of the best golden retriever puppy food.
The Best Golden Retriever Puppy Food
You want your Golden Retriever to eat nothing but the best puppy food available. It will help your puppy grow and mature at a healthy level into an adult dog.
Blue Buffalo Wilderness Large Breed Puppy Chicken Recipe
You want to ensure that you are giving your beloved pup the very best when it comes to food. This puppy food product from Blue Buffalo Wilderness might be the best choice. It is just what you need to give your curious and energetic puppy the nutritional boost that it needs to get a good start in life.
This formula has been designed for the growing needs of large dog breeds. The protein-rich kibble will provide the optimal mix of amino acids that will strengthen the delicate limbs of your cute little golden retriever pup.
There is plenty of DHA for brain development and enough phosphorus and calcium to cover the growing needs of golden retriever puppies. The kibble size is perfect for little pups.
The high-quality protein from chicken and turkey meat will help in developing lean muscle mass. The meat is deboned and then processed into a meal to make it easily digestible.
Vitamins and antioxidants from fresh fruits like blackberries, blueberries, and cranberries support the immune system and provide protection against chronic disease.
The puppy food preparation is grain-free and therefore suitable for pups that suffer from food allergies. The perfect combination of omega-6 and omega-3 fatty acids is essential for shiny coat and healthy skin.
Health-promoting complex carbohydrates are supplied from grain-free produce like potatoes and sweet potatoes to fulfill your pup's energy requirements.
Some of the premium natural ingredients are:
Apples – these are a rich source of vitamins A and C as well as antioxidants. Apples also have a high amount of pectin and fiber which improves gastrointestinal health.
Spinach – has a high amount of carotenoids such as lutein and beta-carotene. It is also rich in quercetin, a potent phytochemical which has antioxidant properties.
Pumpkin – these superfoods have a high amount of iron, beta carotene, potassium, vitamin A, zinc, and magnesium. Pumpkins are also rich in fiber which promotes digestive health.
Blueberries – these fruits contain high levels of vitamins C and E as well as powerful antioxidants which can boost the immune system and protect urinary tract against infections.
Optimal levels of choline, ARA fatty acids and DHA are vital for supporting retinal function and for healthy cognitive development.
Nature's Variety Instinct Raw Boost
As the name suggests, the formula has been inspired by nature and the ingredients are therefore raw. This is precisely how canines and their wolf relatives eat in the wild to remain healthy and strong. Raw food for dogs is an important part of the brand's philosophy.
Freeze-dried raw food and protein-rich kibble have been included in the bag to allow you to feed your little pup in a better way. There are varieties for grass-fed lamb, USA-raised beef and cage-free chicken.
Probiotic ingredients have also been added to aid digestive health by promoting gut flora. Optimal levels of essential fatty acids are necessary for hormone production, proper nerve function, disease resistance, and several other health aspects.
The new and improved formula contains higher antioxidant content which is necessary for a strong immune system and lush healthy coat. These have been sourced from non-GMO vegetables and fruits. The ingredients have been processed minimally and therefore retain most of their nutritional value. The bite-sized amounts are the perfect size for your little pup.
The delicious recipes are made from whole foods and are processed in small batches. The ingredients undergo minimal processing and are freeze-dried so that their nutrients are available for your pup.
The Instinct brand is promoting the health benefits of minimally processed raw foods for pets. Instinct believes that raw nutrition will allow pets to thrive and reach their full health potential. Hence their entire product range is based on raw ingredients.
Since the protein content is high and carbohydrates are mostly the health-promoting complex variety, this food product will be helpful if your golden retriever pup suffers from weight management issues. Such diets are helpful for controlling weight gain and promoting the development of lean muscle mass.
You should try out this brand if you believe that your furry canine pup will benefit from minimally processed raw food.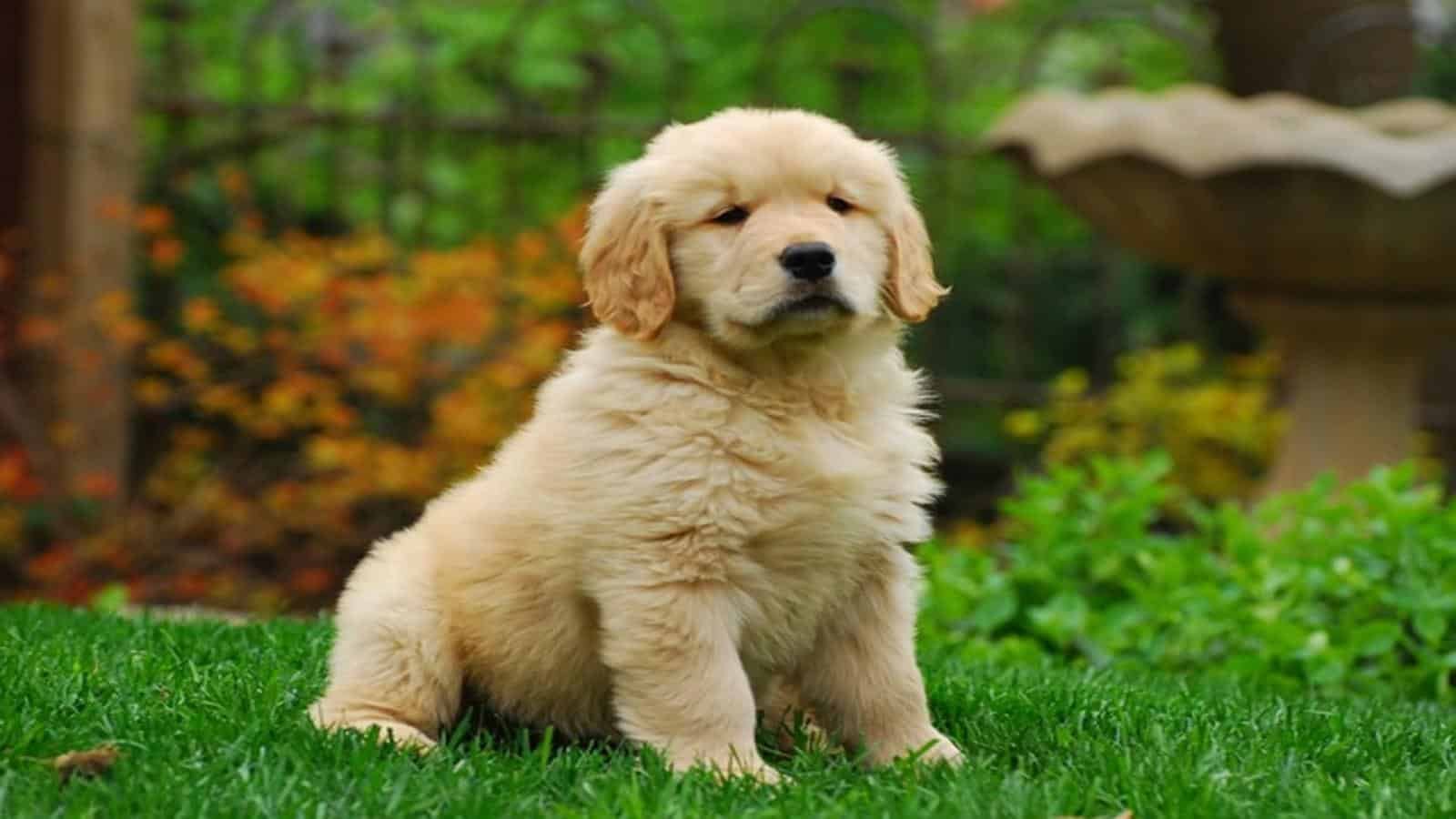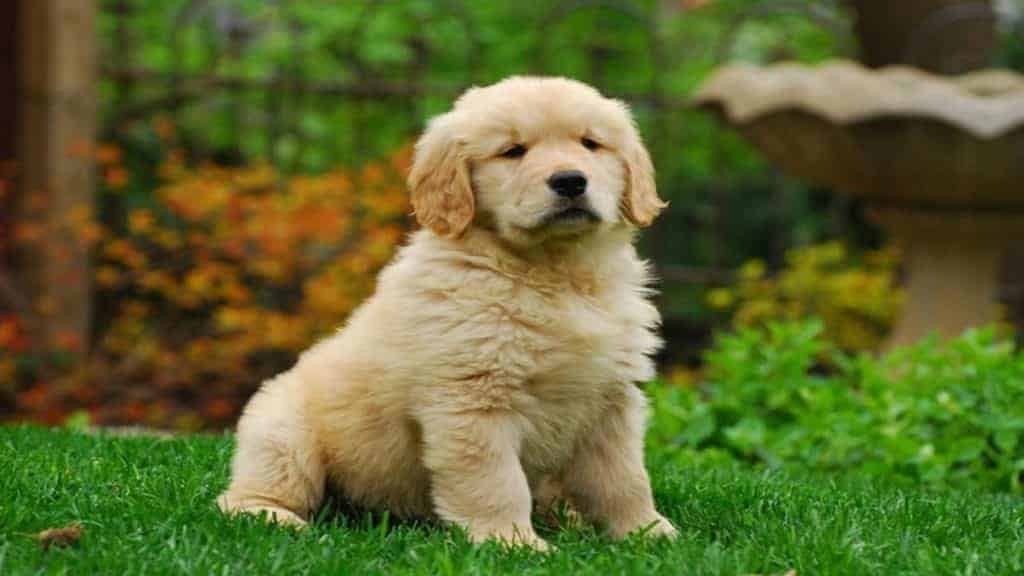 Dr. Tim's Grain-Free Kinesis Formula Dry Dog Food
Dr. Tim's offers a wide product range for dogs at all stages of their life. The product range includes kibbles, freeze-dried treats, dietary supplements and other items that will serve all types of nutritional needs for canines of all ages.
The food formulas have been designed to match the lifestyle and activity level of your golden retriever.
The high protein content comes from USDA-inspected meat grown in Wisconsin. Since the meat is inspected by the USDA you can be sure that it is very safe and 100 percent real. The meat has been minimally processed. It is preserved by freeze-drying so that it does not lose any nutritional value and also so that it's natural goodness is sealed. Animal proteins comprise 87 percent of the formula. This closely matches the natural diets of dogs and wolves in the wild.
There is also a special supplemental product called the Flavor Booster which is made from freeze-dried USDA-inspected liver powder sourced from Wisconsin. This supplement can be sprinkled on your pup's regular food to add extra flavor and to improve the nutritional value. The improved flavor will appeal even to finicky pups and the high nutritional value will be extremely helpful for their growing needs.
The founder of the company is an experienced veterinarian Ph.D. and proud pet parent. He got the idea for his successful product range after finding out that conventional store-bought products do not fulfill the needs of his hardworking Alaskan huskies.
The formula is based on sound nutritional science. They contain a high level of antioxidants and omega 3 fatty acids to control the inflammatory stress response which is one of the main reasons for weight gain and chronic illnesses seen in canines. The kibble is also high in protein so that your pup will be satisfied and will not plead for more food.
Fats, proteins, and carbohydrates have been included in the right ratio to maintain energy levels and fulfill daily requirements. Vitamins, minerals and other nutrients will help to promote wellness and satisfy the high nutritional demands of rapid growth so that your pup can thrive.
This nutrient-rich recipe also includes the patented BC30 probiotic formula that is designed to improve the digestive health of your pup. Omega 3 fatty acids from high-quality fish oil are essential for developing a lustrous coat and healthy skin. DHA and EPA are necessary for developing the cognitive function of your dog. These nutrients will let your pup grow into a smart dog.
The formula is free from soy, wheat, corn and other grains which are the leading cause of allergies. Your pup can savor every bite even if she is sensitive to food.
Diamond Naturals Large Breed Puppy Formula Dry Dog Food
You can give your puppy a good start in life with this specially formulated dog food recipe. The best part is that the product is economical in addition to being rich in superfood nutrition.
The rich nutritional profile of the formula will fulfill the growing needs of your golden retriever puppy.
The company is a family-owned business based in Missouri. The owners themselves are proud and loving pet parents and they aim to bring the best in nutrition for all pets across the states. The company uses state-of-the-art facilities to create premium pet food with the highest nutrition standard. Food is produced under the most advanced safety protocols to ensure the highest level of health and hygiene.
The right ratio of macronutrients will keep your puppy playful, active and happy.
The main ingredient of this protein-rich recipe is real pasture-raised lamb. There are also other formulas that contain chicken and beef to satisfy the cravings of your little pup during each meal. These protein sources provide the full range of amino acids that will foster growth and improve the muscle mass of your puppy.
Other ingredients include high-quality fruits and vegetables such as papaya, garbanzo beans, peas, and coconuts. These nutrient dense ingredients provide a vast range of vitamins and minerals for your growing puppy. The formula has also been enriched with essential fatty acids to improve growth and development. Antioxidants will improve well being and provide resistance against chronic medical conditions.
Diamond aims to utilize a holistic approach towards nutrition to provide your pup all the goodness that she will need to grow well.
The highly digestible food mixture also contains a proprietary probiotic blend to improve digestive function of your pup. Probiotics also provide a wide range of health benefits such as better mental health, better cardiac function, reduction in allergies and skin conditions and more.
Probiotics are added to make food easily digestible and also to increase nutrient absorption. Powerful and patented K9 strain probiotics have been used in the formula to ensure the best digestive health for your puppy. Extra digestive support is also provided by soluble as well as insoluble fibers obtained from dried kelp, coconut, and pumpkin. Chicory root has been included due to its rich prebiotic fiber content.
Natural DHA improves health in many different ways. It lowers the risk of cardiac conditions, improves brain function, controls inflammation, improves muscle recovery, reduces the incidence of certain eye conditions and provides other benefits as well.
The ingredients are genuine and no filler material has been used. The formula is free from corn, wheat, and soy. Fillers increase empty calories and also lead to food sensitivity. There are no artificial preservatives, colors, and flavors in the formula. You can use this formula with confidence even if your pup is highly sensitive to food. For maximum safety, you can also try out the grain-free kibble to minimize the risk of allergies and food intolerance for your pup.
Superfoods like spinach, coconut, quinoa, pumpkin, chia seeds, blueberries, and kale comprise up to 20 percent of the different formulas in the company's product range. These superfoods add a rich flavor which your puppy will absolutely love and also advanced nutrition to ensure that your pup gets protection against chronic medical conditions.
Treats are also available, which are just the right size for your pup's tiny mouth. You can select the natural biscuit formula for larger breeds which has added glucosamine and chondroitin to support the joint and bone health of fast growing pups. Bite-sized crunchy biscuits are available with different tasty ingredients which your pup would love to try out such as beef, chicken, lamb, brown rice, rolled oats, flaxseeds, and peanut butter. These nutritious biscuits are free from harmful fillers.
Ready to Choose the Best Golden Retriever Puppy Food?
You should choose from the best golden retriever puppy foods to give your pup all that she will need to grow healthy. You can try out the different formulas to understand which one works best for your puppy.