Given the numerous dog food options, you may find yourself in a state of confusion every time you head out to buy treats for your golden retriever puppy. And we understand that you would only want the best kind of reward for your little ball of fur that is so eager to learn and get trained.
In a Hurry? Here are Our Top Choices
This guide on the best puppy treats for golden retrievers will help you:
Identify the caloric limitation of your puppy
Find out about the four best puppy treats for golden retrievers
Learn what to look for in puppy treats
How Many Treats Should You Feed Golden Retriever Puppies?
If you think dog treats are the same as dog food, you have been wrong all along. Dog treats often taste better than dog food, which is why they may compromise on the nutrient balance. In other words, they are not intended to be a complete source of nutrition.
Veterinarians recommend that no more than 10 percent of your golden retriever's daily caloric intake should come from treats. While the percentage can vary a little depending on your puppy, anything beyond 10 percent can lead to serious health issues such as nutritional imbalance and obesity.
There are three kinds of puppy treats for golden retrievers: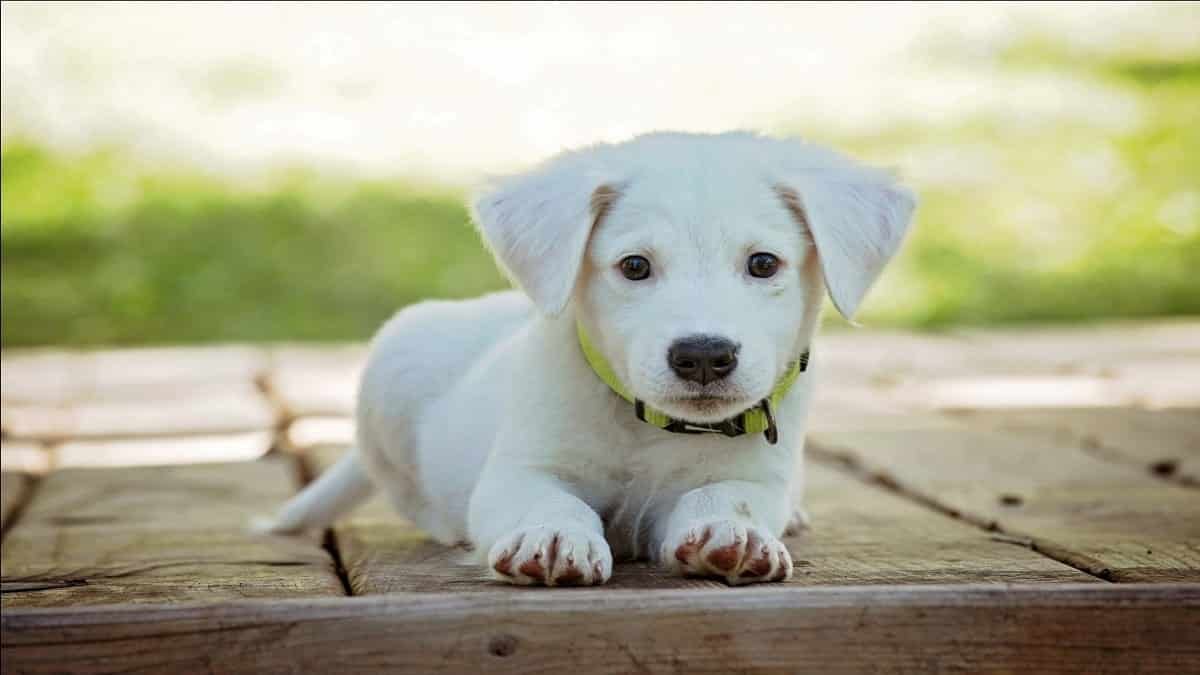 High-Value Rewards– treats that are high in calorie content and should be reserved for very special instances
Low-Value Training Treats– smaller treats that have low-calorie content and can be used during training sessions
Biscuits – dry and hard treats that are high in calories and given on casual non-training occasions or used as snacks
The 4 Best Puppy Treats for Golden Retrievers
Not all golden retrievers are the same, which is why a dog treat that works well for one may not be the most effective for another. The following are the best puppy treats for golden retrievers that will help you decide which one is best suited for your puppy.
1. Canidae Grain-Free Pure Dry – Best for Puppies with Food Allergies
If your golden retriever puppy has a sensitive stomach or food allergies, you should consider the Canidae Grain-free dry food as treats without any second thoughts! They are made of a simple formula that includes nine essential ingredients that provide your puppy with all the nutrients it needs. These are also grain-free, which makes them safe for puppies that have various food allergies.
Canidae puppy treats contain vitamins, probiotic, and mineral content. These ensure that your golden retriever puppy has a beautiful coat, a strong immune system, and better digestion.
Pros
Highly recommended by the experts
Dry dog treats that use moderate amounts of meat
Available in multiple flavors and contain six different proteins
Support healthy digestion and immune system
Free from corn, soy, and grains
Cons
The lamb flavor doesn't suit all dogs
Is slightly more expensive than other puppy treats for golden retrievers
2. Benefit Biscuits All-Natural Dog Snacks – Best for Training Puppies
If you are looking for a puppy treat to use as a reward during regular training sessions, then the Benefit Biscuits All-Natural is the best option. Made of natural and pro-digestive ingredients, these biscuits have a very low-calorie content which makes them ideal as a staple reward for your golden retriever puppy. Although they don't replace your puppy's diet completely, they can sometimes be used as a supplement and help to maintain a healthy digestive and immune system.
Benefit Biscuits are one of the best puppy treats for golden retrievers because they are vegan certified and contain vitamins that are directly proven to clean your golden retriever's breath. You can find these in several flavors i.e. pumpkin, mint and peanut butter. These dog snacks are available in 7oz pouches and are also sized into small-bite treats that can be a quick reward without the need to break them apart.
Pros
Contains ingredients that are natural and non-GMO
Free of any chemical or animal by-products
Available in a re-sealable bag
Packaging allows the product to stay fresh
Bite-sized treats
Supports healthy digestion
Has a tempting aroma
Cons
Not all flavors available in training size – only pumpkin-flavored treats are
Is expensive as compared to other puppy treats for golden retrievers
3. Instinct Raw Boost Grain-Free Puppy Food – Best for Large Breed Puppies
Instinct Raw Boost puppy food is extremely famous amongst large breed golden retriever puppies. Available in small and digestible bites, these are high-quality dry treats with a higher nutrient profile than other puppy treats for golden retrievers. These are one of the best puppy treats for golden retrievers also because they are made of minimally processed chicken protein and Legumes which provide fiber for a quick digestion process.
Instinct Raw Boost puppy treats are free of grain, wheat, soy, animal by-products, or corn. However, they may not be the best treats for allergic puppies since they also have vegetables and different meats such as fish and turkey. Yet, a majority of golden retriever puppies can still get a very high amount of nutrition from these treats.
Pros
Has a better nutritional profile than other puppy treats for golden retrievers
Contains a satisfactory level of omega fatty acids
Has high-quality fish and meat ingredients
Contains no by-products or grains
Helps in making teeth and bones stronger
Cons
Has a high carbohydrate proportion
Consists of Tapioca – a low-grade filler for golden retrievers
Not hypoallergenic
4. Wellness Natural Grain-Free Puppy Treats – Best for Teething Puppies
Wellness Natural makes the best puppy treats for golden retrievers who are going through their teething phase. These small-sized chunks are soft and chewy which makes them easy to bite and swallow. They are available in two different flavors i.e. soft lamb and salmon or crunchy chicken and carrots.
Wellness Natural Grain-Free puppy treats are made of only the natural ingredients and are free of any allergy inducing products. The formula also works incredibly for sensitive puppies and ensures that that the golden retriever puppies develop strong and healthy muscles as they grow. These grain-free treats have also been proven to help in maintaining a healthy immune system and stimulating brain development in golden retriever puppies.
Pros
Has an enticing smell
Consists of natural and healthy nutrients
It is hypoallergenic – contains no grains or ingredients that cause allergies
The treats are small, chewy and soft
Free of any artificial colors or flavors
Cons
The treat size might be slightly bigger for small breeds of golden retrievers
Should not be over-fed
What to Look for in Golden Retriever Puppy Treats?
Golden retrievers are very sensitive in their puppy phase which is why you must be extra careful when choosing a treat for them. Here is a list of a few things that you must consider to make the best choice.
Are there any artificially added sweeteners such as sugars or corn syrup? These are responsible for major health issues such as obesity in golden retrievers.
Does the puppy treat contain preservatives or artificial dyes? These have been proven to have carcinogenic content– which means there is a great health risk associated with it.
What is the texture of puppy treat chunks? Will your puppy like it? For instance, soft treats are better instead of hard ones for teething puppies.
What is the size of the treat chunk? A 'treat' won't work well if it's too easy to swallow of too big to bite.
Are there any filler ingredients? These add little or no nutritional value. Your dog may enjoy them at first, but these are extremely unhealthy in the long term.
Our Final Thoughts
We hope that this guide assists you in finding the best puppy treats for golden retrievers. If you are still not sure, have your puppy taste our recommended puppy treats and see which one it likes the best!